Technology is growing at a very fast rate and our smartphones have become our main source of interaction with the internet. Most of the tasks can be easily done via our smartphones which previously required a desktop or a laptop. With OEMs coming with their own tools like Samsung's Samsung DeX or Huawei's Huawei Easy Projection, smartphones are inching closer to being a desktop replacement. However, replacing PC/laptop will require many years and efforts from the developers as the functionalities of using these tools are limited.
But. most of the times, you might have come across this situation that you are working on your PC and immediately want to have access to the file which is there on your smartphone. Yes, there are different ways of transferring files from Smartphone to PC or vice versa but, either they are not user-friendly or they just do not work. However, thanks to XDA Junior Member, callmejim, you can now seamlessly and very easily share any type of files from your mobile to PC using Share to Computer application.
So, without any further ado let us get straight into the article and know more about the Share to Computer application;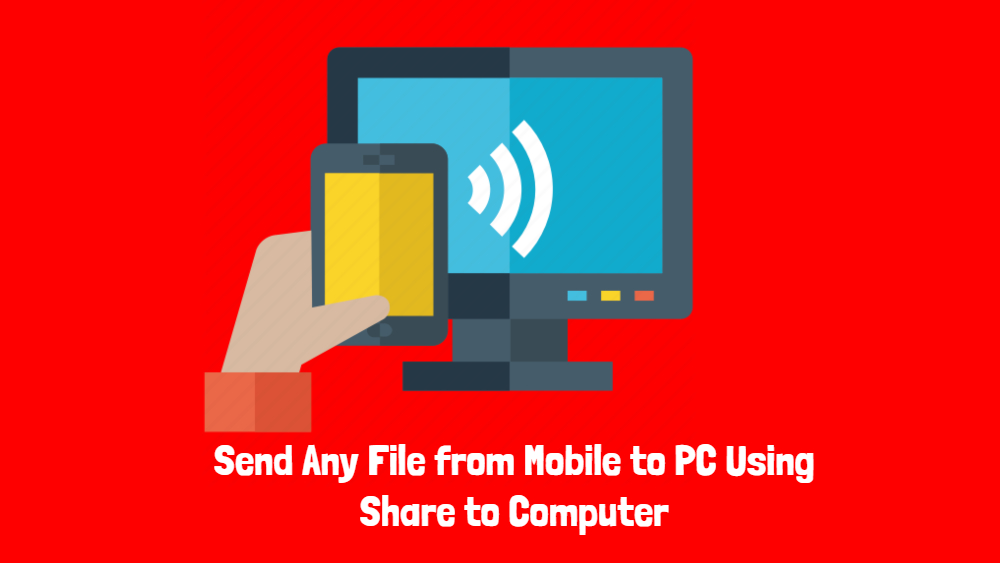 A big shout out to XDA junior member, callmejim, for developing such an awesome and simple application. Share to Computer is an open-source file-sharing application through which you can share any file like texts, images, videos, documents, etc from your smartphone to your PC/Laptop. While using this application, just make sure that you are connected to the same WiFi network as your PC's and you are good to go.
The application offers an easy to use interface and there is no clutter of options to choose from. You can share the file just by choosing the file from your device memory and then selecting the "share to computer" option. Then on your computer, you need to visit the local network address listed on the share page on your smartphone application and download the file that you sent to your PC. Moreover, you can also share and transfer files between mobiles as well. You just need to have the application on both the smartphones and share the file from one device and quickly scan the QR code generated with the second mobile.
Besides, once you are done sharing and transferring files between smartphones or PC, you can end the sharing nice and easy. The app does not feature any kind of ads and is distraction-free and does not require any kind of internet access. Moreover, as it is an open-source and free application you can check out the Source Code of the application on Github.
You can check out the video below to understand how the Share to Computer application works;
Below is the link to download the Share to Computer Application directly from the Google Play Store. You can download the app by clicking the below button;
[googleplay url="https://play.google.com/store/apps/details?id=com.jim.sharetocomputer"]
Below are some screenshots of the Share to computer application user interface;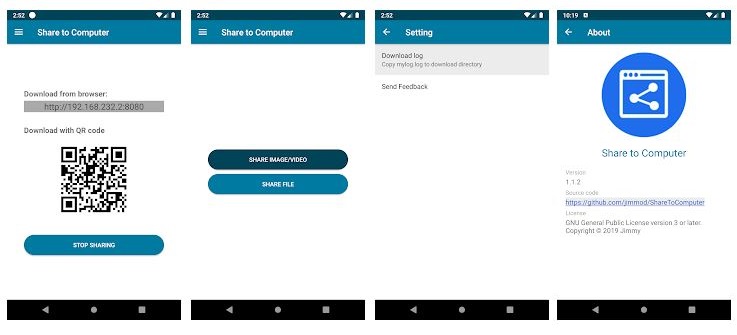 Conclusion
So, there you have it from my side in this post. Hope you guys liked the Share to Computer application. Yes, there are other apps like Xender, Share it and more that, lets you share files between PC and a smartphone. However, the Share to Computer application offers simple and easy to use interface along with no ads and is completely free. Let us know in the comments below if you liked this application and the post. Until the next post…Cheers!