Signal becomes one of the popular instant chat messenger applications for both Android and iOS platforms apart from the desktop client. It's a free cross-platform centralized end-to-end encrypted messaging service by the Signal Technology Foundation as an alternative to WhatsApp. Now, if you're already Signal and somehow if Signal App is not working on your device, then follow this troubleshooting guide.
As we've all known, after the WhatsApp Privacy Policy storm, Signal private messenger has witnessed a massive growth in the number of downloads and active users every day. Whereas some of the experts and billionaire like Elon Musk has officially mentioned about using Signal. So, it's quite natural for normal people or WhatsApp users to shift over Signal overnight. However, sometimes users are experiencing issues with the Signal app.
It includes the app not working, can't send or receive chat messages or media files, can't download attached media files, Not connecting to the server issue, etc. Well, some of the affected Signal app users may presume that the app isn't good or developers are not in the mood of fixing this issue. But that's not the case, because of the overwhelming number of active users across the globe (except for China), there may be server issues.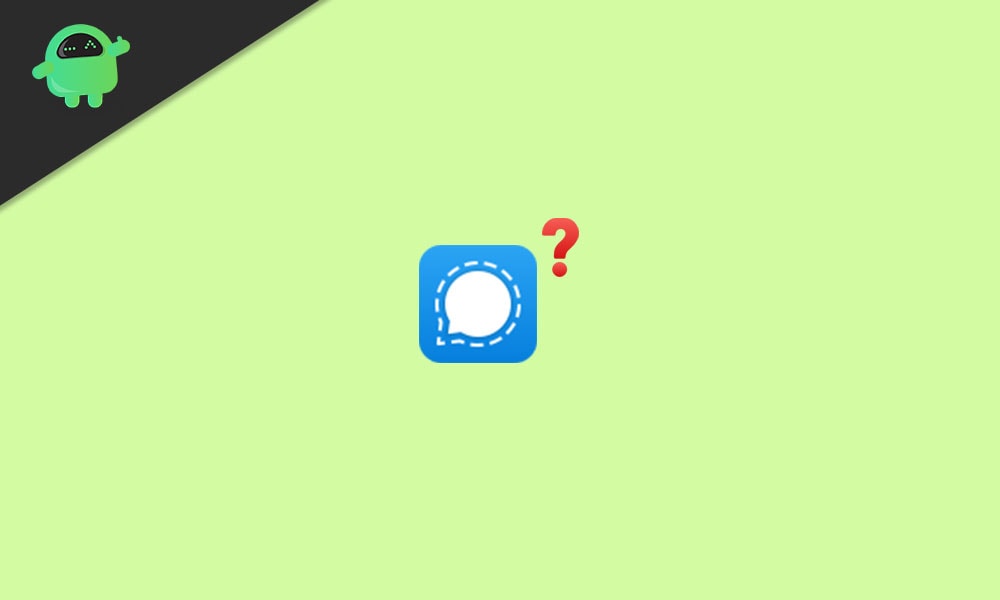 How to Fix If Signal App Not Working on your device
There are a couple of possible reasons or workarounds mentioned below that you should consider checking or trying before going to any conclusion. So, without wasting any more time, let's jump in.
1. Is My Signal Account Banned?
Well, there is a catch. Signal is one of the private and secured end-to-end chat messaging platforms that only stores your data on your device storage, not on the servers. In that scenario, the chances are high enough that in some countries the government authorities or investigation bureau is blocking or banning the service.
For example, Signal app is banned in China and its official website too. However, the geo-restriction of the Signal app can be bypassed using a good VPN service. But do it at your own risk because that seems illegal if something is banned by the government of your country.
However, if the Signal app isn't banned in your country, still you should try using a good VPN service to change the region to a different side of the world and check if the Signal app is working fine or not. If not then it's most probably indicating that your particular account/profile is banned/disabled for some reason.
If that's the case, simply contact Signal Support for further assistance on it.
2. Is Signal Down or Is there an Outage?
If the Signal app isn't banned or blocked in your country then it may be possible that there are some server-related issues happening in the background or even in your specific region for a while. Due to the huge spike of active users or overload on the region servers, the chances are high enough that Signal service is either down or there is an outage issue whatsoever.
In that scenario, it's worth mentioning to check whether the Signal server is down or not via the official Signal Status webpage. Alternatively, you can also visit the third-party Down Detector website for real-time server status, reports, live outage maps, and more. In another way, follow the official Signal App Twitter handle for the latest updates and info.
If there is an actual server downtime or outage found or reported by other users that mean you're also one of the victims, and this problem should be fixed within a couple of hours or so. Keep in mind that sometimes you may have to wait for a couple of days or so if the problem is bigger or region-specific.
Whereas if there is no issue found at the Signal servers that means there is something triggering on your device that's why the Signal App is not working unexpectedly. In that case, follow the next method.
3. Check your Internet Connection
Although this may not be one of the possible reasons behind the Signal app not working issue on your device, sometimes it can be the only reason for some unfortunate users. Yes! The chances are high that either your mobile data/Wi-Fi limit is over or there is no internet access ongoing at that moment whenever you're trying.
In that case, make sure to either restart your device or turn off the mobile data/Wi-Fi and turn it on again to fix the issue. If you're still getting the same problem then check whether other chat messaging services or websites are loading and running well on your device using the same internet connection or not.
Sometimes a corrupted IP configuration or unstable network connection can also cause several issues whatsoever. In that case, you should contact your ISP (Internet Service Provider) for further help on it.
4. Check for Updates
If in case, your Signal app becomes outdated or you haven't updated it for a while, that means there are data corruption or cache-related issues whatsoever. It's highly recommended to easily update to the latest version from the App Store or Play Store or Microsoft Store depending on the device respectively.
5. Clear Signal App Cache and Data
If everything seems working to you except for the Signal app itself, then it's possible that there are some potential issues inside the installed Signal app. So, try clearing the app cache and data to completely fix any kind of data glitch or cache issues. To do so:
For Android:
Head over to the Settings menu > Apps (Apps and Notifications).
Scroll down the list of installed apps or games > Tap on Signal to select it.
Now, tap on Storage (Storage and Cache) > Select Clear Cache.
Then try running the app again to check if that fixes the issue or not.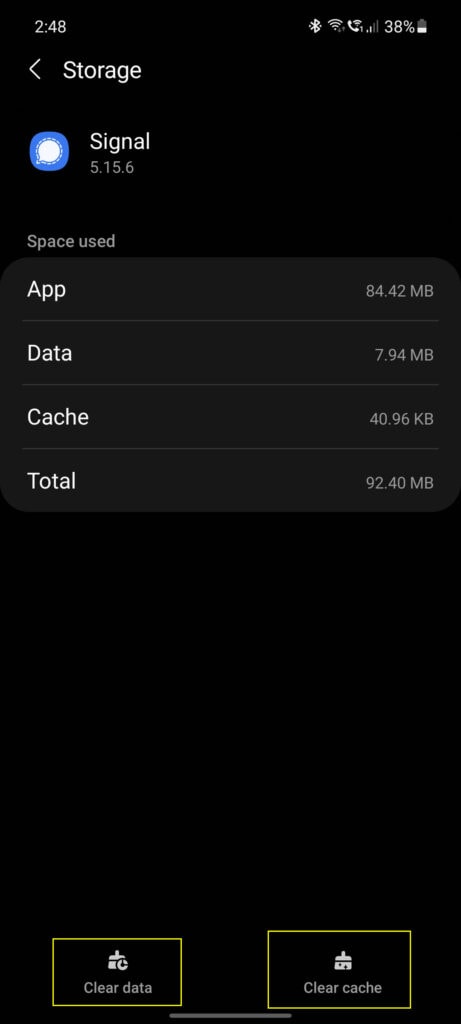 If not, then clear the cache again and select Clear Data/Storage as well.
If prompted, tap on Yes to clear the app data. [This process will delete all the data of the Signal app and reset it]
For iOS:
For iOS users, there is no method to clear the cache or data of the app individually.
But you can quickly press the Volume Up key then Volume Down key and then press & hold the Power/Side key to generate the 'Slide to power off' screen.
Once it appears, slide/drag the slider from left to right as indicated to switch off your iPhone.
Now, wait for a couple of seconds and then long-press the Power/Side key to power it on.
For Windows PC:
Press Windows + I keys to open Windows Settings > Click on Apps.
From the Apps & Features section, scroll down the installed programs list.
Click on Signal to select it > Click on Advanced options.
Select the Reset option to delete the app data.
If prompted, click on Reset again to confirm the task.
Once done, restart your computer to apply changes.
Finally, open the Signal app on your computer again to check for the issue.
However, if this method doesn't work for you, try following the next one.
6. Out of Sync Error
If you're encountering the particular 'Out of Sync' error on the Signal app, then you should do the following steps:
On Android if you see "Bad encrypted message," tap the menu in the top-right & tap "Reset secure session." On iOS tap the "Reset Session" button below "Received message was out of sync." The errors do not affect chat security & will be automatically fixed in the next app update. pic.twitter.com/dgLGLZS3zB

— Signal (@signalapp) January 17, 2021
Go to the Signal chat messaging where you're receiving the 'Out of Sync' error.
Now, tap on the menu icon from the top-right corner.
Then make sure to select the 'Reset secure session' option to fix the issue.
7. Can't send or receive messages on Signal
If you're simply unable to send or receive messages on Signal and the sending status is stuck for some reason then make sure to follow the steps below to check whether the app has required permission access or not.
For Android:
Head over to the device Settings menu > Tap on Apps > Select Signal.
Tap on App Permissions > Enable the permissions which are required to run the app properly on your device.
For iOS:
Head over to the iPhone Settings app > Scroll down to Signal and tap on it.
Here you'll find out a list of access or permissions that Signal asks.
So, just set all the individual access according to your requirement or knowledge.
We'll recommend you to just allow access for contacts, photos, siri & search, etc. [If you're not using microphone and camera on Signal then do not allow the permission for these]
Make sure to allow permission for 'Local Network' in some cases. But we'll recommend not to allow it.
However, if nothing works for you, try disabling the VPN service or the Windows Firewall program on the PC to check if the problem has been resolved or not.
8. Reinstall Signal App
If nothing seems working for you, try uninstalling and reinstalling the Signal app on your device as a last resort. Plenty of users have mentioned that after reinstalling the app, the problem has been fixed automatically. To do so:
For Android or iOS:
Just press and hold the Signal app icon > Go to App Info.
Select Uninstall / Delete and confirm the task, if prompted to completely remove the app from the device.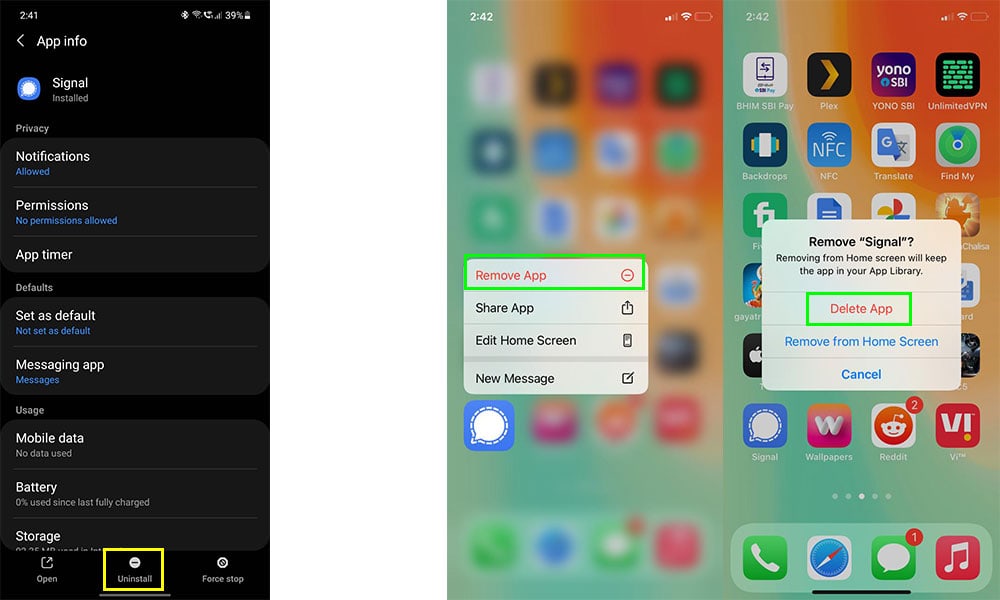 Once done, make sure to restart your device to apply changes.
Now, head over to the App Store or Play Store and install the Signal app again.
Open the app > Sign in to the existing account again and check for the issue.
For Windows:
Press Windows + I keys to open Windows Settings > Click on Apps.
From the Apps & Features section, scroll down the installed programs list.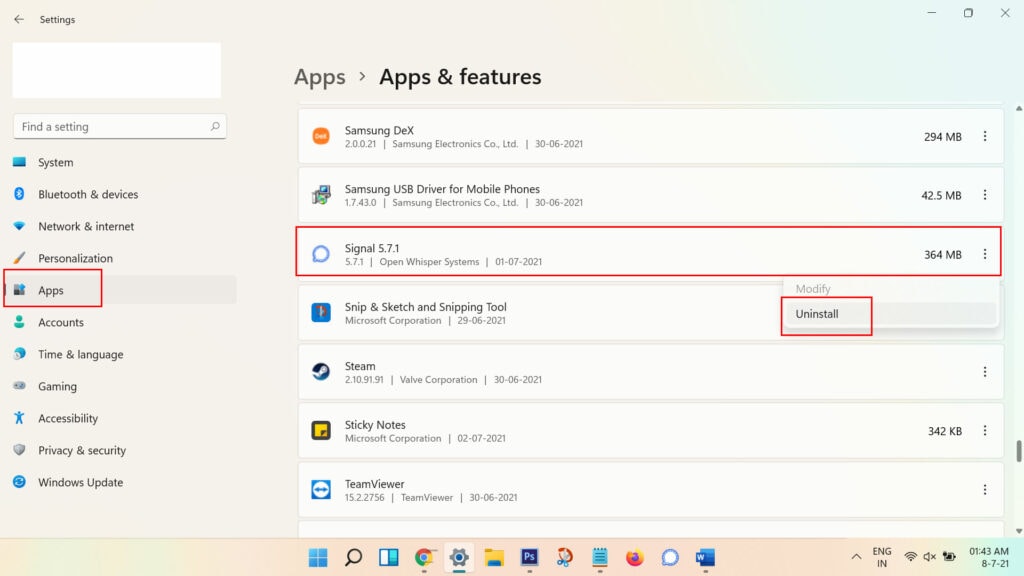 Click on Signal to select it > Click on Uninstall.
Once completely uninstalled, reboot your computer to change effects.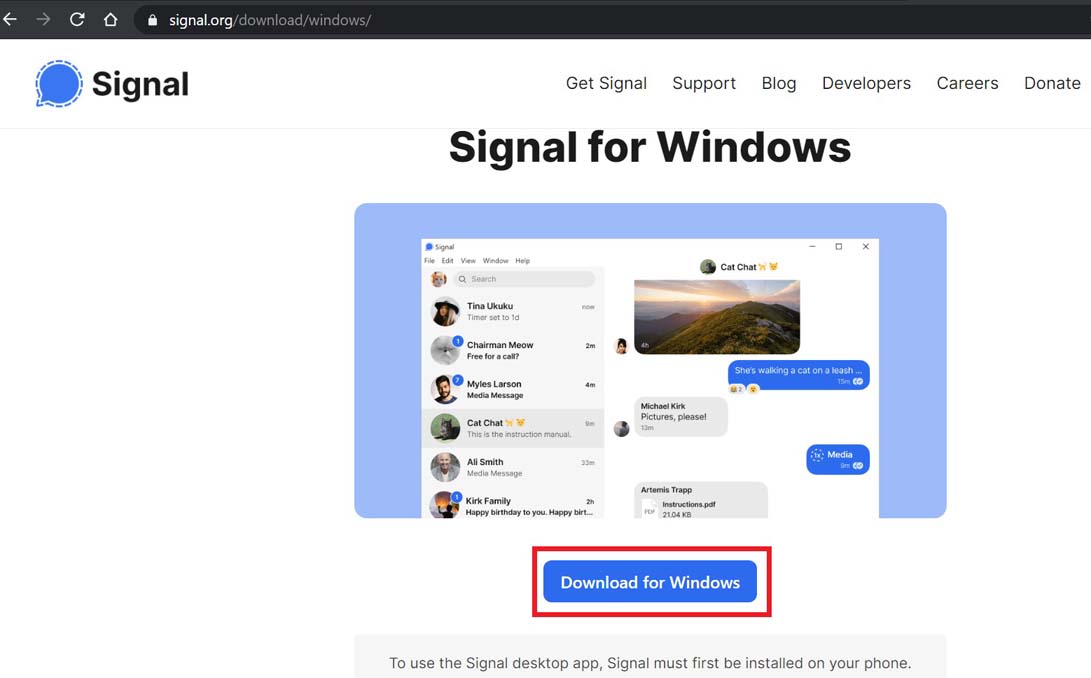 Now, head over to the official Signal website and download the Signal app for Windows.
Finally, install the application, and check for the issue again.
That's it, guys. We assume this guide was helpful to you. Feel free to ask in the comment below.