After the new update of Windows, many users complain that they get signed out from everything whenever they reboot their system. Not only a few complaints, but there are millions of complaints are registered about this particular issue. The root cause or the leading cause of this issue is still unclear and remains a jumble for users. Signed out problems can usually be fixed by sign-out of your account and then sign-in in again.
In this article, we will help you to fix the problem related to Signed out on reboot. The methods we cover will help you to fix this issue on any PC, Laptop, desktop, tablet with Microsoft Windows 10 or 8, 8.1 on it, such as Lenovo, Dell, HP, etc. So without wasting your precious time, let's get started with our complete guide.
Fix Signed Out Of Everything On Reboot
Solution 1: Enable Cookies
Open Google Chrome. Then, click on the three vertical dots button and click on settings.
Now, tap on the privacy and security section. Then, select Cookies and other site data.

See if you enable Allow all cookies, and be sure to Clear cookies and site data when you close the Chrome.
Now, again Relaunch your Chrome.
Solution 2
Turn on cookies. Because sometimes, antivirus or similar software may remove your cookies.
In case your cookies are already turned on, then clear your browser's cache.
Check if you are having the latest version of your browser.
Try to use a trusted browser like Chrome to memorize passwords for you.
In case you enabled the two-step verification, then add trusted computers.
Solution 3
Restart your PC and then open Google Chrome and see if your issue is solved or not.
Solution 4: Reset Chrome
Run Chrome on your PC.
You'll notice three vertical dots in the top right corner of the screen.
Click on Settings from the drop-down menu.
Navigate through settings, and at the bottom, you'll find an option Advanced.
Now, move towards the Reset and Clean up segment.
Choose to restore settings to their original defaults option.

Then, tap on the Reset settings button from the pop-up window.
Solution 5: Enable Allow Chrome Sign-in Feature
Open Google Chrome and go to settings.
Choose Sync and Google Services option in Google Chrome.
Inspect for Other Google Services.
Now, hit the "Allow Chrome sign-in" button to enable it.

At last, restart your Google Chrome browser.
Solution 6 Switch to another account
Turn on your PC and head towards the Google Chrome browser.
Now, at the top right corner of the home page of Chrome, you'll get the Profile option click on it.
Choose the profile from the list or add a new profile that you want to use.
Solution 7 Uninstall The Conflicting Applications
Press the Window key and go to settings.
Then, head towards Apps and Tap on MSI dragon center.

Click on Uninstall and then tap on confirm to uninstall the MSI Dragon center.
Now, reboot your PC, and after that check, if the issue is solved or not.
Solution 8 Edit the Tasks in the Task Scheduler
Press the window key and type Task Scheduler in the search box. From the search result, select Task Scheduler.
Now, head toward the Task Scheduler Library and find the problematic task which builds issues.
Double click on the problematic task.
A menu will open with three options. Select the option Run whether users are logged on or not. Verify the option do not store passwords.

Now, reboot your system and check if the issue is solved or not.
In case the issue is not solved, then again open the task scheduler and follow up to step 4.
And then select the option Run Only When User is Logged On.
Now again, reboot the system, and if the issue still didn't fix, then again open Task Scheduler and disable the problematic task from the options.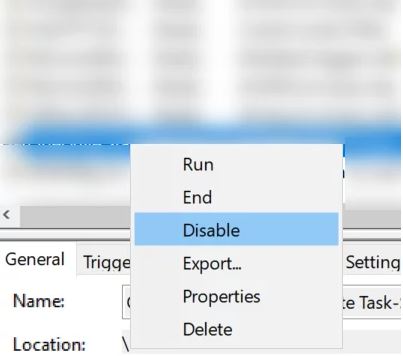 After reboot, you'll see your problem is solved.
Some alternative methods
Set your browser profile perfectly.
Uninstall Chrome, then again reinstall it.
You can also use the Restore Repair Tool to replace the corrupt and missing files.
Conclusion
In case you are still facing this issue then, let us know in the comment section. If you tried the method mentioned above and still didn't find a way to get rid of this issue, then try Microsoft Edge browser.