Microsoft pushes regular Windows updates with new features and various bug fixes as well as security patches. It is really easy to update your windows. You will get an update notification when the update is available, and if you have enabled automatic updates, then it will be downloaded in the background. This is easy, but sometimes users face Windows 10 Update Error 0x80070026 while updating to the latest version.
Update Error 0x80070026 occurs while updating your Windows, and as a result, your update fails. As we received some reports, various reasons cause this error, and here we are going to give you all the possible solutions to solve it.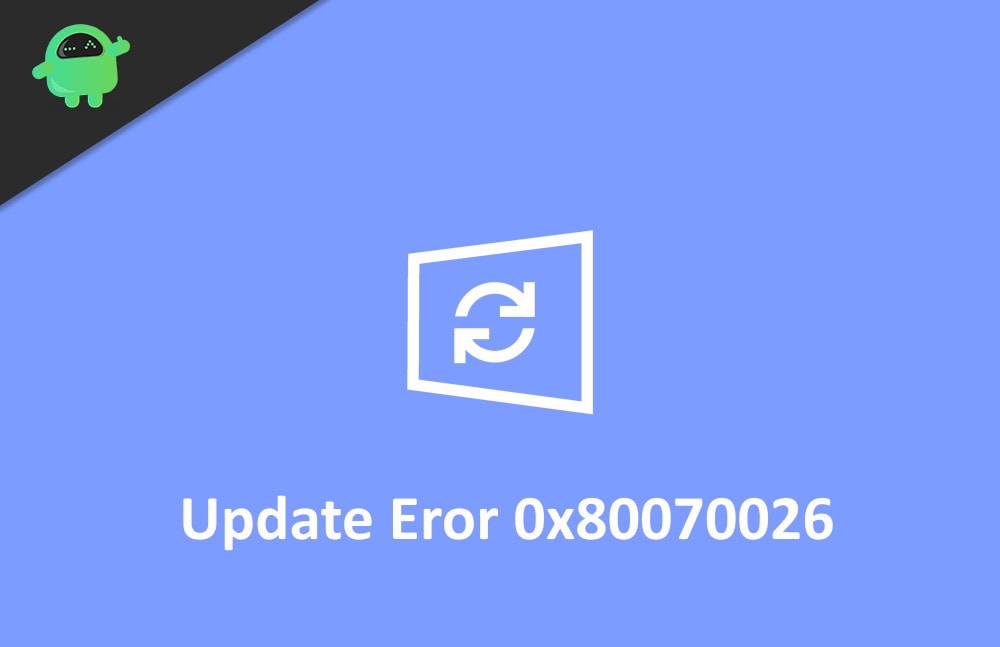 How to Fix Windows 10 Update Error 0x80070026
There are plenty of reasons why the update failed and the most common one is a bad internet connection or missing update files. Down below is a quick troubleshooting guide to fix Windows 10 Update Error 0x80070026.
Method 1: Check your antivirus software
Sometimes your antivirus software causes the error. There are some reports from the users that the antivirus software on their PC was preventing the update, and because of that, they were facing the error.
To check if the antivirus is causing the error, first, disable it and try updating your windows. If it doesn't work, then uninstall your antivirus software, and this will fix the error.
Method 2: Delete the Temp folder content
Windows stores some temporary files when you run various processes. These files are stored in the temp folder. These files are useful, but not every time. To be more specific, sometimes these temp files get corrupt, and because of this, it interferes with the running processes, including the update downloader. To prevent this from happening, you should delete these temporary files from your PC.
Now, to delete temp files, first of all, reboot your PC and log in using your administrator account.
Secondly, open This PC and go to the C drive or go to the other drives if you have changed your main drive.
Thirdly, double click on the Users folder inside the main drive. On the next window, look for the 'username' folder and open it by double-clicking on it.

After that, open the 'AppData' folder, and inside the 'AppData,' look for the 'Local' folder and open it. Inside the 'Local' folder search for the 'Temp' folder and open it.

Lastly, select all the files on the 'Temp' folder and delete them. Before deleting this data, check the 'Temp' folder for other files, and if there are any user files, take back up of it as a safety measure.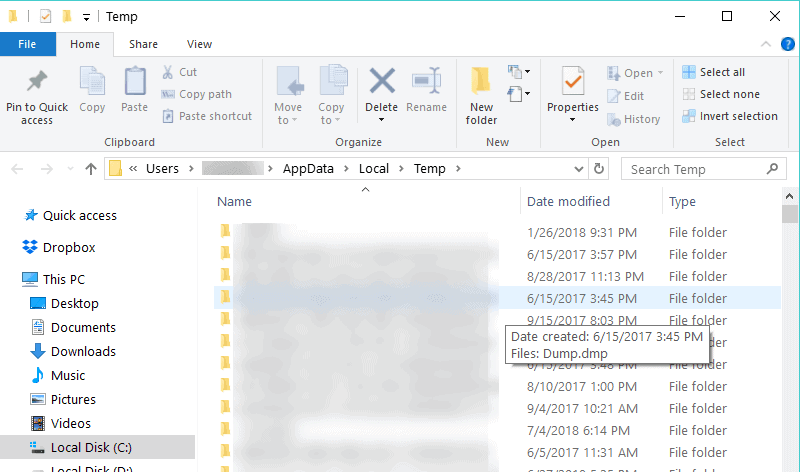 That's all, now go to the settings and retry updating your windows and check if the error is solved or not.
Method 3: Run DISM
DISM, also is known as Deployment Image Servicing and Management, is a command-line tool that is used to mount and service Windows images. This tool can be helpful if you are facing errors while updating windows. This tool manages windows update files, and because of this, it can be helpful.
To use DISM, first of all, click on the search tab or use Cortana and search for CMD. Select command prompt, right-click on it, and run it as the administrator.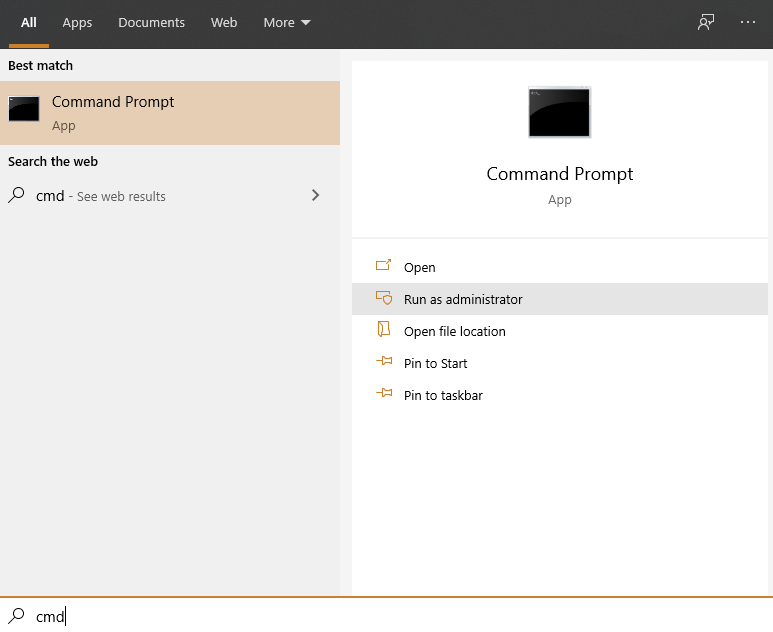 Secondly, write the following command on the command prompt window and press enter.
DISM.exe /Online /Cleanup-image /Scanhealth

After running the previous command, enter the second command mentioned below and press enter.
DISM.exe /Online /Cleanup-image /Restorehealth

Lastly, after running both the command's exit the command prompt and reboot your PC.
As soon as you reboot your PC, check your Windows updater and see if you can update to the latest windows. DISM tool will fix all the errors after the scan.
Method 4: Run the Windows update troubleshooter utility
Microsoft cares a lot about its users, and they are aware of various errors the users are facing. To help users dealing with these errors Microsoft has added a troubleshooter utility. You can use this utility to fix errors regarding the update.
To use Windows Update Troubleshooter, first of all, open a search window or use Cortana to search and open the windows setting.
Secondly, on the setting window, go to update and security and click on the troubleshooter option.
Lastly, follow the instructions on your screen to run the troubleshooter. Let it finish the scan and fix the issues.
Method 5: Reset your PC
If none of the upper-mentioned solutions works for you, then you need to reset your windows. We suggest you take a backup of your important data as resetting might delete some data. Now after taking a backup to follow the below-mentioned instructions to reset your pc.
First of all, open the recovery menu by opening the setting>recovery.
On the recovery window, you will see the reset this pc option, and a get started button. Click on the 'get started' button to start the reset option.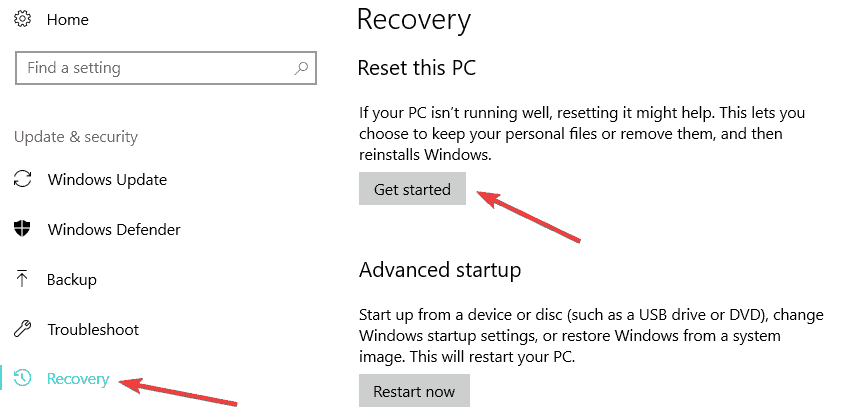 Lastly, follow the instructions on your screen to rest your windows. This way, your windows will reset, and if some system files were corrupted and were causing the error will be fixed.
Conclusion
To sum up, you can use any of the mentioned methods to solve Windows 10 Update Error 0x80070026. If you still face the error, then contact windows support and provide them with all the necessary information regarding your issue. They will provide you with a solution to fix it. Hopefully, this guide will help you with fixing Windows 10 Update Error 0x80070026.