There are many complications and errors you might face while trying to update your PC through windows update. Common errors have easier solutions. But many people are reporting for Windows 10 Update error code 0x80245006 when trying to update their system.
It's true that you should keep your system up to date to get maximum performance and security for your Windows device. Windows update brings the latest drivers, core components along with the latest apps for your device. This makes it crucial to update. However, if you get stuck, then there are ways to fix Windows 10 Update error 0x80245006.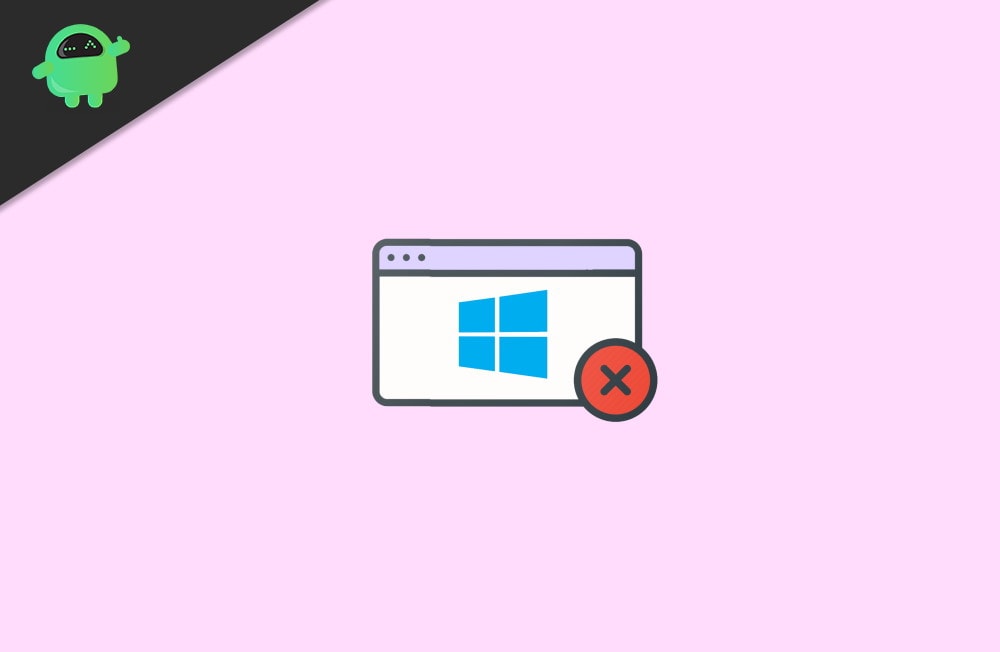 How to Fix Windows 10 Update Error 0x80245006
The 0x80245006 error code appears in Windows update when the system cannot update windows because "Windows update ran into a problem." This problem might be due to some essential services not running, due to third-party software, or due to antivirus. So let's see how to fix this error code 0x80245006 in Windows 10.
Note: This article will work on Windows 10, Windows 8, and 8.1 as well.
Method 1: Check internet connection
The first step is to verify that you have a working internet connection. If you can access websites, that means you have a connection working. The next step is to verify that you're network connection is not set to Metered. From Windows 8 onwards, Windows lets to set your connection as metered, preventing large data transfers like Windows update.
Right-click on the network icon at the taskbar.
Click on properties on your network you're using,
From the properties page, please scroll down to Metered connections and disable it.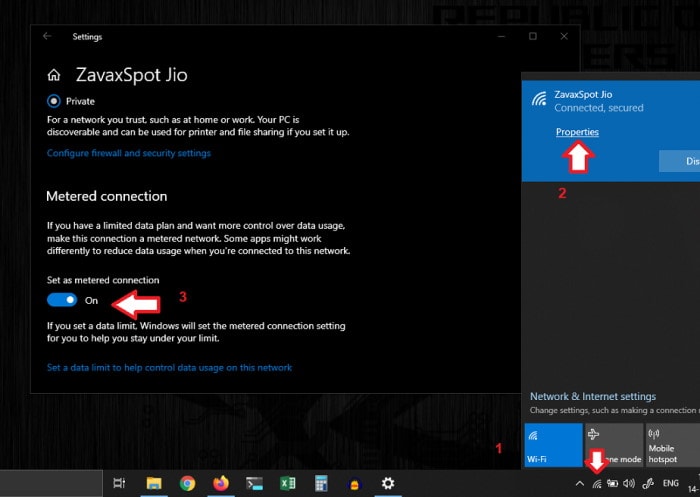 Now the update should work normally. But if you're still getting this error, consider the following methods below.
Method 2: Run Windows Update Troubleshooter
Windows comes with many packages to troubleshoot common errors and fox them for your automatically. So let's try to run the Windows update troubleshooter.
To do so, follow these steps:
Go to Windows settings and click on the Update and Security icon.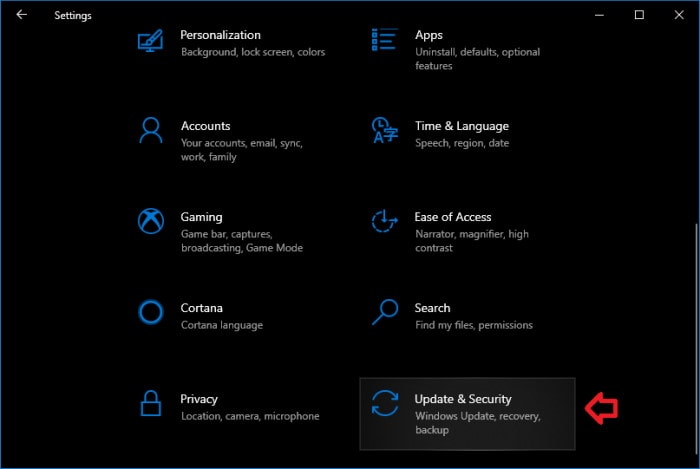 Now Click on troubleshoot to open it.
Scroll down to click on Windows update and click on Run the troubleshooter.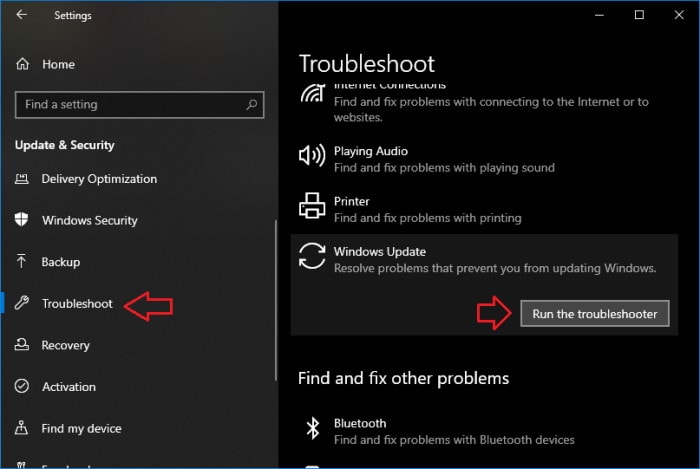 Let the troubleshooter scan and find any issues with the Windows update.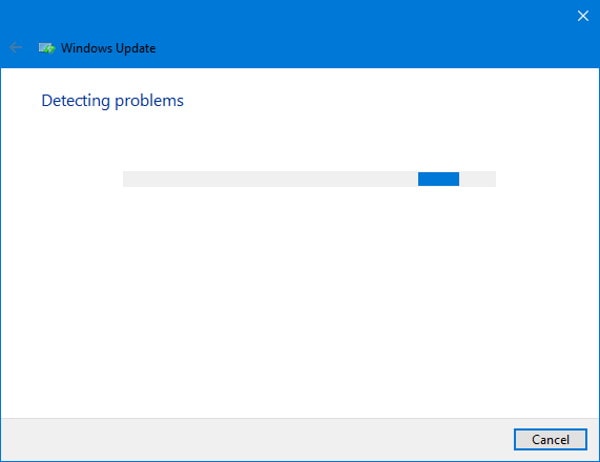 So if the troubleshooter finds any issue, it will notify you and will ask you to confirm fixing it. Just click on Apply fix, and if any issues were present, it would fix them now. After this, check windows update works without any error. But if not fixed, let's move to the next step.
Method 3: Restart required services
Windows update requires some Services to Run. If they were stopped due to a recent system change, it would affect the update process rendering this error code. Although the troubleshooter package should try to find and start any stopped services. If it didn't, let's start them manually by these steps:
Step 1: Starting services:
Press the Windows key and R at the same time to open the Run box.
Type in services.msc and hit enter.
From the window that opens, look for the following three services and start them if they are stopped.
Windows Update
Background Intelligent Transfer Service (BITS)
Workstation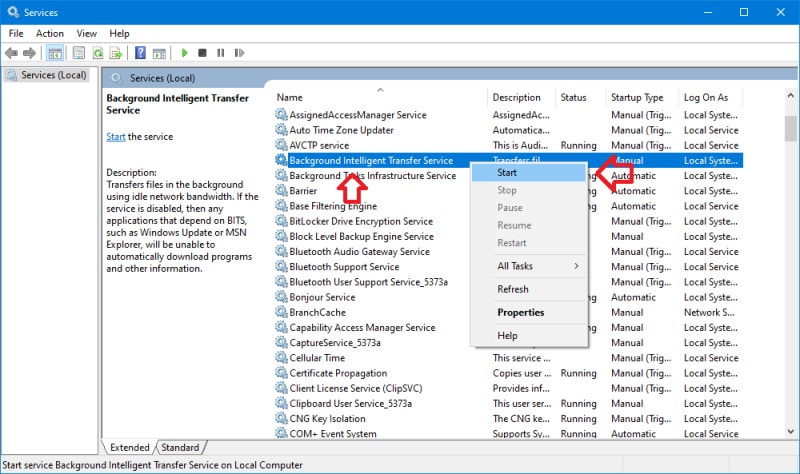 Step 2: Remove old update files
Once you've started the required services, we can remove old update files to restart the update process. To do so:
Open a command prompt as admin. (Shortcut Win +X, then press A). Although this will open PowerShell in Windows 10, it will also work.
Copy-paste the following commands one by one or at once:
net stop wuauserv
net stop cryptSvc
net stop bits
net stop msiserver
ren C:\Windows\SoftwareDistribution SoftwareDistribution.old
ren C:\Windows\System32\catroot2 catroot2.old
net start wuauserv
net start cryptSvc
net start bits
net start msiserver
pause
Note: You can also enter the above commands at once. But add a pause to the end if you're entering at once.
This should take some time to complete. So wait for it and close it if it's completed.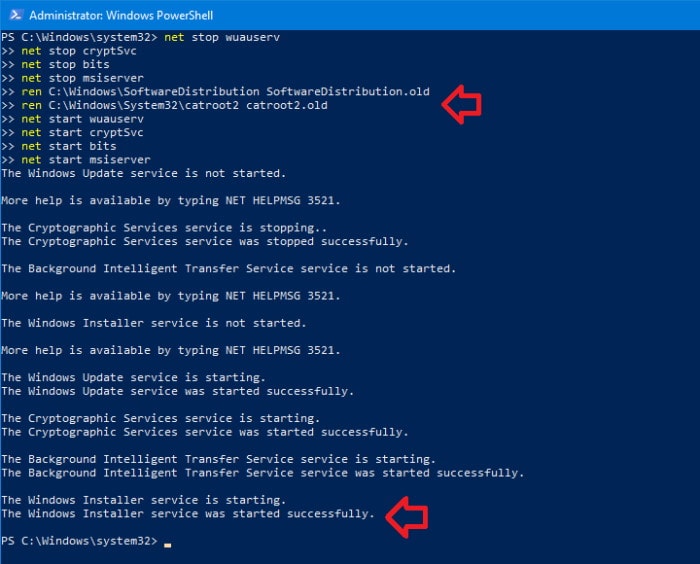 Finally, reboot your PC and check if you're problem is solved.
Method 3: Disable antivirus
Sometimes certain antivirus programs might be scanning through update files and folders, causing the issue. Hence if you have antivirus software running, try disabling them and check if the update process continues without any issue. If it does, temporarily keep the antivirus software turned off and continue the update process. Once all processes are done, turn the security back on and if you want to perform an Antivirus scan.
Method 4: Enter clean boot mode
Another better option is to enter a clean boot mode and check for errors. To enter clean boot mode:
Press windows+R and type in MSConfig, and hit enter.
Under the Services tab, put a tick mark on "Hide all Microsoft services."
Now disable all services. Basically, these are third party services, so don't worry.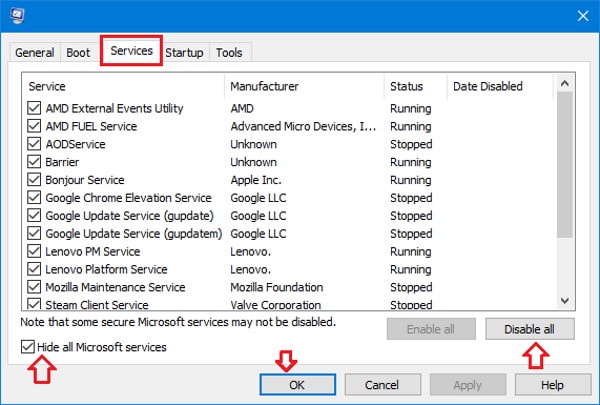 Click apply, and okay, click Restart later.
Open Task manager (Keyboard shortcut Ctrl+Shift+Esc) and click on the Startup tab.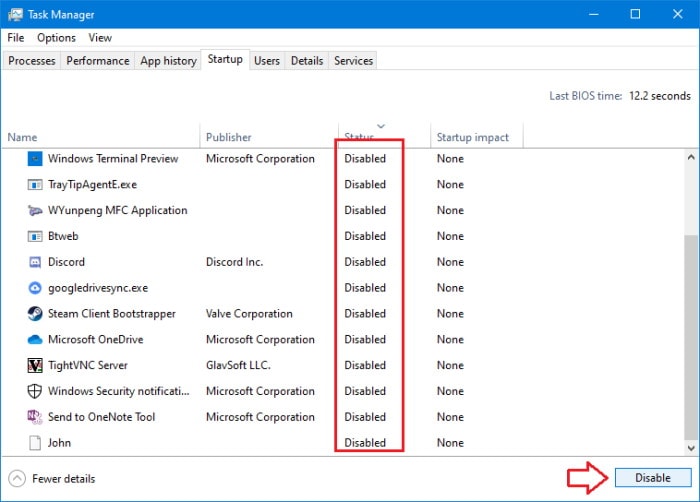 Disable all startup items in the list.
Finally, restart your system. Now you're in a clean state. So head over to Windows update and retry downloading. If it works, then this means a program or background process was interrupting the update process. You can now try enabling services one by one and try if they interfere.
Once you've figured out the interfering app, you can remove it or keep it depending on your requirement, and you should revert to normal boot mode. Just undo disabling services (from MSConfig) and startup items (from task manager), you will be good to go.
Conclusion
So these were some workarounds to fix the annoying Windows update error code 0x80245006. These steps don't require any special skills, but you have to be careful and follow these steps exactly.
But anyway, you can download the latest iso file from the Microsoft website and update your system using that iso file. This method won't remove any personal files and is very reliable when compared with Windows update.