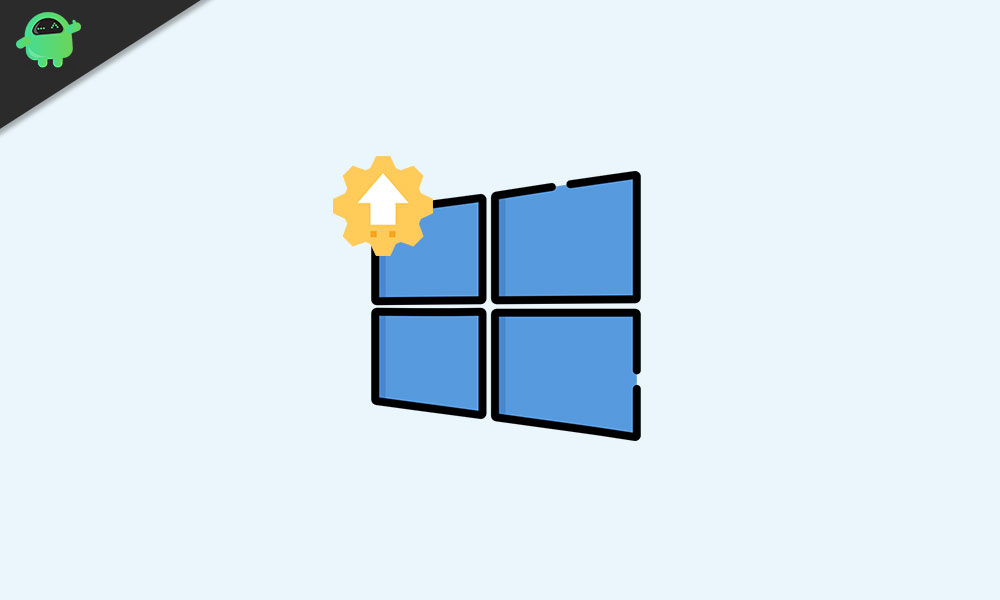 Microsoft is starting to slowly release its latest Windows 10 October 2020 update (20H2) for most of the devices. As usual, it brings many new features, bug fixes, and many performance improvements. However, the removal of the Control panel is the most notable change.
As usual, the update is slowly rolling, only for a few devices now. Want to find out if your PC can be updated to the latest version? Follow the steps in this article and enjoy the latest version of Windows on your PC. Although if you cannot find the option to update your PC, your PC might not yet compatible with the latest version.
How to install or uninstall the Windows 10 October 2020 update (20H2)
Method 1: Install from Windows update
This is the most reliable way of getting updates for your PC. If your PC is compatible with the update, it should be available for download from the Update menu. Here's how you can check for it:
Open the Settings app in Windows and click on Update and Security.
Now click on Windows update and check for Updates.
If the latest 20H2 update is available for your device, it will show up, and you can easily download and install it from there.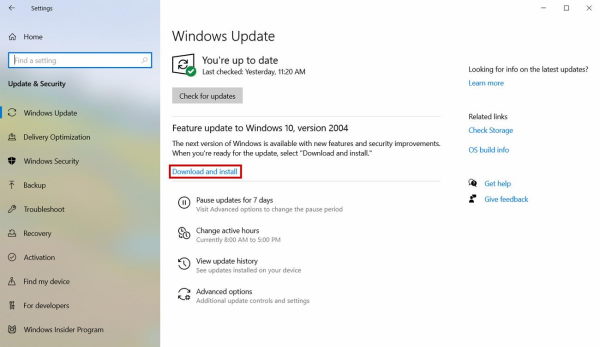 Although if your device has some compatibility issues with the update, Windows will not show this update for your device in the Windows update menu.
Method 2: Install from Update Assistant
This piece of tool is available to help to install the latest version of windows to your machine. However, it is highly recommended not to use this tool because it may create compatibility issues and might render your device unusable. But if you're not using this update on your main machine and wish to try out new features, you can proceed.
Download and launch the Widows 10 Update assistant software from here.
Once you install it, open it, and wait for it to check for updates.
The assistant app will show the latest update available (in this case, it's 2009).

Now simply click on Update now and follow the prompts and wait for the update to download and install.
Note: Make sure you have an uninterrupted internet connection and enough storage available.
Method 3: Via ISO Files
Since the update process requires an uninterrupted and stable internet connection, it will fail if your connection is not stable. At that point, you can simply download the iso files from Microsoft and update it easily. This an unusual method. I follow this method for updating when the internet is not good.
Visit Microsoft Windows 10 website on your Mobile or non-Windows devices. ( If you're planning on using android, use any download managers like FDM or IDM.
Click on Download ad select your editions, Language, and bit version (32 or 64). Click on download.

Once the iso file is downloaded, open it on your windows machine, which will mount the iso file to your Windows Explorer as if it was a CD.

Now open setup.exe and follow in screen prompts.

You'll be asked to upgrade your existing windows with or without removing data. Choose what you want.
Now the installation (update) will begin.
Note: If you choose to remove data, all your documents and apps will be gone. Choose it wisely.
Uninstalling updates
So you managed to update to the latest version. But now you find out that there are some issues, so you might want to roll back to the previous version. Don't worry because windows keep the old version for up to 10 days before, which you can revert back to the previous version. It's possible, and you can do so by following these steps:
If you can boot and the system is functional
If you can still boot to the system and most of the system is functional, you can simply uninstall the latest update and go to the previous version very easily.
Open the Settings app and click on Update and Security.
Now click on recovery.
Finally, click on Get started under Go back to the previous version of Windows.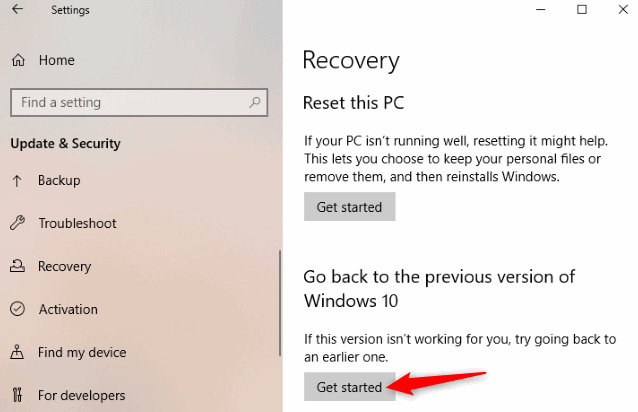 Follow the steps and prompts on the screen, and you can easily revert back to the previous version of Windows easily.
If you cannot boot or the system won't function normally
If the update caused some serious issues and you cannot boot up normally, you can uninstall updates from the recovery option.
Hold Down the shift key and click on the restart from your lock screen. This will show up advanced boot options for windows.
From the options, click on Troubleshoot>Advanced Options>Uninstall Updates.

Now click on "Uninstall latest feature update."

Wait for the steps to complete, and the system will restart if the uninstalling process was successful, and you can start using your PC normally.
Although if your update doesn't even reach the lock screen, the chances are that sometimes Windows will pick up the abnormality and show you this advanced startup menu. But if it doesn't show up, you should use a windows installation medium to access "Repair your  Computer" and then access this menu.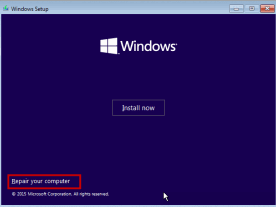 If you passed the 10 days period to uninstall the latest update, you have no option to reinstall the previous version of Windows by downloading appropriate files from the Microsoft website.
Conclusion
So this is how you can install the latest windows 10 October 2020 update to your machine. So play for a while and if you think it's not working properly, you can easily revert to the previous version without any issues. Follow the above-mentioned steps.
Although we don't recommend installing using the Update assistant. Since if it's not on the windows update, your PC will surely be not compatible with the latest update. So, wait for a while for a better experience.