Sling TV allows viewers to watch live TV channels, movies and shows. It is possible, however, that the app will not work on your smart TV, which can leave you frustrated. If Sling TV isn't working on your Samsung, LG, Sony, or any other smart TV, this article will show you how to fix it.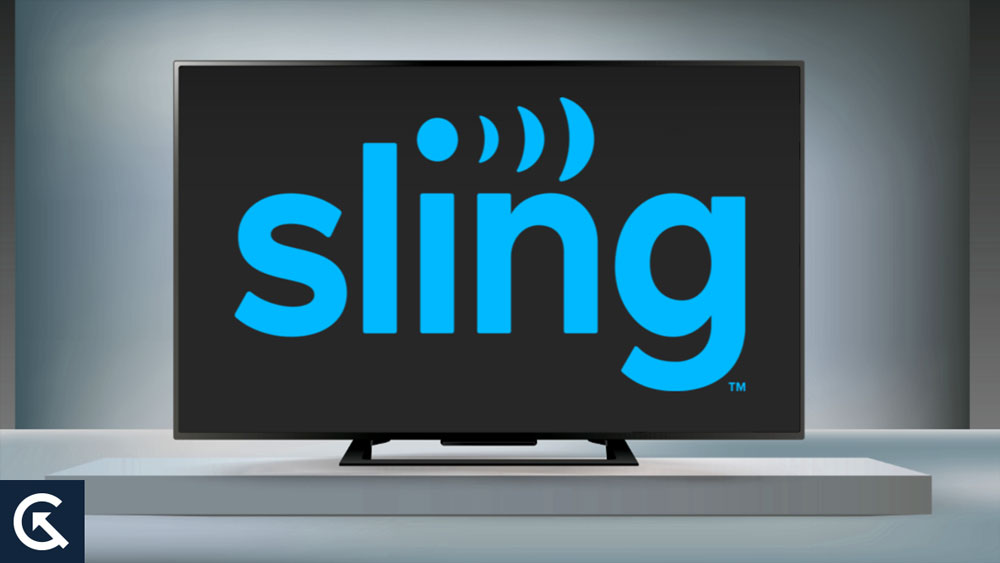 How to Fix Sling TV Not Working on Samsung, LG, Sony, or any other smart TV
So, here are some fixes to resolve the ling TV Not Working on Samsung, LG, Sony, or any other smart TV; therefore, let's check them out:
Fix 1: Check Your Internet Connection
You must check your internet connection when your smart TV isn't working with Sling TV. Streaming services may buffer or not work if your internet connection is slow or intermittent. You can check your internet connection by following these steps:
In the TV's settings, locate the internet or network section. You can check if your TV is connected to the internet if it is connected to the internet and the Wi-Fi signal is strong, check if it is connected to the internet.

Use a speed test app or website to estimate your internet speed. To watch Sling TV in high definition, your internet speed must be at least 3 Mbps. You should contact your internet service provider if your internet speed does not meet the minimum requirements.

Ensure your modem and router are unplugged for a few seconds, then reconnect them. This will reset your internet connection and may fix any connectivity issues.
Fix 2: Check Sling TV App Settings
Ensure the Sling TV app settings are correct if your internet connection works properly. Using the wrong settings can lead to the app malfunctioning. You need to do the following:
You should ensure that Sling TV is installed using the latest version. The app needs to be updated if not.

To clear the cache and data of the Sling TV app, go to your TV's settings, find the Sling TV app, and click on it. It may fix the app's issues if you remove any corrupted data.

Restart the Sling TV app after closing it. If there are any issues, this will refresh the app and fix them.
Fix 3: Update Your Smart TV's Firmware
To ensure that all your smart TV's features and apps, including Sling TV, are functioning properly, you should update its firmware. You must update your firmware regularly to fix bugs, improve performance, and add new features to your smart TV. To update the firmware on your smart TV, follow these steps:
You can find firmware update instructions on your TV manufacturer's website. TVs' firmware can usually be updated by visiting the manufacturer's support page. Follow the instructions provided with your TV's model number.

For firmware updates, most smart TVs have a built-in software update feature. Go to the settings menu on your TV and select the option for software updates. Follow the instructions to download and install an update if one is available.

A USB drive may be an option if your TV doesn't have a software update feature. Visit the manufacturer's website and download the firmware update file. You can then insert the USB drive into your TV's USB port after you've copied the file to a USB drive. Follow the instructions provided by the manufacturer to complete the firmware update.
Ensure you give yourself enough time before starting the firmware update process since firmware updates can sometimes take a long time to complete. It is also recommended not to turn off or unplug your TV during the firmware update process to prevent permanent damage.
Fix 4: Check Your TV's Time and Date Settings
It is also important to verify your smart TV's time and date settings if Sling TV is not working. Sling TV and other streaming services require accurate time settings to function properly. It is important to check your TV's time and date settings to avoid problems when streaming services like Sling TV are used. The steps are as follows:
Accessing your TV's settings menu through a dedicated button on the remote or by selecting settings from the home menu may be possible.

Go to the settings menu of your TV and find the time and date option. It is usually located under your TV's general or system settings, depending on its make and model.

Ensure that the time and date are accurate once you have found the time and date settings. You should adjust them accordingly if they are not.

If any adjustments need to be made to the time and date settings, save your changes and exit the settings menu.
Some smart TVs may update their time and date settings automatically through an internet connection. Depending on your TV, you may need to adjust its settings if it does not do so manually.
Fix 5: Check for interference
Streaming problems, including Sling TV not working on your smart TV, can be caused by wireless interference. There may be interference affecting the quality of your streaming if you live in an area with many Wi-Fi networks. In order to reduce wireless interference, you can take the following steps:
Changing the location of your router is one of the easiest ways to reduce wireless interference. If possible, keep your router away from other electronics, such as televisions and microwaves, as well as metal surfaces and walls.

Initially, to connect your smart TV to the internet, use a wired ethernet connection instead of Wi-Fi. By doing so, interference can be reduced, and streaming performance can be improved.

You may want to try changing the Wi-Fi network's channel if there are numerous Wi-Fi networks in your area. It is usually possible to change the channel of a router via the router's settings menu.

Replace your old router with a newer model that supports the latest Wi-Fi standards if it is old or outdated. There is usually a better ability to handle wireless interference with newer routers.

Smart TVs may experience poor Wi-Fi signals if they are located far from routers. If your TV is located in an area with weak Wi-Fi signals, you may need a Wi-Fi range extender.
Fix 6: Disable VPN or proxy
It is possible for your smart TV to be hampered if you use a VPN or proxy to access the internet. VPNs and proxies can make it appear as though you are in another location than you actually are, which is why Sling TV uses location-based restrictions to determine what content is available in your area. To disable your VPN or proxy, follow these steps:
VPN users should disconnect from their VPN service if they are using one. In order to disconnect, you may need to consult the instructions provided by your VPN provider.

Navigate to the network settings section of the settings menu on your smart TV if you are using a proxy. Make sure the proxy settings are disabled.

Your smart TV will need to be restarted after disabling the VPN or proxy. You can ensure that the changes you make to your network settings are fully implemented by doing this.
Fix 7: Reset Your Smart TV
It may be necessary to reset your smart TV if the above steps don't work. In addition to erasing Sling TV data, this will also erase all data on your TV. Here's how to reset your smart TV:
Samsung TV:

Open the TV's settings and choose General. Click Reset at the bottom of the page. It will be necessary for you to enter your PIN if you choose to do so.

LG TV:

Select General from the TV's settings. You can reset your settings to their original state by scrolling down and selecting this option. If prompted, enter your PIN and click OK.

Sony TV:

Click Storage & Reset in the TV's settings. Select Factory data Reset and then select Erase everything.
Fix 8: Contact Sling TV Support
Further assistance can be obtained from Sling TV support if none of the above steps works. A dedicated team can assist you with any problems you may encounter. To contact Sling TV support, follow these steps:
Email support:

If you have a problem, you can email support@sling.com, and the support team will get back to you as soon as possible.

Live chat support:

On the Sling TV website, you can chat with a support agent. On the bottom right of the page, you will find a chat icon allowing you to contact a support agent.
Conclusion
It can be frustrating if Sling TV not working on Samsung, LG, Sony, or any other smart TV. You can, however, resolve the problem in several ways. To restore your smart TV, try resetting it if none of those steps works. Please do not hesitate to contact Sling TV support if all else fails. It's easy to get back to watching your favourite shows and movies with Sling TV by following these steps. So, that's how to fix it. It is our hope that this guide has been helpful to you. Moreover, comment below and let us know.