With the Sony WH-1000XM4, Sony builds on the success of its predecessor, the Sony WH-1000XM3. In addition to its multipoint connectivity, speaker-to-chat functionality, and advanced software features, the WH-1000XM4 continues to give Bose competition. It's Sony's turn this time, and with the WH-1000XM5, you can get a steep discount on the XM4 headphones. But, unfortunately for some users, the Sony XM4 is not connecting to iPhone, iPad or Android Phones. Well, that's the reason why we are here. This troubleshooting guide will teach you how to fix the Sony XM4 when it is not connecting to iPhone, iPad, and Android. So, let's get started with the guide.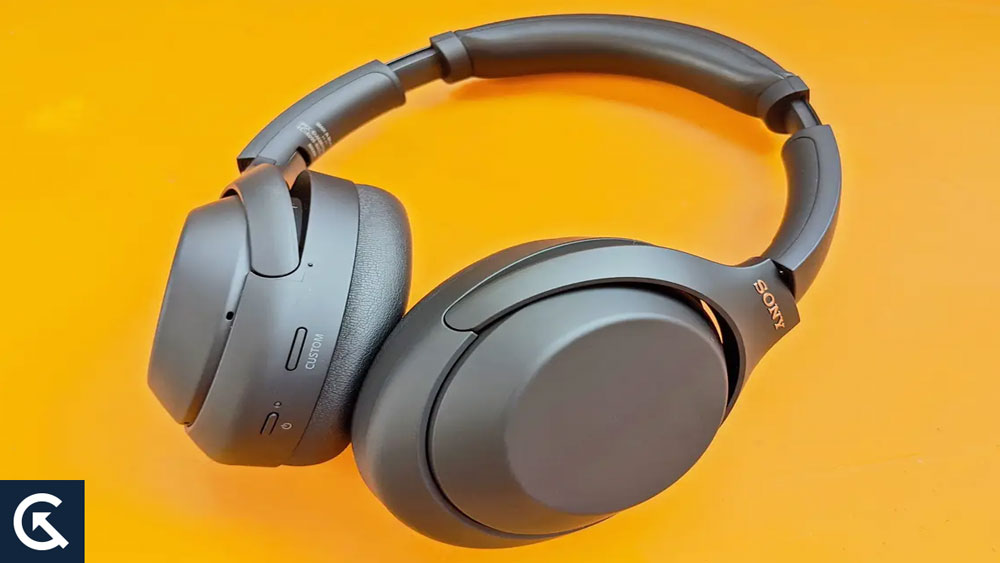 Why are Sony XM4 Not Connecting to iPhone, iPad or Android Phones?
Sony XM4 and other models are not connecting to iPhone, iPad, or Android phones for several reasons. This problem can be caused by a variety of factors, including:
A firmware update can resolve not connecting issues from time to time. Regularly, Sony releases firmware updates that improve performance and fix bugs.
As dirt, debris, and earwax accumulate, headphones may eventually lose their working capabilities. Cleaning your headphones regularly is important for maintaining their good working condition.
A setting in the Sony Headphones Connect app or device settings allows you to fix the not connecting issue. It is important to ensure that both places are set to cancel noise.
If the headphones do not have enough battery power, noise cancellation may be compromised. You should ensure that your headphones are fully charged before you use them.
How to Fix Sony XM4 Not Connecting to iPhone, iPad or Android Phone
If your Sony XM4 is not connecting properly to your iPhone, iPad, and Android phone, perform the below-mentioned fixes. So, let's get started with the fixes:
Fix 1: Pair Your Sony WF-1000XM4
You can pair your Sony wireless earbuds to your Bluetooth device by following these steps:
After removing them from the charging case, you can place the earbuds in your ears.
Each earbud should be held for eight seconds by pressing and holding its touch sensor.
Your earbuds are ready when the Bluetooth pairing voice says, "Bluetooth pairing," and the LED lights flash blue.
To add the WF-1000XM4, go to your device's Bluetooth settings and choose "WF-1000XM3".
Sony WF-1000XM4 earbuds aren't Bluetooth multipoint compatible, so you can't use them with two devices at once. You must have already established connections with the desired devices in the past. Through the Bluetooth menu, you must connect the Sony WF-1000XM4 to the desired source once it has been manually disconnected from the current source.
Fix 2: Update Firmware Version
It is possible to check your earbuds' firmware version by downloading the Sony Headphones Connect app, which can be found in the Apple App Store and Google Play Store for free. Using the app, connect your earbuds and follow these steps:
In the top-right corner, press the three-dot icon to open the menu.
Choose "WF-1000XM4 Version."
Upon clicking the icon, a pop-up should appear showing the firmware version.
You will see a prompt within the app if an update is available. You can follow the instructions on the screen by pressing "More Info". Before updating the firmware of the WF-1000XM4, it is important to note the following:
When the update is large, and you have a good Internet connection, it can take up to 30 minutes for an update to download.
Make sure your mobile device is connected to both earbuds.
It is important to ensure each earbud is at least 50% charged.
During the update, don't place the earbuds into the charging case.
You will be prompted to update the app after it has completed the update. Your earbuds should restart and automatically reconnect as soon as you press OK.
Fix 3: Check The Battery Status
Through the Sony Headphones Connect App, you can see the percentage of battery remaining in your earbuds. There is a breakdown of how much battery is left in each earbud and the charging case at the top of the screen. You cannot view these readouts unless you connect your earbuds to your device.
Fix 4: Reset Your Headphones
If you are experiencing noise not connecting issues with your Sony XM4 headphones, you may be able to reset them. Getting the Sony XM4 to work again is possible if you fix any issues with the headphones' settings. To reset your headphones, follow these steps:
It is suggested that you turn off your headphones.
Keep pressing the power button for 7 seconds after pressing them.
After resetting, you will see the headphones' indicator light flash for a few seconds.
If your Sony XM4 is not connecting, try it again after resetting your headphones.
Fix 5: Clean Your Headphones
When you've tried all the above solutions, nothing has worked, you may have a physical problem with your Sony XM4 headphones. Headphones can become dirty and clogged with debris over time, negatively affecting their performance.
Fix 6: Change The Settings
Using Sony Headphones Connect, you can adjust the settings for your device. You may need to experiment with different settings until you find the one that works for you.
Fix 7: Charge Your Headphones
The Sony XM4 could be affected by a low battery if your headphones run low on power. If you plan on using headphones, ensure they are fully charged.
Fix 8: Clean the Charging Case
Sony recommends cleaning the charging case with a soft, dry cloth, similar to how you do this with the earbuds. Dip the cloth in a dilute neutral detergent solution before wiping the case's exterior if the surface is filthy. It is not recommended to use solvents such as thinner, benzene, or alcohol on the product's surface because they may damage the finish. When cleaning the unit's interior, use a soft, dry cloth to avoid excessive pressure on the charging contacts. Using a damp cloth to clean the case's interior is not advisable, as it could damage its electronics.
So, that's how to fix the Sony XM4 not connecting properly to your iPhone, iPad, and Android phone. We hope that this guide has helped you. Moreover, for more info, comment below and let us know.