From this post, you could download and install the Sony Xperia 8 Android 10 Update version 56.1.C.0.245. Although the mobile phone industry is now getting saturated with many newcomers, Sony remains a pretty old player in the market. Nowhere near to its glory days, yet it still churns a decent smartphone now and then. And the Sony Xperia 8 is no different. The device belongs to the mid-level segment and has a pretty solid specs sheet for a mid-level segment.
To begin with, you get a Qualcomm Snapdragon 630 chipset under the hood. Then there is 4GB of RAM and 64GB of internal storage. Although the storage might be a little bit on the lesser side, yet the support for MicroSD card should do the job. Coming to the camera department, you get a 12-megapixel (f/1.8) + 8-megapixel (f/2.4) rear camera setup whereas the front camera holds 8-megapixel (f/2.0). All these features are further supported by a 2760mAh battery, which might be able to last an entire day. This is one major complaint that many users have from this device.
Another complaint was regarding the absence of the Android 10 update. However, this has now been addressed with and you could now easily get a taste of the latest stable Android version on your device. In this post, we have shared the Sony Xperia 8 Android 10 Update version 56.1.C.0.245 file for you to download. But before we check out the steps to do so, let's have a look as to what Android 10 has in store for all of you out there.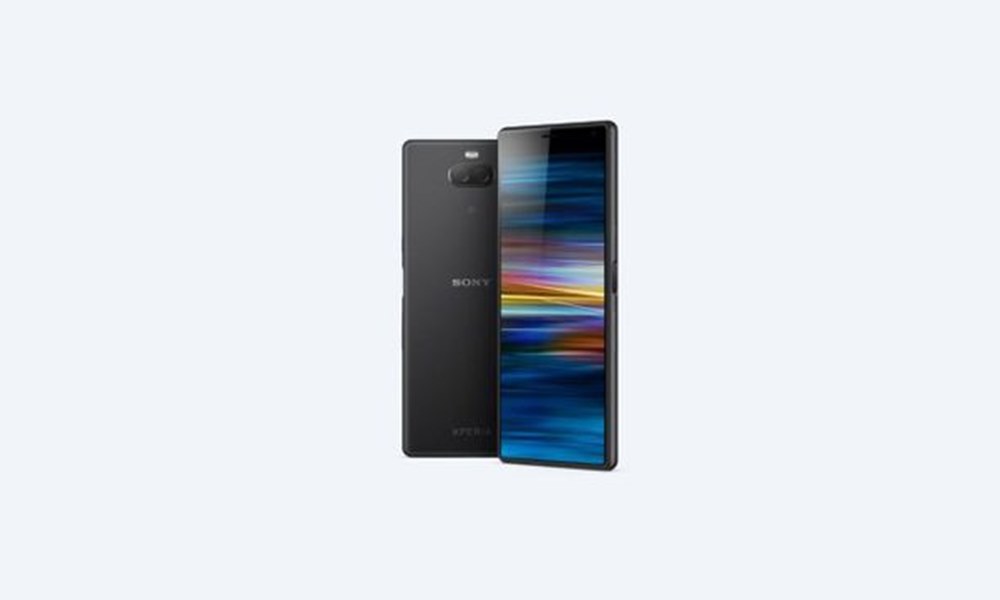 What's New in Android 10
Android 10 was launched in September last year and with that, we saw the additions of many new features. Apart from that, there were also some noticeable improvements over the existing features. There is now an increasing focus on user privacy and digital wellbeing. Furthermore, Google has also taken a page out of Apple's book and introduced new navigation gestures. Apart from this, the latest stable iteration of Android also introduced Project Mainline.
Till now, Google released a new update and sent it to the respective OEMs to mold it according to their device's requirement. Since some devices like the Xiaomi has way too many customizations, as a result, they took quite some time in optimizing this updating. All in all, users were the ultimate suffers. Not any more. With the introduction of Project Mainline, Google cut this middleware and now directly sends all the updates to the Play Store. This makes up for faster core updates, cutting off the waiting time from this process. If this sounds interesting, then so will be the Android 10 update feature list for Sony Xperia 8 that we have mentioned below.
Android 10 Features
Here are some of the noteworthy features of Android 10:
Dark Mode
One of the most requested features to which Google finally paid head. With Android 10, you now get a system-wide dark mode. Apart from that, there is now a force dark mode option as well. This is buried deep inside the Developer Options and it forces all the apps to adapt to the dark mode, even if they don't support it officially.
There has also been an addition of new navigation gestures in Android 10. For example, the back action now requires just a simple swipe from the left from the right side of your screen. Along the same lines, you could now invoke Google Assistant via a swipe from the bottom left or right corners. Or swipe up from the bottom of your screen to go to the home screen or perform a swipe up gesture and hold to access the recent menu.
Better Permissions
Till now, you could only Allow or Deny permission. However, with Android 10 there's a newer addition. You could now also make permission to remain in the active state only when the application is running in the foreground. Once you minimize or close the app, the permission will be revoked at that instance itself. This permission is known as Allow only while using the app and as of now, it is only limited to Location, with further expansion possible in Android 11.
Digital Wellbeing
Digital Wellbeing has now been permanently baked into the system, and you should now make full use of it. These include setting up app usage timer for every user-installed app or using the Parental Controls feature of the Wellbeing. Likewise, Focus Mode is another pretty nifty feature that has been added to this Android build.
Live Captions
The live caption feature will automatically add a caption to every video in real-time, whether or not the video has its captions. This comes out to be quite a useful feature for quite a lot of binge-watchers.
So these were some of the important features to make its way over to Android 10. You could now enjoy all these features on your Xperia device as well. We will be sharing the Android 10 update file version 56.1.C.0.245 for your Sony Xperia 8 device. Follow the below instructions to download and install it onto your device right away.
Download Android 10 for Sony Xperia 8
Now that you are fully aware of what all Android 10 has to offer, its time to make way for it onto your Xperia device. But before you do, please keep in mind the points mentioned in the requirements section.
Prerequisites
First of all, make a complete backup of your Sony device.
You will also have to enable USB Debugging on your device. To do so, head over to Settings > About Phone > Tap on Build Number 7 times > Go back to Settings > System > Advanced > Developer Options > USB Debugging.
Next, download and install the Sony USB Drivers. This is needed for the successful connection of your device to PC.
Download the XperiFirm software. This will help you in downloading the last firmware file.
For flashing the stock firmware, download the Sony Flash tool and install it onto your PC.
Also, make sure that your device is charged at least 50% so that there isn't any sudden shutdown during the process.
That is all that you should be needing for the Android 10 on your Sony Xperia 8 device. Now follow the below instructions and begin with the process.
Instructions to Install
To begin with, you will first have to download the stock firmware file using the XperiFirm software. After that, you will have to create the FTF file using the stock firmware file. Finally, you will have to flash the created stock firmware using the Sony Flash Tool. With that said, here are the required instructions for all three sections.
STEP 1: Download Latest Firmware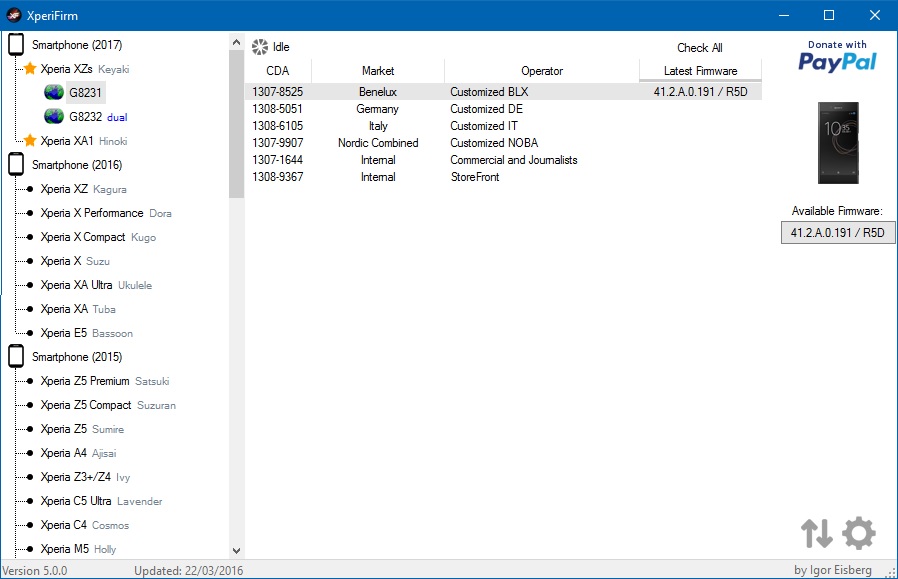 First of all, download and install the XperiFirm software on your PC.
Launch it and then select your device from the left section. The latest firmware file should now be visible on the extreme right.
Furthermore, you will also be able to make a note of all the details of that firmware package. Once, you go through it, hit the Download button.
The download process will take some time, depending on the file size and your net speed. Once the download is completed, you should see the Unpacked Successful message. Click OK.
So you have now got the latest Android 10 update file for your Sony Xperia 8 device. But you cannot simply flash it onto your device at this point. For that, you will have to convert this firmware file to FTF format, as that is the supported file type. This conversion will be carried out using the Sont Flash Tool.
STEP 2: Create an FTF File
Download and install the Sony Flash Tool on your PC.
When the installation is done, launch it and head over to the Tools section. Within that, select Bundle followed by Create.

Next, under the Source field, browse to the Android 10 firmware that you have downloaded earlier for your Xperia 8 device.
Now double-click on the Device field and select your device.
Fill in the Branding and Number columns with their names. You could enter anything, but it is better to stick with the official names itself. So enter Sony Xperia 8 under Branding and 56.1.C.0.245 under version number.

Finally, select all the files from the Firmware content section situated at the right to the FOlder list section to your left. Use the given right and left arrow keys for that. Once you have transferred all the files, hit Create.
You now have successfully created the Android 10 FTF File of Sony Xperia 8. It is now time to flash it onto your device. Follow the below instructions for that.
STEP 3: Flash the Android 10 FTF File on Sony Xperia 8
Open the Sony Flash Tool application on your PC and click on the FLash icon. This should be situated at the top left.
In the Bootmode chooser dialog box, select Flashmode and hit OK.

Next, under the Firmware section, select the newly created FTF file.
Likewise, under the Wipe section (situated at the extreme right), select

DATA

,

CACHE,

and APPSLOG options.
Once you have made the selection, click on the Flash button. You should now be prompted to connect the device to your PC in Flashmode.

To do so, press and hold the Volume Down button when connecting your device to PC via USB cable. At that instance, the LED light on your device should also turn green.

When your device is connected to PC in Flash mode, the flashing process will start. It will take some time and upon successful completion, you should see the success message. When that happens, you could now safely remove your device from the PC. Now reboot your device and enjoy the latest Android 10 OS!
With this, we conclude the guide on how to install Android 10 on your Sony Xperia 8 devices. Yes, it is no hidden fact that Sony has been quite late in Android upgrades, but now that it is available for your device, maybe a moment of rejoice? On that note, do share your views on Android 10, once you start using it. What features did you found the most interesting and is there any that you found missing? Drop-in your viewpoints in the comments section below. Likewise, don't forget to have a look at iPhone Tips and Tricks, PC tips and tricks, and Android Tips and Trick.