Multi-tasking is the new norms for smart gadgets, whether it is your iPhone, iPad or Macbook. Nobody wants to be left behind, so Apple has introduced a split screen feature that you can effectively use on your iPad to Multitask. What is split screen, and how to use it to Multitask in your life? Today's article is all about productivity and multitasking.
iPad is a very versatile device, and you can do whatever you want to do. Sometimes, you may use this as a PC also. With the latest M1 chip integration, the tasks you can do on your iPad has got a significant boost. For instance, you can open a messenger window, Chrome, and a full fledge video editing app at the same time. Now with the added functionality of split screen feature, iPad is almost like a mini PC with a touchscreen.
Today we're gonna explain to you how to do a split-screen on your iPad's to multitasking. No matter if it can be an iPad pro or a regular iPad, as long as it's not the iPad Mini 2nd generation. You can definitely able do a split screen on your iPad by following the steps that we have given below. Well, it's actually relatively easy but keep in mind that not all the apps are compatible with split-screen. Usually, the apps that you can download from Apple Store do support the split screen feature.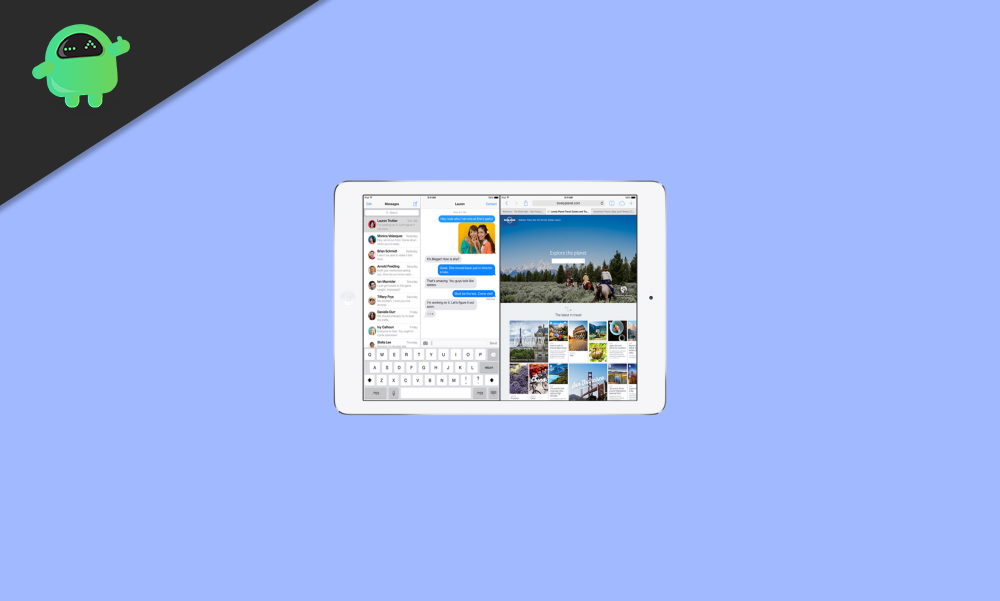 How To Split Screen on iPad To Multitask
Apple has put really good thought into baking this multitasking feature into their iPad devices. The use of Split screen feature is very practical, and you can use it lost all scenarios of your daily lives. Whether it is watching youtube while taking notes or attending a virtual meeting while making a PowerPoint presentation. Such productive booster tasks are now possible with the Split Screen feature on the iPad. Here is a short walkthrough on how to activate and use this feature.
First of all, make sure that the apps you require to use are present in your Dock. To do so, firstly launch the app and close it. Then, you will notice that it will locate in one of your Dock's "recently used" tabs.

After that, launch another app that you wish to use simultaneously. But, this time, keep it open.
Now, you need to swipe up gently from the bottom of the screen. This will open the Dock. However, you do not need to swipe up too hard.
Then, press and hold the app in the Dock. After that, drag it towards the right-side corner of your screen. This will help you to bring the two apps side-by-side.

Now, you can place the divider bar between the two apps to provide them space according to your need.
Note: keep in mind that you drag the app out of the Dock and leave it before reaching towards the iPad screen corner. Then, it'll just appear on top of the first app on a small area of the screen. This Multitasking feature is generally known as Slide Over.
How to Close Split Screen Apps
Using split screen is great, but there are times you might wanna use the full real estate of your screen. So it is wise to know whether to turn this feature off when not in use. And honestly, it's very easy to turn it off or make it disappear.
To close split screen apps, simply swipe down from the top of the smaller view. This will minimise the app to the background, and you can continue your work. Please note that the app will still be running in the background. In case the swipe down feature is not convenient for you, and then you can always press the home button to make all split screen apps disappear.
Conclusion
These are some steps that you can follow to use split-screen multitasking on your iPad. But, have to sure that the application you want to use in split-screen is either supported by this feature or not because not every app supports this feature. We recommend you always try the application that is present in the Apple Store because it is possible that a third-party application would not support the split-screen in iPad multitasking.