Here we will provide you with a complete list of supported TWRP recovery for HTC devices. TWRP is the final name for the custom recovery for a lot of Android users today. Considered to be one of the important contributions of the Android developer community, TWRP is widely used around the globe as the best alternative for stock recovery. There are a lot of added features available with TWRP recovery that are not provided in the stock recovery. There are many custom recoveries available for Android but TWRP is considered to be the best by many users. clockwork mod or CWM is another custom recovery that is equally popular like TWRP.
Android has been there in the mobile phone market for a few years now. Today devices powered by Android marks the majority of smartphones used around the world. Android completely revolutionized the smartphone market globally. With updates and newer versions, Android made smartphones capable of doing a lot of tasks which made them popular among users. They are easy to use and high in performance. Although many other mobile operating systems tried to challenge Android, nothing could win over Android. With newer versions, Android is still topping as the best available mobile operating system.
The popularity of Android has introduced a lot of devices onto the market. Today we have a lot of choices in Android smartphones in a different range of budgets. This has also increased the number of companies turning towards smartphone production. With newcomers and the old hero's smartphone market is witnessing a lot of competition today. In this, there are few companies who have been improving their products with improvements in the Android. This itself is what helped them sustain in the market with increasing competition. HTC is one such company that has been there on the global market even before Android made its way.
HTC has done business in a variety of electronic devices for a long time now. Coming into smartphones there have been there in the market even before Android started to gain popularity. When Android became popular HTC started to produce Android-powered smartphones too. The company is always known for introducing some cool and unique features into the market. They have devices in all budget ranges but they have been known for their premium devices. HTC as a smartphone manufacturer always had its own uniqueness and reputation in the market. Here is a list of supported TWRP recovery for HTC devices.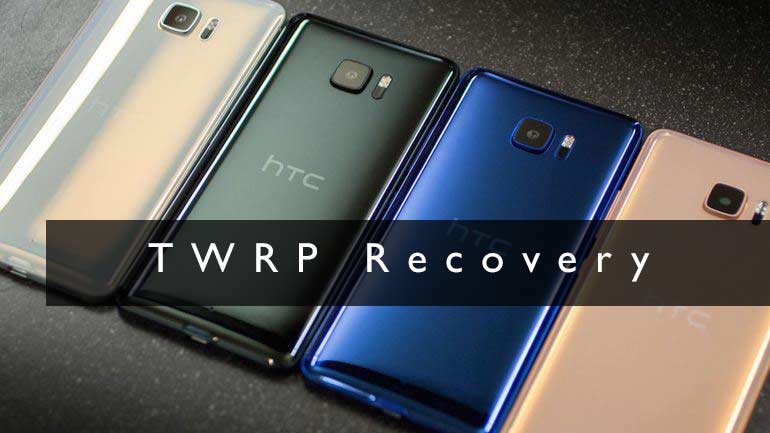 What is TWRP Recovery:
TWRP stands for TeamWin Recovery Project is a fully touch-based and open-source custom recovery for Android devices. It is the best custom recovery after ClockworkMod (aka CWM). Unlike Stock Recovery, TWRP helps to install Custom ROM, Kernel, Mods, or even root any Android devices in just a few simple steps.
[su_quote cite=" Wikipedia" url="https://en.wikipedia.org/wiki/TWRP"]Team Win Recovery Project (TWRP) is an open-source software custom recovery image for Android-based devices. It provides a touchscreen-enabled interface that allows users to install third-party firmware and back up the current system, functions often unsupported by stock recovery images. It is, therefore, often installed when rooting Android devices, although it isn't dependent on a device being rooted to be installed.[/su_quote]
Advantages of TWRP Recovery:
You can flash Custom ROM with TWRP Recovery
You can flash modding zip files to customize your phone
Easy to use Xposed Modules
Easy to Root and Unroot using TWRP Recovery flashable zip SuperSU
Easy to Create and Restore Nandroid Backup using TWRP Recovery.
Easy access to restore the Nandroid Backup.
You can flash the image file using TWRP Recovery.
Can remove all bloatware using TWRP Recovery.
To underclock and overclock.
You can clean Wipe, Cache, and Data.
List of All Supported TWRP Recovery for HTC Devices
Here we have listed all the supported HTC devices on which you can install TWRP Recovery. With each link, we have included the guide on How to install the TWRP Recovery. So read the step-by-step carefully.
Before doing the methods, I just want to warn you that, By doing this you will loose the warranty and sometime if you don't read the steps and do something wrong can brick your device.
[su_note note_color="#faf8e8″]Make sure you have followed the steps properly. Don't Skip and Read! – GetDroidTips or Staff editor are not responsible for any damage. Take your own risk.[/su_note]
TWRP Recovery For HTC Desire Series:
TWRP Recovery For HTC One Series:
TWRP Recovery For HTC U Series:
| | |
| --- | --- |
| Device Name | Download Link |
| HTC U Ultra | Download TWRP Recovery |
| HTC U11 | Download TWRP Recovery |
| HTC U11 Life | Download TWRP Recovery |
| HTC U11+ | Download TWRP Recovery |
| HTC U12 Life | Download TWRP Recovery |
| HTC U12+ | Download TWRP Recovery |
| HTC U Play | Download TWRP Recovery |
| HTC U11 Eyes | Download TWRP Recovery |
| HTC U19e | Not yet released |
| HTC U20 5G | Not yet released |
TWRP Recovery For Other HTC Series: