Everything is now available via apps. If you need your groceries, food, daily use items, mobile phones, or anything, you can order it online. One of the most convenient things that you can order online is the food. There are often various occasions that you crave for food from your favorite hotels or restaurants but, do not have the item, because either you are busy or just do not feel like going outside. Moreover, in cases of the current scenario where Coronavirus has become a pandemic, going out and enjoying your favorite food has become a bit risky.
Moreover, there can some people who are quarantined or are taking self precautionary measures to stay away from the COVID-19 then, such apps can become lifesaver. However, do not forget to thanks the delivery guys who will still have to go out and take your order and deliver it to you. Keeping all this stuff in mind, in this post, we will give you a list of top 5 beta food delivery apps, when you are isolated. Most of the apps on this list are available in your region and it will be easy for you to make such orders from home and keep the COVID-19 away from you. So, that being said, let us get straight into the article itself: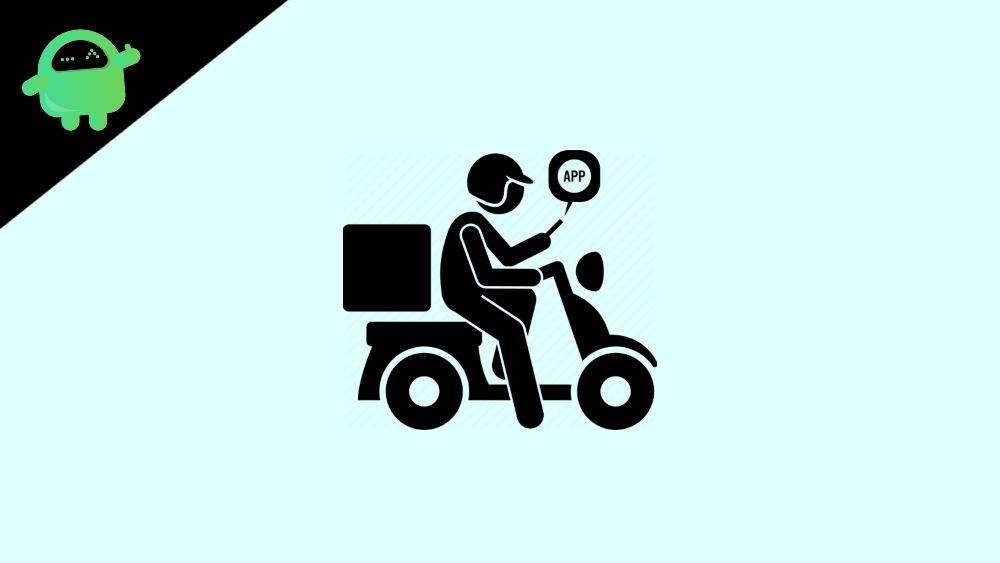 Top 5 Best Food Delivery apps when you are isolated
Let us take a look at the best apps that can get you the food that you want when you are keeping yourself isolated:
Caviar
One of the popular apps that let you get your first order without any delivery fee, is Caviar. Caviar is currently available in Boston, MA, Brooklyn, NY, Chicago, IL, Dallas, TX, Fort Worth, TX, Los Angeles, CA (including Orange County), Manhattan, NY, Philadelphia, PA (including Greater Philadelphia), Portland, OR, Queens, NY, Sacramento, CA, San Diego, CA, San Francisco, CA (including Bay Area), Seattle, WA (including Eastside), Walnut Creek, CA, Washington, D.C.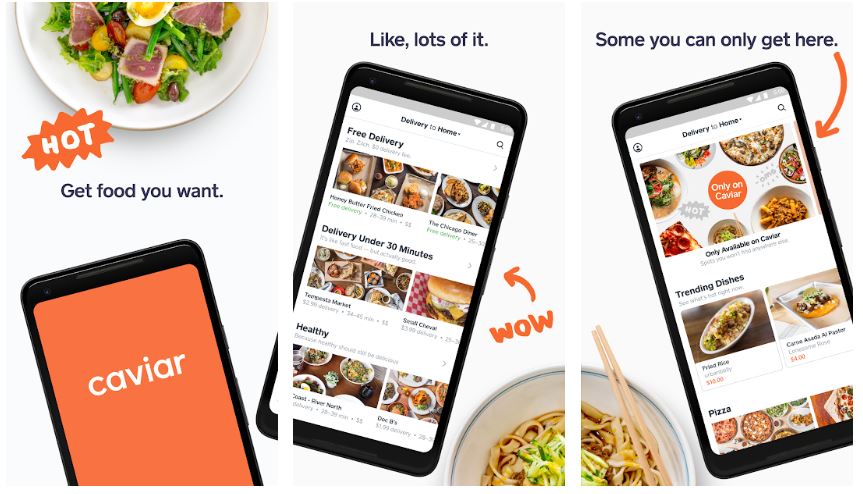 You can get any food of your choice, albeit they are listed on the menu of the restaurants and get it delivered at your home. A nice app with a lot of coverage. Moreover, there are more higher-end hotels, you will find in this app as compared to others. However, bear in mind that you are required to pay a service fee, delivery fee, and the courier fee.
[googleplay url="https://play.google.com/store/apps/details?id=com.trycaviar.customer&hl=en_US"]
DoorDash – Food Delivery
Another great app if you are located in the US and you can order any food be it, seafood, steakhouse, etc. You just need to add it to your cart and then you are good to go. Moreover, this app also allows you to schedule your deliveries so you do not have to worry about ordering food later while you are busy doing something else. Some of the known partners of this app are Chick-fil-A, Burger King, Wendy's, Chipotle, The Cheesecake Factory, Subway, Dunkin' Donuts, Jamba Juice, Panda Express, Moe's Southwest Grill, P.F. Chang's, Denny's, IHOP, Buffalo Wild Wings, Papa John's, etc.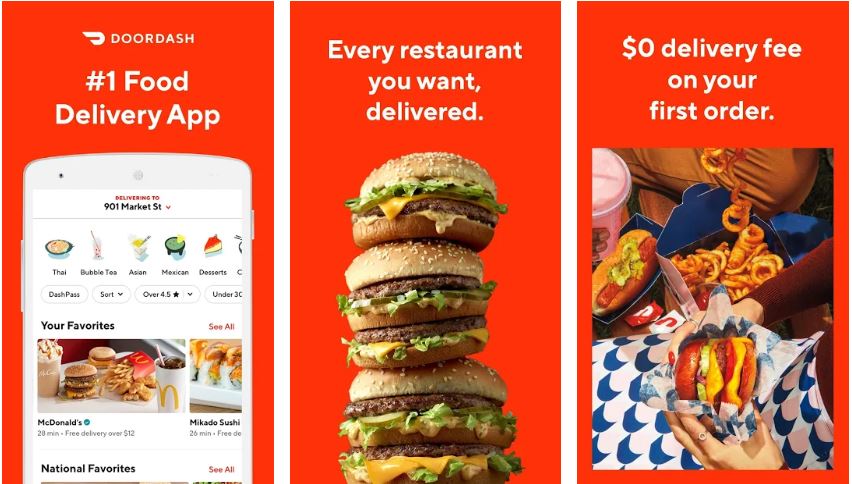 This app accepts cards, via Google Pay or any wallet. Currently, this app serves in over 600 cities, for example, Atlanta, Austin, Bellevue, Boston, Brooklyn, Charlotte, Chicago, Columbus, Dallas, Denver, Fort Worth, Houston, Indianapolis, Irvine, Los Angeles, Manhattan, Minneapolis, Nashville, New York, Orange County, Pasadena, Palo Alto, Peninsula, Phoenix, etc.
[googleplay url="https://play.google.com/store/apps/details?id=com.dd.doordash&hl=en_US"]
delivery.com
One of the apps that lets you not only order food but also stuff from liquor stores, grocery store to get yourself filled with daily needs in cases of isolation. Moreover, when you frequently use this app, then you earn Delivery points that you can redeem later to cut down on the delivery fees while ordering the next time. You can order to deliver the food or any product or even pickup from your convenient location.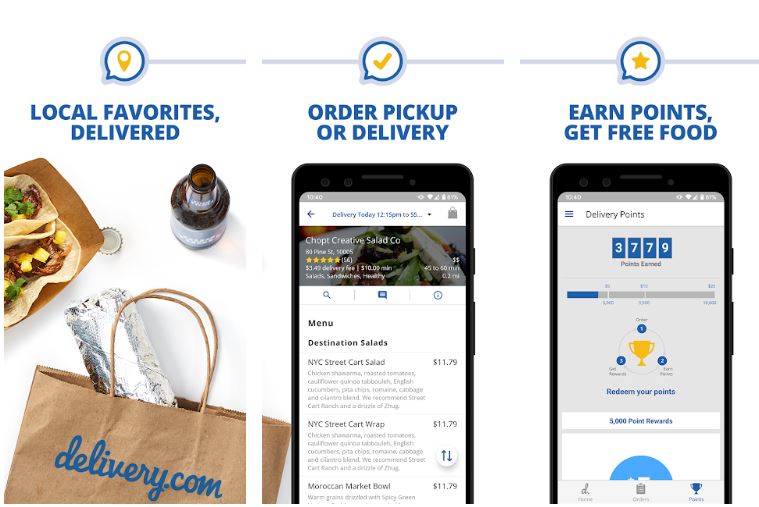 This app also lets you schedule your order or even group order to get discounts. The app is currently serving in places like NYC, Chicago, Los Angeles, San Francisco, Boston, Washington DC, Philadelphia, Burlington, Madison, Lansing, and hundreds more cities and towns across the US. You can make use of major credit cards, Apple Pay, Google Pay, Visa Checkout, Masterpass, and PayPal to pay for your orders.
[googleplay url="https://play.google.com/store/apps/details?id=com.deliverycom&hl=en_US"]
Postmates
Postmates is another app that lets you get anything that you want at your doorstep. With the help of this app, you can get your favorite food that you need to be delivered to your home. Some of the brands that you can order from are McDonald's, Burger King, Taco Bell, Del Taco, Wendy's, Chick-fil-A, Wingstop, The Cheesecake Factory, Starbucks, etc.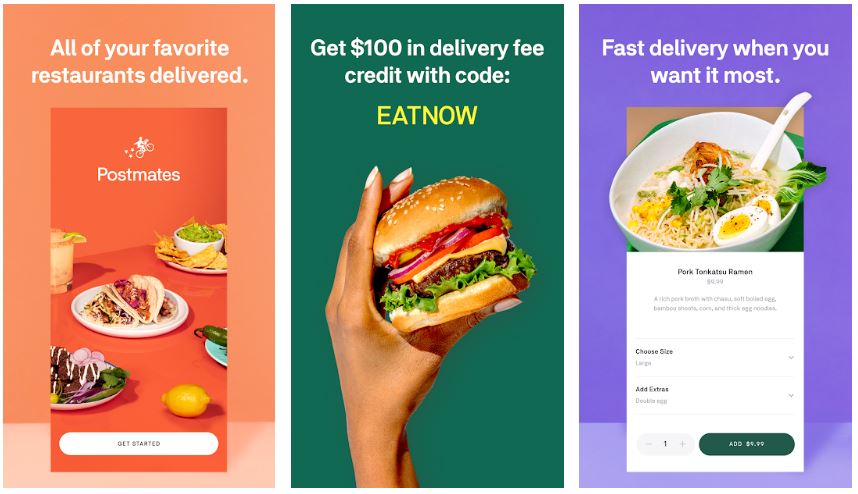 You can be anywhere but, this app will deliver it on time to your home, dorm, office, etc. You can pay a subscription fee of $9.99/month to get your delivery fee exempted for a month for food orders over $12. All the transactions are digital and you do not need to worry about carrying cash. This app accepts Google Pay, Credit Card, Debit Card. Major Credit Cards: Visa, American Express, MasterCard, Discover. for payment.
[googleplay url="https://play.google.com/store/apps/details?id=com.postmates.android&hl=en_US"]
Uber Eats
One of the popular food delivery apps which lets you order food from Pizza, Burritos, Burgers, Sushi, Chinese food, etc. Just put your favorite food in the item cart and then proceed for payments and boom your food will be at your doorstep in no time. You can also schedule your delivery to get the order right before your lunchtime so that you won't have to wait during your lunchtime for the food.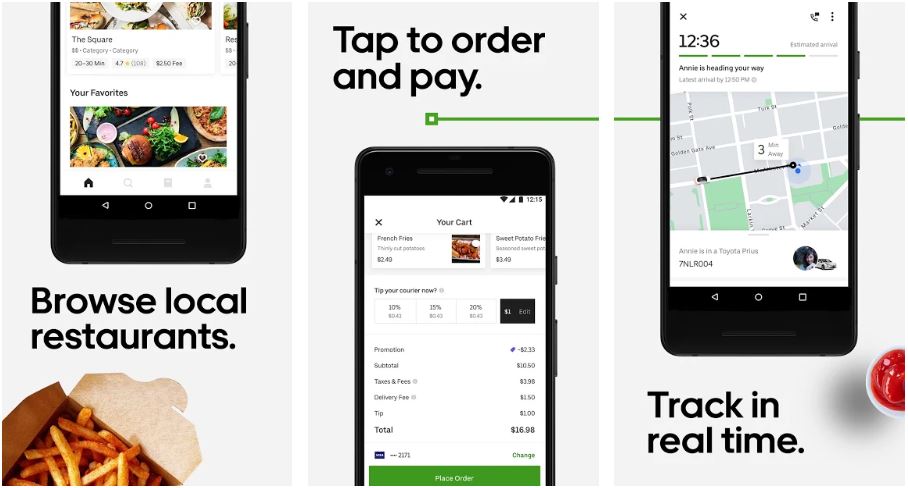 This app also lets you track your food in real-time and also get the notification when your order arrives. This app is available internationally, though small cities are still out of reach at the moment, major cities are being served via the Uber Eats app. A great app that you can trust for safe food and on-time delivery.
[googleplay url="https://play.google.com/store/apps/details?id=com.ubercab.eats&hl=en_us"]
So, there you have it from my side in this post. I hope you guys liked this post and let us know in the comments below if there are some other popular food delivery apps in your locality that you want us to add in this list. Until the next post, stay safe and…Cheers!