There are multiple ways to watch television. However, cable TV is one of the most common ones among them. With so many options around you, it sure becomes difficult to find out the best provider near you. So, here we have gathered an exclusive list of the top cable TV providers leading the market because of their high-quality TV services, extraordinary customer care services, exciting packages, and flexible policies. So without further ado, let us have a look at the best providers you can choose.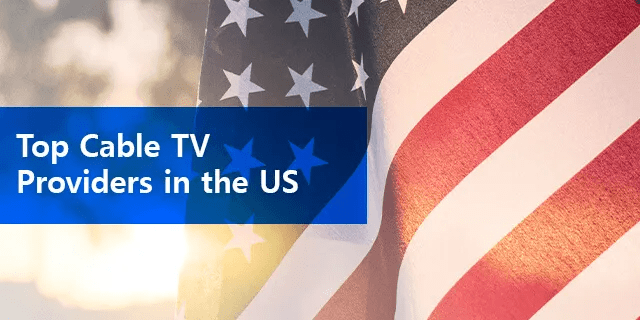 AT&T
If you want to bundle your internet and TV services, there's no better option out there other than AT&T. It offers a variety of choices and discounts. Though AT&T doesn't offer many internet options (you simply pay one price for the highest speeds available), their AT&T TV and DIRECTV services do offer a wide range of TV options.
AT&T TV takes a special approach to broadcasting. If you love to catch all new shows as soon as they are ready to be aired, AT&T TV will never let you miss a beat with access to the best live channels. Do you love binge-watching your favorite TV shows on streaming apps? AT&T TV is a simple platform that allows you to access thousands of popular apps in one place. All you have to do now is choose a plan that meets your requirements. For more information regarding the AT&T cable services, contact AT&T customer service, which is available round the clock to take up all your queries whenever required.
Xfinity
Xfinity is one of the best cable TV providers as it dices out plans like Digital Starter, Digital Preferred, and Digital Premier to the users. With flexible and cost-efficient plans, the channel count ranges from at least 140 channels to as many as 260 plus channels. Its no-contract options and fair pricing makes it stand out among the rest of the providers.
Another exciting feature about Xfinity is the fact that it cost less as compared to the average cable service providers, it offers a no-contract policy. Xfinity provides great DVR equipment and a cable box. You can also customize your plan with premium channels and various entertainment channels.
Cox
Cox TV is another provider that tops the list because of its attractive prices and customized channel packages. Cox offers amazing channel customization options and adequate storage. Cox is indeed much cheaper as compared to other providers especially for users who want fewer channels. However, it does require signing a contract, unlike Spectrum. You may also be charged a termination fee if you cancel the service after 30 days of your subscription date.
Spectrum
Spectrum is among the most popular provider in the market because of its flexible policies including a no contract and no termination fee in case you cancel the subscription. So, you are not tied to any contract. Moreover, Spectrum TV packages are very cost-effective and offer access to a vast variety of channels in HD. You can seek professional assistance for the installation process or go for self-installation. The equipment comes along with the package you avail of. The DVR box offers impressive HD storage.
Optimum
Optimum is another well-reputed cable TV provider offering a no-contract service to the users. You can record up to 15 shows at a time and the DVR offers impressive storage. However, Optimum has limited availability as it provides services in around four states. So, if you live in any of these four states of New York, Connecticut, Pennsylvania, or New Jersey, you can avail of its attractive and cost-effective TV packages.
Mediacom
Mediacom is also among one of the most reliable providers who offer tempting TV services along with internet plans. It is much convenient since you get to enjoy high-speed internet along with an attractive TV plan. It also facilitates you with a flexible installation process. The customer care service is also sound so you do not have to worry if there are any queries regarding the plan or subscription process.
Concluding Up,
The aforementioned providers are the best reputed and popular providers of the industry acknowledged because of their high-quality services. You can check out their plans and pricing and compare them. However, you will have to confirm their coverage in your area. You can use various platforms to find out which among the above providers are accessible in your area. Keeping your viewing habits, budget, and location in mind, you can pick out the most appropriate cable TV provider and plan for yourself.