Google Home is one of the best things that serve just right when you have a proper internet connection. With the help of Google Home devices, you can ask the Voice Assistant to do just about anything that is connected to the internet. For instance, you can turn ON/OFF lights, fans, control your music system, and was made by Google to compete with another voice assistant, Amazon Echo. You can trigger your Google Home device by saying Ok Google! or Hey Google! and can make it perform certain basic tasks as mentioned above or searching the internet or your calendar etc.
But sadly, several Google Home users have reported that they are making random beep noises. And if you are looking for troubleshooting such an issue on your device then, you are at the right place as in this post, we will guide you on top ways to fix communication error with Google Home. Google Home device is not to be blamed here as Amazon Echo and other voice assistance devices also suffer from such issues that need troubleshooting. So, without any further ado, let us get straight into the article itself:
Top Ways to Fix Google Home Device Ran­dom­ly Beeps Issue
Below are the best ways to fix the Google Home randomly beeps issue on your Google Home speakers such as Home Max, Mini, and Nest.
Restart Google Home
One of the common fixes that you can apply to fix this issue is to restart your Google Home device. To do so, unplug your Google Home for near about 20 seconds and then plug it in back.
Check for Paired Bluetooth Devices
You might have noticed that Bluetooth devices when connected with any speaker make a beeping noise after connecting or while pairing. The same might be the case with your Google Home speakers. So, it is advisable to check for any paired Bluetooth devices by heading to:
Open the Google Home app.
Go to your Google Home speaker.
If you see Bluetooth Audio mentioned below the speaker's name then, it is connected to a device.
Tap on the Settings icon at the top on the same screen.
And tap on Paired Bluetooth devices.
If you see an unrecognized device, then you need to remove it.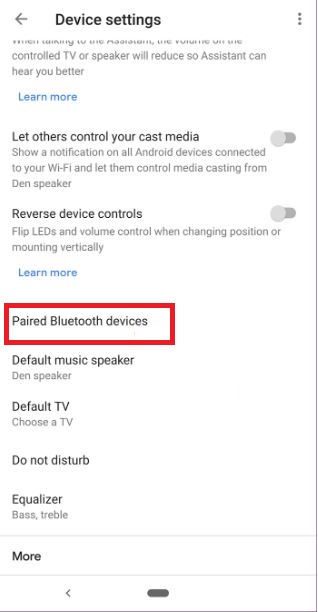 Check for Power or WiFi Issue
Google Home makes a beeping noise once you power it on. So, it is advisable to check for the power connection if its loose or not. WiFi disconnection also makes the same noise. Check for your WiFi connection as well.
Software Update Sound
If you are hearing a random noise maybe twice, then it might be due to the fact that your Google Home has received a new update.
Check Routines
With the help of Google Routines, you can perform multiple tasks. In fact, you can activate them by scheduling them. Check your routines and see if you have set activate automatically or play random the music or noise that you hear. Head to
Google Home app>>Routines>>Manage Routines
.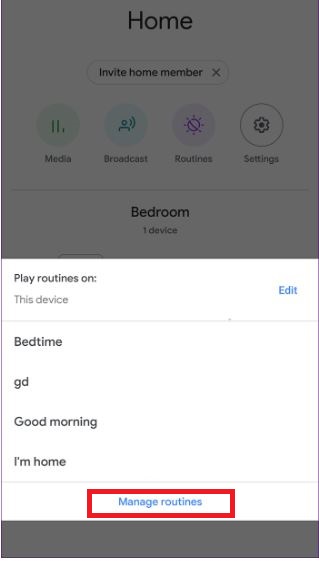 Check Active Reminders
You might have set a reminder that is causing the beeping sound. Check if you have set any reminders on Google Home. To check for active reminders go to Google Home>>Settings>>More Settings>>Services>>Reminders.
Check Accessibility Settings
Head over to Google Home app>>Settings>>Accessibility>>Turn off the toggle for both the options — Play start and end sound.
Check Alarms
Alarms can be one of the reasons for the beeping sound on your Google Home. To check for any active alarm on your Google Home speaker, head to Google Home>>Speaker settings>>Alarms & timers. Turn off any active alarms if not required.
Reset Google Home Speaker
If you are still having the beeping sound issue and any of the above-mentioned methods could not rectify it then as a last resort you can reset your Google Home speaker.
So, there you have it from my side in this post. I hope you guys liked this post and were able to rectify this sound beeping issue on your Google Home speaker. Let us know in the comments if you come across any issues while following any of the above mentioned methods. Until the next post…Cheers!