Here in this article, we will share with you all the possible methods to troubleshoot the WiFi issue on your OnePlus 7 and OnePlus 7 Pro handset easily. OnePlus has recently launched the OnePlus 7 and the OnePlus 7 Pro smartphone as flagship killers. WiFi issues are quite common these days and most of us have faced such kinds of problems. So, if you're also facing the same issue then make sure to follow this guide completely.
When it comes to WiFi connectivity, it's one of the common and widespread issues among smartphone users these days. No matter which device you're using, you may encounter multiple Wi-Fi-related issues on your handset at any time. WiFi works via ethernet router and provides wireless internet connectivity to all WiFi-enabled devices wirelessly.
Whereas you can also find a WiFi connection on home appliances, smart devices, train stations, hotels, airports, coffee shops, shopping malls, etc. easily. It basically enhanced our daily life towards technology and internet activity more securely & easily than ever before. But there are some connectivity issues as well with mobile devices that we can't deny.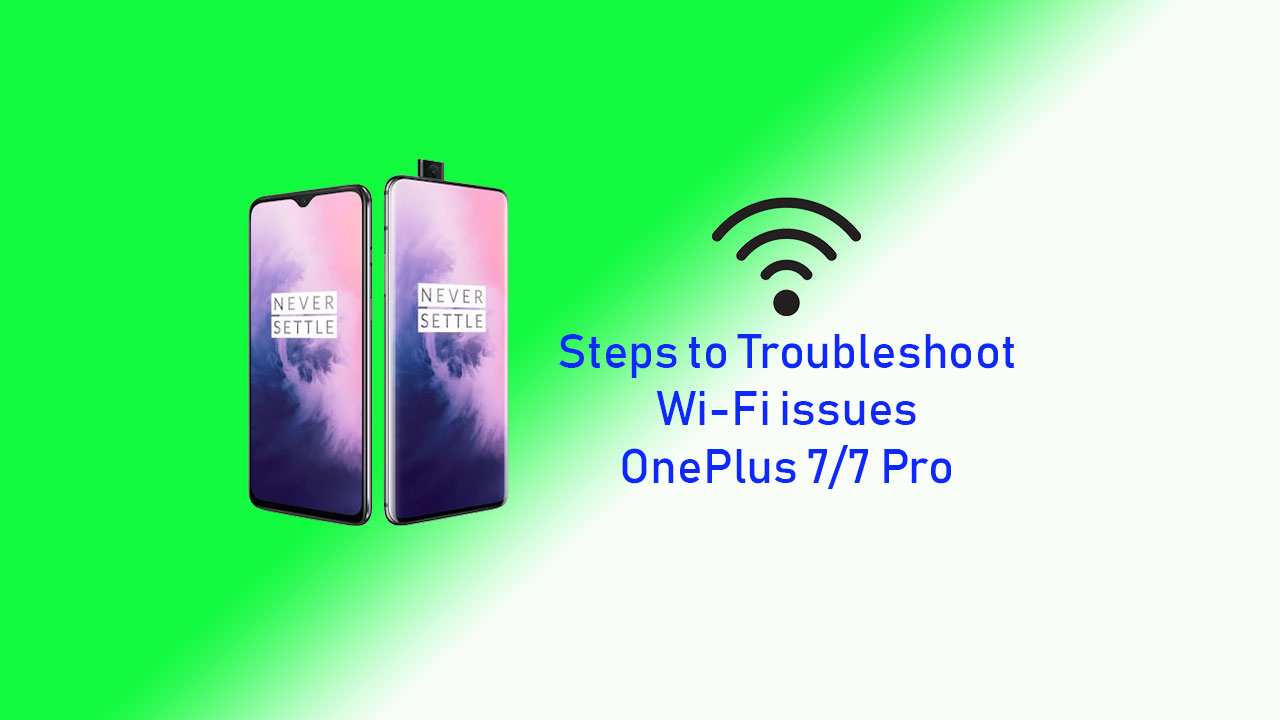 Steps to Troubleshoot WiFi issue on OnePlus 7 and OnePlus 7 Pro
We all know that ethernet connections aren't 100% reliable or useful in every situation especially if you're using a smartphone or smart home device or even a laptop. So, having a Wi-Fi connection and using it on all devices is so easy for most users. But sometimes it gets slow down or disconnected due to some technical faults or even networking issues. As a result, the WiFi connection also drops or gets disconnected.
Therefore, your connected smartphone also fails to regain internet access via WiFi. It seems that plenty of OnePlus 7 series device users are experiencing such an issue with the Wi-Fi and Bluetooth in most cases. If you're also planning to buy a OnePlus 7/7 Pro handset or already using it, then you should check out several ways to troubleshoot and fix Wi-Fi issues on your handset by following the methods below.
1. No connection to the Wi-Fi router
Sometimes your smartphone simply doesn't get connected to your own Wi-Fi network or a public hotspot. If that's the case, there are a few ways to troubleshoot and solve this issue.
Fix:
Turn off the WiFi on your device and turn it on again.
Try to delete the saved network from your OnePlus device and set the connection again.
You can unplug your home router and attach it again to check whether it gets connected or not.
You can try to check other WiFi networks to connect your OnePlus device for once and see what happens.
Otherwise, restart your mobile for once as it may solve your issue.
2. Wi-Fi has no internet access but connected
If your device is connected to your Wi-Fi router but unable to connect to the internet, check out the steps below:
Fix:
You should restart your Wi-Fi router or modem at first. Unplug it and wait for 30 seconds and then connect again to check the connectivity.
You can also Reset your WiFi Router and set all the wireless connection settings. It will help you to solve this issue.
Contact your ISP (Internet Service Provider) for your help. Maybe there are some issues from their end.
3. Wi-Fi Connection Drops Frequently
It can happen that when your mobile or any other WiFi-enabled device gets connected to your home network, the connection drops frequently. In order to fix this:
Fix:
Try to turn off the unusable WiFi-connected devices to check out whether any other device causing an issue or not.
Consider changing your WiFi password for once. This will help you a lot.
Reset your Wi-Fi from the device Settings > System > Reset WiFi, mobile, and Bluetooth. After resetting your Wi-Fi, put in the password and enjoy.
If this method doesn't help you to Troubleshoot the WiFi issue on your OnePlus 7 and OnePlus 7 Pro then head over to the next method.
4. Wi-Fi Connection not reaching up to you
If you're staying or working quite far from the Wi-Fi connection or router, you may get connection errors or slow internet speed issues.
Fix:
It's recommended to be closer to the router to get better speed and stability. Otherwise, move your router near to you.
If you can't move your router near to you, you can always use extensions or a WiFi Repeater to increase the WiFi range.
Try to place your router's antenna in different directions.
5. Unable to Connect to the Wi-Fi
Well, it may also be possible that somehow you're unable to connect to the Wi-Fi network only on your mobile device. While the Wi-Fi is running well on other devices without any issue.
Fix:
Simply turn off the Wi-Fi connectivity on your phone > Remove or Forget the Wi-Fi network > Then re-connect to the network to check for the issue.
A simple restart of your device can also help you to fix some of the connectivity issues in some scenarios.
6. Slow Wi-Fi Internet Speed
Most of the time, a slow Wi-Fi internet speed can cause issues to the mobile device users whatsoever. If you're also facing the same issue then make sure to follow the steps below:
Fix:
Try restarting your Wi-Fi router or modem to check for the issue.
Also, try moving your router closer to your room or within the good signal range where your device receives better connectivity.
Try setting the router antenna in different directions and set it in the position that allows maximum speed or better signal.
You can try reading the user manual of your router model and change it to the Wireless Channel manually from the admin dashboard of the router.
If your router has dual-band Wi-Fi support then try turning on both bands or set it to automatic so that you can easily switch between 2.4Ghz and 5Ghz bands on your OnePlus 7 series.
Additionally, using a Wireless repeater can help you to extent signal strength.
7. Can't Connect to Hotspot
If in case, you're using a mobile hotspot on your OnePlus device and facing issues with it then make sure to follow the steps below.
Fix:
Check if your device has left the mobile data usage limit or data pack. If not then you won't be able to use the internet on the same day or until you recharge the data pack.
Additionally, try turning off the data limit option from your mobile device. You can find it from Settings > Network/Mobile Carrier > Mobile Data > Data Limit.
Make sure that you're using the correct password on your Wi-Fi network.
8. Other Common Wi-Fi Issues
Sometimes, we don't focus on the little or basic things that actually may impact the connectivity and started searching for fixes for the bigger problems. If you're able to connect and use your Wi-Fi network on other devices then you should follow the steps below.
Fix:
Try to check whether the safe mode is enabled on your OnePlus 7/7 Pro device or not. If yes then just press and hold the Power button > Tap on Restart and your handset will reboot into the system normally.
Make sure to check your internet data bandwidth limit as well. If the bandwidth limit has already crossed the limit of usage or the data pack has expired then you won't get internet access for sure even if you're connected to Wi-Fi.
Check whether the device background processes are consuming internet access too much or not. You can just turn on Airplane Mode > Wait for a few seconds and then turn it off to check if that helps you or not.
Still, you're unable to Troubleshoot the WiFi issue on your OnePlus 7 and OnePlus 7 Pro then follow the rest of the recommended workarounds.
9. Perform a Factory Reset
If none of the methods worked for you then try performing a factory reset to your device as a final resort to easily fix most of the connectivity issues like Wi-Fi or Bluetooth. The Factory Reset will wipe out all the internal storage data from your device. So, we'll recommend you take a complete data backup before following the steps below.
Go to Settings > System > Reset options.
Select Erase all data > Tap on Reset phone.
If you're using a pin or password on your phone's lock screen, then it'll ask you to enter that.
Once a pin or password is entered, tap on Next.
Now, tap on Erase everything > Wait for the device to restart automatically.
Finally, go through the initial setup process, and check for the Wi-Fi connectivity issue on the OnePlus 7 and the OnePlus 7 Pro.
10. Contact your Internet Provider
If the Wi-Fi issue is still there and you're unable to connect or use the internet even on other devices that mean there is an issue with the Wi-Fi or internet access of your account. Make sure to contact the ISP (Internet Service Provider) and ask for technical support. If required, ask them to replace your IP address as well as your DNS server address to check for the issue.
That's it, guys. We assume this guide was useful to you. For further queries, you can comment below.