Here in this article, we will share with you some of the Wi-Fi issues which may occur on your Android smartphone. OnePlus has recently launched OnePlus 7 and OnePlus 7 Pro smartphones as a flagship killer device. WiFi issues are quite common and most of us have faced such kind of problems. Therefore, OnePlus 7 and 7 Pro devices may also get some WiFi issues in the future. Here we will also provide how to troubleshoot WiFi issue on OnePlus 7 and OnePlus 7 Pro handsets.
The WiFi connectivity is so much popular around us in terms of computers and mobile devices. WiFi works via ethernet router and provides wireless internet connectivity to all WiFi-enabled devices wirelessly. Nowadays, you can also find a WiFi connection on home appliances, train stations, hotels, Airports, and coffee shops easily. It just enhanced our daily life towards technology and internet activity.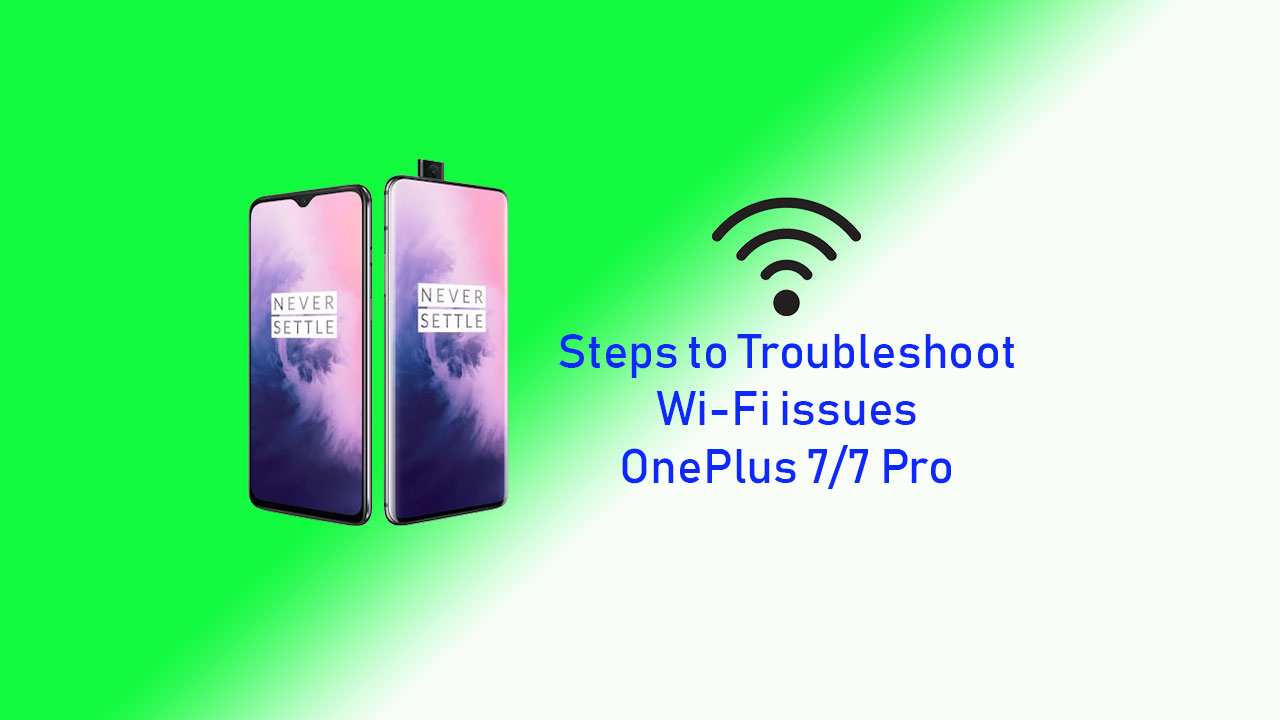 Steps to Troubleshoot WiFi issue on OnePlus 7 and OnePlus 7 Pro
We all know that ethernet connections aren't 100% reliable or stable in terms of the internet connection. Sometimes it gets slow down or disconnected due to some technical faults. As a result, WiFi connection also drops or disconnected. Therefore, your connected smartphone also fails to connect to the internet via WiFi. But sometimes, your device also can cause some issues which may cause WiFi connection drops or disconnected. If you're planning to buy or using a OnePlus 7 or 7 Pro handset, check out ways to troubleshoot and fix Wi-Fi issues.
1. No connection to the Wi-Fi router
Sometimes your smartphone simply doesn't get connected to your own Wi-Fi network or a public hotspot. If that's the case, there are a few ways to troubleshoot and solve this issue.
Fix:
Turn off the WiFi on your device and turn it on again.
Try to delete the saved network from your OnePlus device and set the connection again.
You can unplug your home router and attach it again to check whether it gets connected or not.
You can try to check other WiFi networks to connect your OnePlus device for once and see what happens.
Otherwise, restart your mobile for once as it may solve your issue.
2. No internet access but connected to Wi-Fi
If your device is connected to your Wi-Fi router but unable to connect to the internet, check out the steps below:
Fix:
You should restart your Wi-Fi router or modem at first. Unplug it and wait for 30 seconds and then connect again to check the connectivity.
You can also Reset your WiFi Router and set all the wireless connection settings. It will help you to solve this issue.
Contact your ISP (Internet Service Provider) for your help. Maybe there are some issues from their end.
3. Wi-Fi Connection Drops Frequently
It can happen that when your mobile or any other WiFi-enabled device gets connected to your home network, the connection drops frequently. In order to fix this:
Fix:
Try to turn off the unusable WiFi connected devices to check out whether any other device causing an issue or not.
Consider changing your WiFi password for once. This will help you a lot.
Reset your Wi-Fi from the device Settings > System > Reset WiFi, mobile, and Bluetooth. After resetting your Wi-Fi, put the password and enjoy.
4. Wi-Fi Connection not reaching up to you
If you're staying or working quite far from the Wi-Fi connection or router, you may get connection error or slow internet speed issue.
Fix:
It's recommended to be closer to the router to get better speed and stability. Otherwise, move your router near to you.
If you can't move your router near to you, you can always use extensions or WiFi Repeater to increase the WiFi range.
Try to place your router's antenna to different directions.
5. Other Wi-Fi/Internet Common Issues
Sometimes, we don't focus on the little or basic things and search for the bigger problems in our router or internet connection or mobile devices. Check out the simple fixes which you can try as well:
Fix:
Try to check whether the safe mode is enabled on your OnePlus 7/7 Pro device or not. It may prevent the Wi-Fi connection most of the time.
Make sure to check your internet data bandwidth limit as well. If this reached bandwidth above the limit, you won't get connected to the internet.
Check the device background processes as well. Some high data-consuming apps can slow down your phone connection.
If any of the mentioned tips not worked for you, perform a factory reset your device. This will definitely fix your device WiFi connectivity issue.