Here we will guide on how to unbrick OnePlus 6 using the unbrick tool. This will also help in fixing boot loop lag or even you can get back to stock.
I love the OnePlus 6 smartphone for one reason "Customization". Yes, According to OnePlus, unlocking or rooting doesn't void the warranty of their device. This is the reason why most power users or developer take one step forward to buy this device for development. Also, Thanks to the open source nature of Android technology which let developers perform any task to keep up the pace simply. However, there is nothing wrong to say that customization always brings some cons with it. Many times it results in bricking a smartphone. Well, if you have bricked your brand new Oneplus 6 while customizing it, this post will be useful for you. You can bookmark this post for future reference.
After the success of OnePlus 6, OnePlus has finally launched their new successor OnePlus 6.  With the OnePlus 6, the company has stepped further with the design and build quality. The notch at the top of the edge-to-edge display on the OnePlus 6 is said to be just 19.6mm x 7.68mm big. OnePlus 6 comes with a glass design, which is a departure from the metal unibody featured on the 3, 3T, 5 and 5T.
As Oneplus 6 is introduced recently, probably it's still under a lot of experimentation by the developers. As already mentioned, this can sometimes result in bricking of the device, it is very important for you to know how to keep up the pace in this matter. A few people think bricking means the device is dead. However, this is not always necessary. It is possible to make it functional again if you follow the right procedure. For those who are professional developers, unbricking a device is not a big thing but for those who don't have any idea, probably it's a daunting situation. Continue reading this post to known how to get a favorable fortune.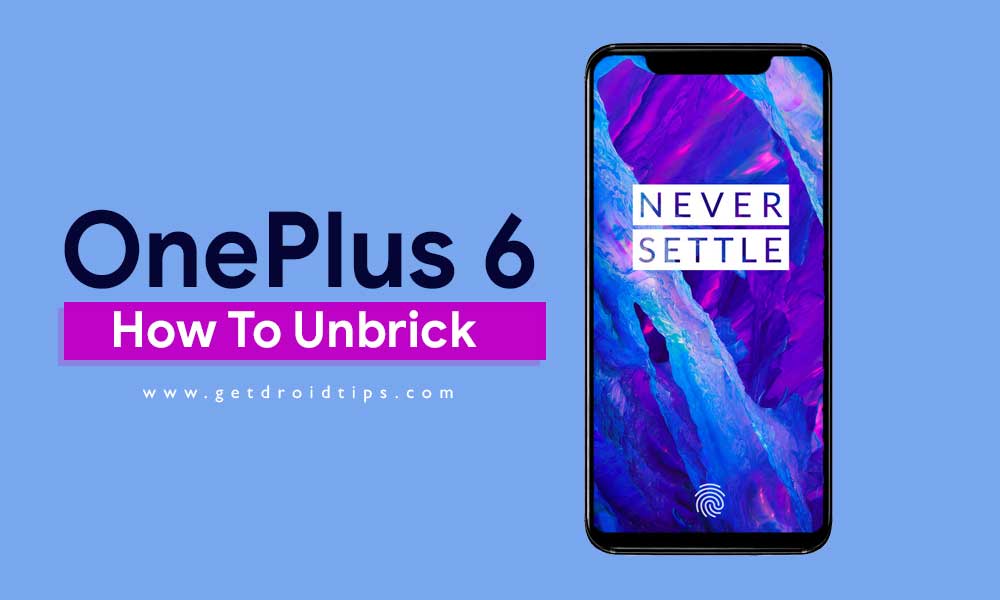 I would like to tell you that the procedure mentioned in this post may consume time. Thus your patience is very important during the procedure. Also, you need to download a file which is around 2GB in size. Thus it's better to have a stable internet connection in your arena. The device battery must be more than 50 % charged. It must also be kept in mind that the tool used for this purpose is going to install another OS to your device and i.e. Hydrogen. If you are ok with it, proceed with the below guide.
Steps to unbrick Oneplus 6
The link provided below enables you to download the ZIP file. Once the download is complete, keep in on your PC. There will be multiple files you will see in the folder you have downloaded. The one that you need to have is MSM Download Tool V4.0
Requirements to unbrick Oneplus 6
To download the unbrick tool provided by OnePlus click: Not released yet!
For latest OxygenOS click Not released yet!
Download OnePlus USB Drivers Here
To Download Qualcomm drivers, click Not released yet!
To download ADB Fastboot ZIP, check
For Windows click here
For MAC click here
Unbricking the Oneplus 6
The very first thing you need to do is to install Fastboot and ADB drivers for your device. Install them on your PC. Make sure you use Windows OS on it.
After this, you need to exhaust the "Driver Signature Enforcement" on your computer.
For this, follow the below guide.
Restart your PC and hold the shift key while clicking the "Restart" button. After rebooting your PC, you can simply choose "Troubleshoot" option. After this, click on "Advanced Options" and then on "Startup Settings". Now click on "Restart". You will see a series of startup settings which you can simply modify. At the option number 7, you will find a button for disabling driver signature. You need to pay attention to the key which is mentioned on the screen for disabling the same. Restart your PC after doing so.
Next thing to do is to hold the Oneplus 6 power button for around 40 seconds.
You need to connect your device to the PC after this. Prefer the USB cable and make sure the connection has been established.
Open Device Manager on the desktop and press Windows + R button together. This will open the run window. Now Type "devmgmt.msc" and click ok button.
After this, you need to search for your device. Use the name of [Unknown Device: QHUSB_BULK]
Next is to click on "update driver" after making the right click on it. Make a click on "Browse" button appear on the screen and simply pick the folder where the Oneplus 6 processor drivers file is present. You need to update the driver.
Your device should now be listed as Qualcomm 9008. 
Open the Unbrick tool for Oneplus 6 you downloaded earlier and run the file MSM Download Tool V4.0 after you are done with updating drivers.
At the top, you will see the start button. Click on it.
This will start the program to write distinct files on your device. Let it complete post which you can terminate the phone and PC connection.
Your device will now reboot and run perfectly.
Congratulations! You have made your dead phone live again using Official Unbrick Oneplus 6 tool.
So this is how you can unbrick Oneplus 6 simply. It must be noted that the Getdroidtips.com doesn't take any responsibility for anything that goes wrong during the procedure.