Samsung launched their latest note series called Galaxy Note 8, which is the biggest phone that Samsung produces. With the Big smartphone, Samsung makes hefty price tag. If you have bought this device and somehow ended soft brick or bricked your Sprint Galaxy Note8. Then here will guide you to Unbrick Sprint Galaxy Note8. Unbricking a device often seems a challenge to a lot of people. Well, doing this is not at all a big deal if you pay close attention to some of the important facts. In this post, we are going to discuss how to Unbrick Sprint Galaxy Note8 simply.
There are a few things that you can consider to keep up the pace in this matter. Galaxy Note8 is an amazing device that has been loaded with a lot of features. There are certain reasons that it becomes useless and the information we are going to provide you in this post is useful to avoid this issue up to a great extent.
To unbrick, your phone should be able to enter download mode. Follow this guide to Enter Download Mode on Galaxy Note8.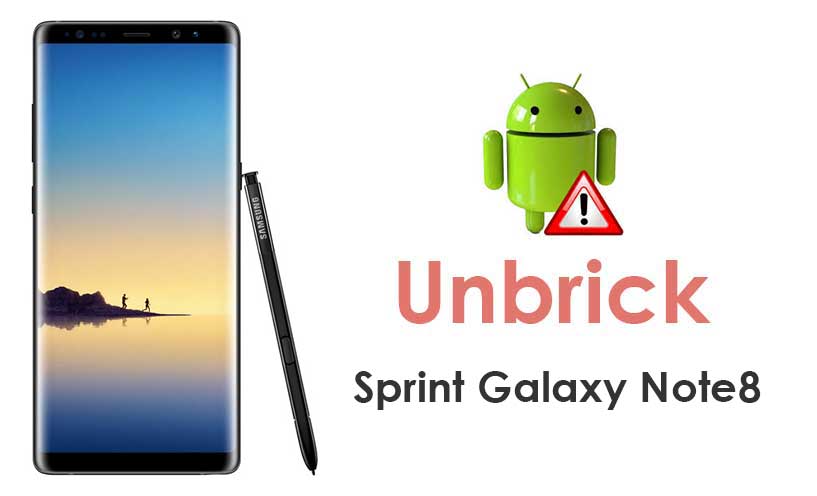 How to Unbrick Sprint Galaxy Note8
You need to keep in mind that a device that struck in a boot loop cannot be considered as a bricked device. Also, you cannot say it is bricked in case you are experiencing that it is booting in the recovery mode directly. To Unbrick Sprint Galaxy Note8, there is nothing much you need to do if you follow all that we are going to share with you.
There are certain reasons that why the malfunctions declare their presence in this device and you need to look here and there to Unbrick Galaxy Note8. Some of the common examples are rooting, installing a third-party application, custom ROM, and so on. You might be wondering how the latest tab that is just launched a few days ago can experience this problem. Well, you would like to remind you that Android is an open source technology, and there is a flawless blend of reasons how and why you end up damaging your Os while performing even some of the common tasks.
If you have some basic knowledge about Android, and you don't hesitate, you can easily Unbrick Sprint Galaxy Note8. As already mentioned, Android is an open source technology, this can make anyone with basic knowledge Unbrick Galaxy Note8. Actually, it's not at all a bad thing, all you need to do is simply soft unbrick your device.
Learning how to Unbrick Sprint Galaxy Note8 is one of the best things about Android that you can learn this year. Bricking actually reflects that your device is in an unusable state. There are two ways to Unbrick Galaxy Note8 and i.e. Hard Brick and Soft Brick. Hard Brick is when the device doesn't turn on and give no reaction on pressing the power button. Soft Brick is when it is unable to boot. Screen turns on but the device doesn't perform anything further. We will discuss the soft brick in this guide.
Perquisites:
Perquisites before you proceed with this guide on how to Unbrick Sprint Galaxy Note8. These are:
Download:
Check this link to Download Official Firmware For Galaxy Note8
Steps to Unbrick Sprint Galaxy Note8:
Well, To Unbrick your tab, you can simply flash the firmware. In the below step, you can skip 1-3rd step.
Full Guide to Flash Samsung Firmware Using ODIN
That's it! If you followed the guide, then you may have successfully unbricked your phone.