New updates are added on May 21, 2020: Jailbreaking community is more active than ever and you will see more number of jailbreaking tools now available for iOS. Well, jailbreaking gives the iOS users the opportunity to add more features to their iPhones via certain tools, just like you would do on an Android phone by rooting it. A famous jailbreaking tool, Unc0ver version is set to release in the future. This announcement was made by the developers of the unc0ver tool on Twitter. Here is what the tweet reads:
We are going to release #unc0ver 5.0.0 with support for every signed iOS version on every device using a 0day kernel vulnerability from @Pwn20wnd in sponsorship with https://phonerebel.com very soon. Update your devices to 13.5 and follow our progress on https://unc0ver.dev.

(Source)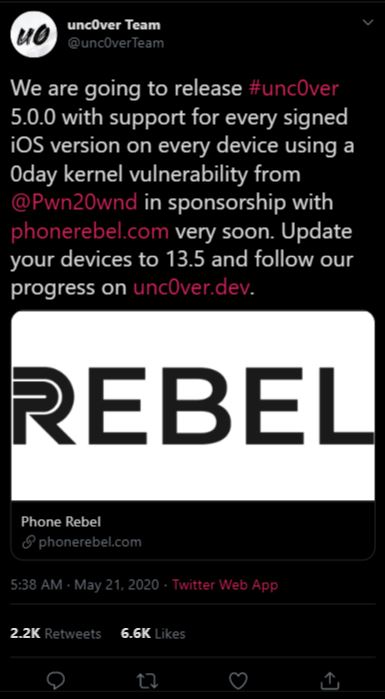 This unc0ver version 5.00 will be supporting the iOS device v13.5 which is the latest release by Apple and the stable release is just around the corner. This will allow the users to jailbreak their iOS devices running on the latest iOS 13.5. Moreover, you will be able to jailbreak any iPhone running iOS 13.5.
---
Having an iPhone has its limitations as there is not much freedom provided by Apple for tweaking in the iOS device. However, there is a tool known as unc0ver jailbreak, that allows you to do whatever you want to do with your iOS device. You can change any settings you want and operate. In fact, this Unc0ver Jailbreak tool unlocks the true potential of your iPhone device. This Unc0ver jailbreaking tool supports iOS 11.0 through to iOS 13.0-13.4 equipped devices which makes it the first jailbreaking tool to support A13 devices. What is more interesting than this jailbreaking tool has been recently updated to v4.0.1. Moreover, this new update brings in bug fixes and improvements for this tool.
This new update was announced by Pwn20wnd official Twitter handle, which brings in some bugfix for the tool. Those who have already used the tool have noted that they are unable to install apps via the App Store after performing the jailbreak.
You can check out the tweet below: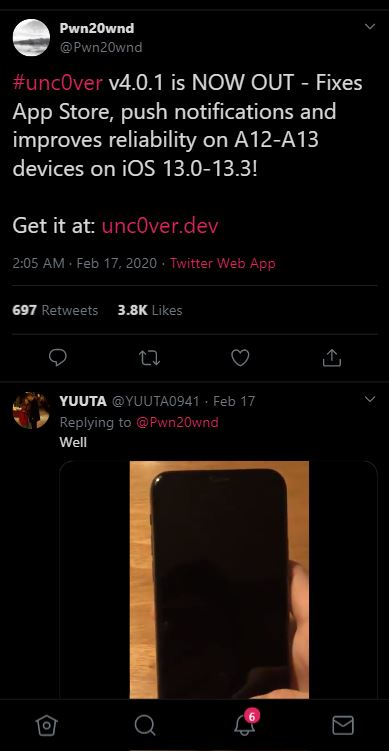 Notably, this release is not a big one and does not pack in any new features rather brings in bugfixes.
02/17/2020 – v4.0.2 was released for production with the following changes:
– Fix App Store for A12-A13
– Fix push notifications for A12-A13
– Improve reliability for A12-A13 devices on iOS 13.0-13.3
You can download the update from their official website. One thing to note is that it has not been tagged as a public beta like the previous versions. If you are yet to jailbreak your device then, it is recommended that you have downloaded the latest Unc0ver tool from the link given above. This popular jailbreak tool can jailbreak iPhone XS, iPhone XR, iPhone 11, and iPhone 11 Pro devices running iOS 13 through iOS 13.3. Apple has been constantly creating hurdles for tools like this to jailbreak. However, with this update you can jailbreak your devices once again.