Have you been searching for ways to help you unlock bootloader on Xiaomi Mi CC9 and CC9 Meitu Edition? If yes, then we have the perfect in-depth guide awaiting for you here! Read on to learn more about how you can make the already good experience of your Xiaomi Mi CC9 or CC9 Meitu Edition even better by unlocking its bootloader.
Xiaomi has been dominating not only the Asian market but also has entered in the global shares very recently. Its smartphones have been selling like hotcakes, and everyone is loving them so far! A great example of Xiaomi's dominance in the smartphone market is the budget device turnover they receive every year in countries like India and other Asian subcontinents. While there are newer contenders in this price range like Oppo's Realme sub-brand and Samsung's budget-oriented smartphones, Xiaomi is still pulling ahead by a lot all thanks to its prevalence and reputation in the smartphone industry.
A great example of some of Xiaomi's best selling devices is the ongoing Redmi Note series, and the newly announced Redmi K20 and K20 Pro. Although Xiaomi has a ton of smartphones distributed in various price brackets, it is without a doubt that most of the company's profits are all thanks to the budget-oriented devices. However, Xiaomi hasn't stopped making mid-range or even high end flagships (for example the Redmi K20 Pro). In fact in the Chinese market, Xiaomi has very recently announced and released 3 new smartphones belonging to an all-new series. These are of course the Xiaomi Mi CC9, Mi CC9 Meitu Edition and the Mi CC9e. We have already covered the Xiaomi Mi CC9e and everything it has to offer in our other articles. The prime topic of interest for us today is the Xiaomi Mi CC9 and the Mi CC9 Meitu Edition.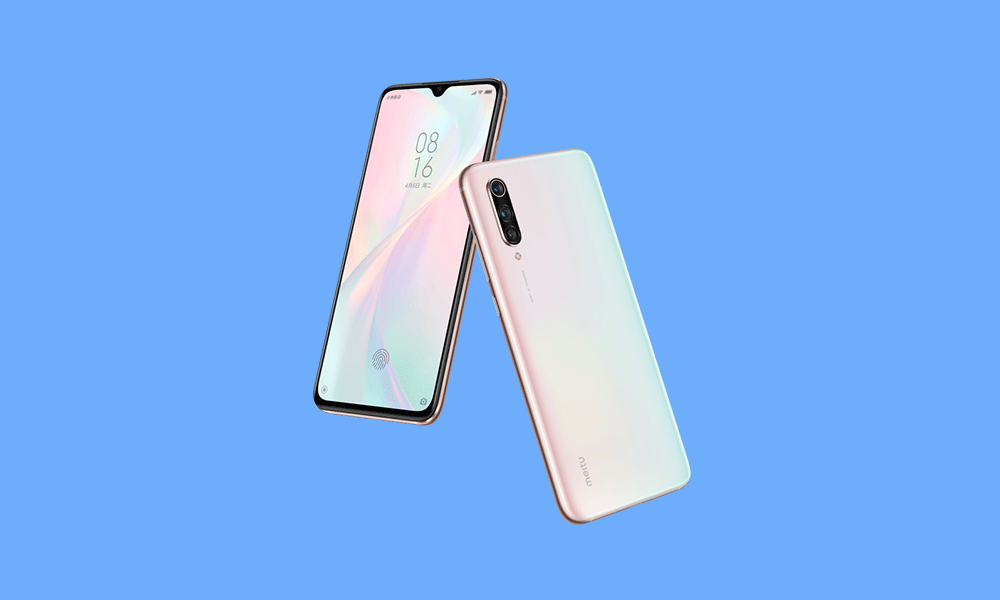 Mi CC9 and CC9 Meitu Editon : Overview and Specs
While the Xiaomi Mi CC9e is the more budget friendly out of the series, both the Mi CC9 and the CC9 Meitu Edition aren't exactly the top of the line variants that Xiaomi serves either. The Xiaomi Mi CC9 is basically an enlarged, or plus variant of the Mi CC9e and has improvements in terms of the display, battery, and general performance. For started, both the Mi CC9 and Mi CC9 Meitu Edition sport a big vibrant 6.39 inch Super AMOLED display with a resolution of 1080 x 2340. Even though the display isn't exactly edged to edge, you do get a minimal waterdrop notch that sports the insane 32 Megapixel front-facing sensor, which Xiaomi claims is the best in a class of any smartphone out there.
Both the smartphones sport an under the screen fingerprint scanner that is fast and almost as reliable as the gold standard we've had in the past few years. The front facing camera also brings to the board a ton of new and exciting AI enabled features like Xiaomi's own Mimoji which is a blatant rip off of Apple's Animoji. Coming to the raw specifications, both the devices are powered by the Snapdragon 710 and come each with 6 or 8 Gigabytes of RAM as the only variants. Users can choose either 64 or 128 Gigabytes of onboard storage though. The rear shooters include a 48 Megapixel primary lens, an 8 Megapixel Ultrawide and also a 2 Megapixel depth sensor. Both the smartphone run on MIUI 10 which is based on Android 9 Pie. The only differentiating factor between the Mi CC9 and the Mi CC9 Meitu Edition is the fact that the latter offering comes with a few camera tweaks including a low light AI mode and more. The Meitu Edition also comes in a really cool off-white color scheme and has storage up to 256 Gigabytes.
What does Unlocking your Bootloader mean?
Before we proceed to unlock your device's bootloader, let's take a quick second to hover over what unlocking a bootloader really means. When your device comes from the OEM, it is deprived of any console control by the user. This means you cannot tamper with the software and the things inside the UI on your own just yet. However, by unlocking the device's bootloader, you are granting yourself access to parts of your phone that were otherwise impossible to get to previously. This process requires a Windows computer with an ADB interface that can talk to your device in the fastboot mode. The most common ways of unlocking a bootloader include using a tool or using fastboot commands directly to ingest the codes inside of your phone.
Why should you Unlock your Bootloader?
There are a plethora of reasons as to why you might want to unlock your device's bootloader. For instance, you can install custom recoveries like TWRP or CWM on your phone's recovery partition which grants access to a lot more things furthermore. You can easily root an Android device with an unlocked bootloader, and as we know, a rooted device has many cool features you can play around with. Lastly, you will need a fully unlocked bootloader to flash any custom ROMs or zips on your device. Basically, you are granting yourself system rights by tampering with the state of your device's bootloader – in a good way.
Unlocking your bootloader also means you can troubleshoot a lot more issues than ever before. For example, if your device goes into a bootloop, or a soft brick, then the first step to revive it requires you to unlock its bootloader. Moreover, you can use powerful root applications like Magisk and Xposed Framework to sideload some really amazing third party extensions that will boost your device's capabilities.
Disclaimer
Unlocking your device's bootloader will void your warranty. The process also will wipe away all of your data, which includes photos, videos, apps and your calls. We at GetDroidTips, are not responsible for any unforeseen boot loops or crashes that may occur on your devices. All of our guides are thoroughly researched and provide only the correct means to follow the procedure. Proceed with caution and follow each step very carefully
With everything out of the way, let's begin with our guide. You will be needing a few prerequisites in order to unlock your phone's bootloader first. Make sure you have everything that you need up and running. Without any further delay, let's have a look at how you can unlock the bootloader on your device.
How to Unlock Bootloader on Xiaomi Mi CC9 and CC9 Meitu Edition
Prerequisites
You need ADB and Fastboot installed on your PC for this to work. If you haven't already, follow our comprehensive guide to learn how you can ready up ADB and Fastboot on your Windows PC.
Make sure that you backup everything there is on your phone. Unlocking your device's bootloader will wipe everything on your phone, including media. We recommend a thorough backup before beginning this process.
Ensure that your phone has at least 60% of the battery prior to beginning this process to avoid any unforeseen shutdowns in the middle of the task.
You will also need the Xiaomi Mi Unlock Tool installed on your PC.
Lastly, you need a data transfer cable to connect your phone to your Windows PC.
Procedure
First off, you need to enable Developer Options and USB Debugging on your phone. To do this, navigate to Settings > About Phone and tap on Build Number 7 times until you have enabled the Developer Options. Now head back to the main menu, scroll down and tap on Developer Options and then scroll down until you see the USB Debugging option, lastly tap to enable it.
Secondly, you need to prepare your Xiaomi Mi CC9e to unlock its bootloader. To do this, navigate to Settings > Developer Options and then tap on the Enable OEM Unlock toggle.
Now, open the folder where you had extracted the Mi Flash Unlock tool. Launch the executable file to open the tool.
Read the disclaimer, then click on Agree. Proceed to Log in using your Mi Account. If you don't have one already, sign up for it.
Once logged in, a screen displaying the message "You device isn't supported by Xiaomi Unlock" will popup. Don't worry yet, and click on Go. This will take you to the Mi Unlock page.
Click on the Unlock Now button on the blue web page. You will be asked to log in to your Mi Account once again. Enter your credentials and proceed to enter your mobile number.
You shall now receive a One Time Password or OTP on your phone. Enter the code to verify.
You are now registered in the bootloader unlocking program! Your application will be verified in 3-5 days, so take a break and you should receive an email or text when it's all over.
Once your application has been approved, you will receive a new OTP on your phone. Return to the Unlock Page and enter the OTP to verify.
Back on the Mi Unlock Tool, you can now proceed to unlock your device as it is now supported. Simply connect your Xiaomi device to your PC and press the Unlock button.
The process will take a few seconds, and you should have an unlocked bootloader soon enough!
That's all folks! Now you can proceed to install custom recoveries and enjoy Custom ROMs on your Xiaomi Mi CC9 and the Mi CC9 Meitu Edition. If you have any queries or problems regarding the guide, do let us know in the comments below, we'd be happy to help!