Realme Narzo 50A runs on Android 11-based Realme UI 2.0 out-of-the-box. It already arrives with a higher degree of customizability than any iOS device out there. Many features on your Narzo 50A are user-facing and thus, readily available for access. However, many features are for developers that lets you tap on the true potential of your Realme Narzo 50A device. Two section features are Developer Options and USB Debugging and both are powerful with many sub-features.
Here's everything you need to know about developer options and USB debugging on Realme Narzo 50A as well as how to enable it. But before you do it, here's what these two options actually translates on Android devices.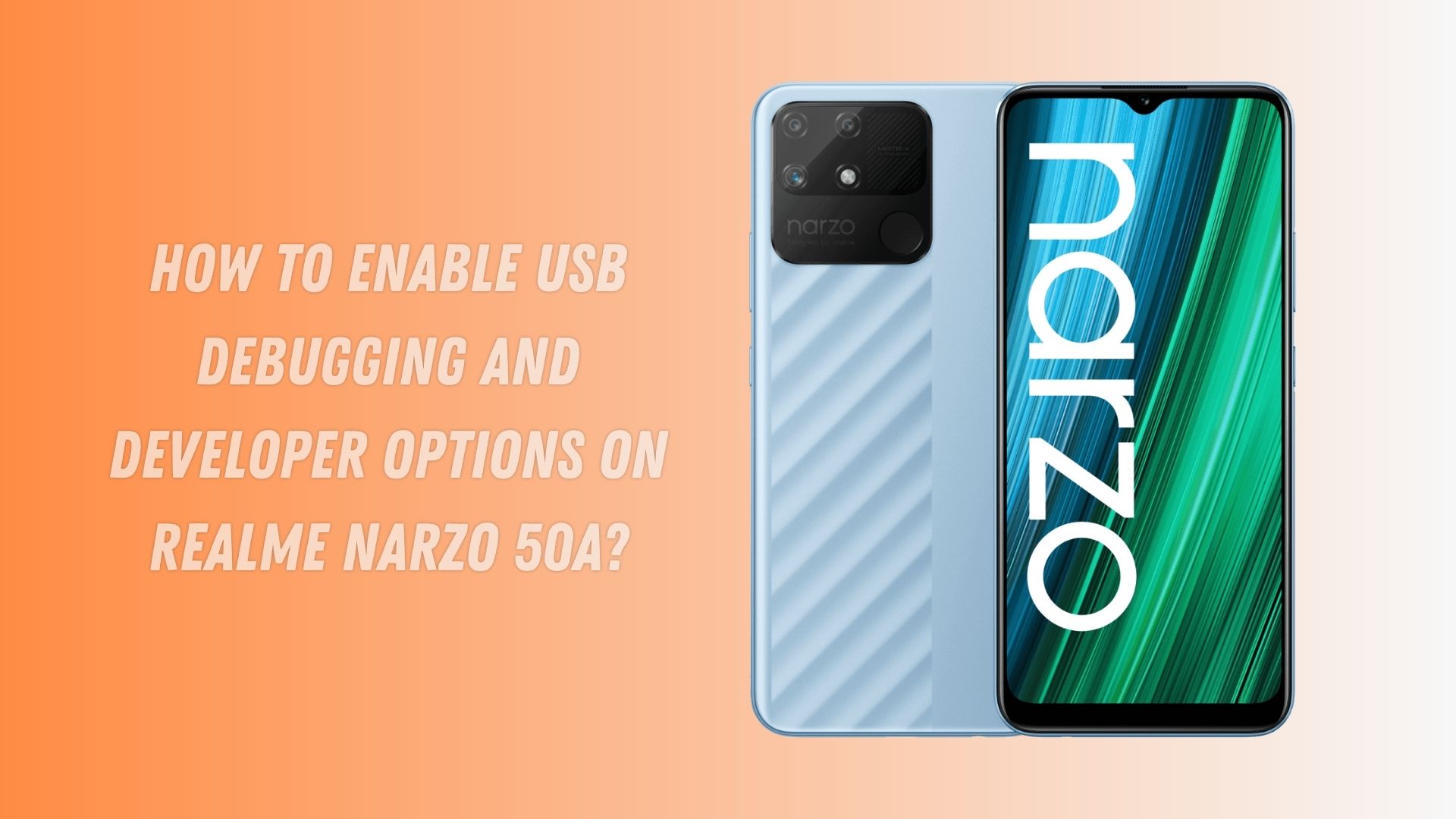 What are Developer Options on Realme Narzo 50A?
The Developer Options is hidden by default as many of the features are meant for developers and advanced users only. Ill-practice with the developer options can harm your smartphone's performance.
Many features that you would see on Developer Options are OEM unlocking, USB debugging, stay awake, tinkering with running services, selecting mock location app, feature flags, force higher refresh rate (if available), and so on. Developer Options has many powerful features that would enhance your phone's response and performance if used well. It is like a swiss army knife of developer tools which is hidden by default and requires a procedure (mentioned below) to retrieve the menu and use it but beware.
What is USB Debugging Mode on Realme Narzo 50A?
As you know, the USB debugging mode on Realme Narzo 50A is a part of Developer Options on Android device. It is what helps Android SDK to communicate with your Android smartphone using a USB connection. You can literally do a lot with USB debugging mode such as transfer files, give commands to your smartphone, retrieve log files from the device, and so on.
However, just as you would get both pros and cons on using tools and features not meant for normal users, tinkering with USB debugging has its cons too. If you enable USB debugging on Realme Narzo 50A and someone gets a hold of your device, he/she can use USB to trade crucial data stored on your device because as I aforementioned, the feature lets the user command the smartphone. There are a few safety features though such as per-PC authorization as it is up to the user to allow access to the phone via USB.
Of course, there are many applications on USB debugging on Realme Narzo 50A or other Android smartphones. Now that you know what USB debugging is, read along to know who to enable it.
How To Enable Developer Options on Realme Narzo 50A?
Follow these easy instructions to enable developer options on your Realme Narzo 50A.
Firstly, navigate and tap on the "Settings" app to launch it.
Scroll to the bottom of the page and tap on "About Phone".
All the information related to your phone will be available here, Tap on "Baseband & Kernel" from the many boxes mentioned here.
Next up, you should tap on "Build Number" a total of 7 times. Once you do it, a pop-up will appear at the bottom of the display that notifies you saying "You are a developer now!".
Simply retreat to the homepage of the Settings app and navigate to "Additional Settings".
You should be able to find "Developer Options" here that you can enable or disable based on your preference.
How To Enable USB Debugging on Realme Narzo 50A?
Once you are done enabling developer options on your Realme Narzo 50A, proceed to enable USB Debugging with these instructions.
First up, you need to go to the Settings app on your smartphone.
Navigate to Additional Settings >> Developer Options.
Scroll down the page to find "USB Debugging" which has a pill-shaped toggle to enable and disable it.
It will be disabled by default so you just have to tap on it once to enable it
A pop-up will appear on the screen asking you to "Allow USB debugging?", tap on "OK" and you have successfully enabled developer options.
You disable it, simply toggle the pill-shaped option against the "USB Debugging" option, and you are done.
We have reached the end of the post on how to enable USB Debugging and Developer Options on Realme Narzo 50A. Hope both of these step-by-step instructions work for you the best. These methods work for all Android smartphones such as Realme C11 or Motorola Moto G50, it'll work.