Vizio soundbars are well worth the money and complement other brands well, thanks to their functional design. With Dolby Atmos, 5.1.4-channel audio, and premium features like Dolby Atmos, the Vizio Elevate is a soundbar with excellent value. For a full multi-speaker surround sound system, Vizio soundbars can cost anywhere from $100 to about $1,000.
Although the Vizio Soundbars are great to use, but still it has some issues. Yes, recently, many users complained that the Vizio Soundbar is not Working on Samsung, LG, Sony, Hisense, or Any Other Smart TV. But, nothing to worry about as we have some fixes to this problem. So, let's check them out: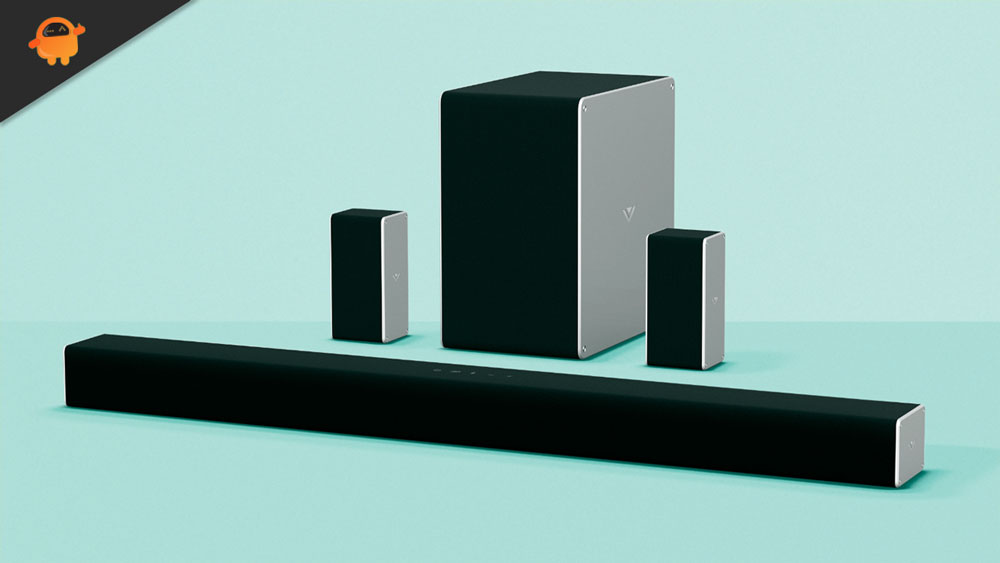 Why Isn't My Vizio Soundbar Working With My TV?
You may be unable to hear the sound on your TV due to a variety of reasons, including incorrect settings or the wrong HDMI input. These are the most common issues our experts encounter:
The TV or external speakers are playing at an extremely low volume or are muted.

Unconnected media devices, such as receivers, DVD players, and gaming consoles, due to unplugged cables, ports, or misconfigured settings, cannot be viewed on TVs.

External speakers, media devices, or internal components of the TV malfunction.
How To Fix Vizio Soundbar Not Working on Samsung, LG, Sony, Hisense, or Any Other Smart TV
So, here are some fixes that you can use in order to resolve the Vizio Soundbar not working on Samsung, LG, Sony, Hisense, or any other Smart TV. Therefore, if you are facing this problem, make sure to check out these fixes:
Fix 1: Use the Proper HDMI Cable
We recommend starting with an HDMI port on your soundbar if it has one. If not, leave the other cables in the box. If your soundbar does not have an HDMI port, then you should start there and leave the other connections behind. Depending on which cables you connect, the soundbar may switch to those connections instead of HDMI, reducing or completely eliminating sound quality.
Fix 2: Make Sure To Use the Correct Port
Soundbars can be connected to TVs with an HDMI ARC (or Audio Return Channel) port (see the photo below): Streaming media players and cable boxes can be connected directly to HDMI ARC (or Audio Return Channel) ports. The standard HDMI inputs will work with your sources. You must select the correct input on the soundbar for the source you wish to hear. An HDMI ARC port may appear as a TV in the soundbar's menu or on the remote.
Fix 3: Enable CEC on your TV
Soundbar volume can be controlled by the TV (and its remote) using Consumer Electronics Control (CEC). It is typically possible to activate CEC from the TV's main menu, which enables HDMI ARC functionality.
Fix 4: Check your TV's Speaker Settings
It is usually possible to turn on and off the internal speakers in the TV's audio menu. It is important to read the television owner's manual if you are unsure of how this control works or is labeled on your TV. When you plug an HDMI-equipped soundbar into the HDMI ARC connection, the TV's internal speakers will be turned off automatically, but the HDMI-equipped soundbar will receive sound automatically.
Fix 5: Try turning eARC off on the TV
New TVs that support HDMI 2.1 use Enhanced Audio Return Channel (eARC) to send a higher-quality, multichannel audio signal to soundbars and AV receivers, as long as both devices support eARC. In one case, the manufacturer told us that when a TV is paired with an unsupported soundbar, its eARC function can cause unpredictable problems. The TV should have a menu for settings related to audio where you can disable eARC.
Fix 6:

Update the Firmware
It is not uncommon for manufacturers to update the firmware to fix HDMI glitches. To verify that your TV or soundbar has the latest firmware, look in its menu or on the manufacturer's website's support section. It may need to be installed manually if it doesn't, usually by downloading it directly from the internet or by connecting a USB stick to it. Once that is done, make sure that the TV or soundbar is unplugged for 10 seconds before plugging it back in. You may also benefit from doing a factory reset, as discussed below.
Fix 7: Try a New HDMI Cable
It might not be able to handle the newest HDMI technologies with an HDMI cable that's many years old, and certain devices may be picky about HDMI cables for the reason that it's difficult to figure out. This problem recently occurred with the Roku Soundbar, which worked intermittently until we replaced the HDMI cable at Roku's suggestion. HDMI cables are available in high-quality, up-to-date versions, which we note in our HDMI cables guide.
Fix 8: Switch to A Digital Connection
The HDMI connection may still malfunction even if you try everything you can think of to get it working. You can bypass HDMI glitches by connecting your TV to the soundbar with an optical digital audio cable (usually called "optical" on the back of your gear). This solution does, however, come with some drawbacks, most notably the fact that optical digital connections cannot pass Dolby Atmos and DTS:X audio.
Fix 9: Use Factory Reset
It may be necessary to perform a full reset on your devices to resolve the HDMI connection issue. In most TVs, this option can be found in the System menu. If your soundbar requires a factory reset, follow a particular sequence of buttons; you can find the instructions in the manual or on the manufacturer's website. If you're using an antenna, you may need to rescan for TV channels after a reset, re-establish your Wi-Fi connections, etc. Many or all of your previous settings may be lost during a reset.
Fix 10: Check Your Network Connection
Use a strong wireless connection to stream video from your source devices, smart TV, and/or soundbar if you're streaming over Wi-Fi. This can usually be checked on most devices. So, it is recommended that you move your network router or upgrade your network if you are not getting a strong wireless connection. The cables connecting your modem, router, and audio/video devices need to be checked if you have a wired Ethernet connection.
Also Read: Fix: Vizio TV Power Light Blinking, But No Picture
So, that's how to fix Vizio Soundbar not Working on Samsung, LG, Sony, Hisense, or Any Other Smart TV. I hope that you find this article helpful. For more info, comment below and let us know.