The gaming industry has long been a part of the lives of almost a quarter of the world's population. With over 3 billion active video gamers worldwide (and still steadily rising), the video gaming industry is here to stay and shows no signs of slowing down.
Arguably, gaming in general has become one of the most effective, convenient, and accessible ways to socialize in today's time. Even more so for individuals who are looking for a fun way to stay connected with people amid the quarantine blues. In fact, the gaming industry has recorded significant growth in revenue and the number of new users during the pandemic.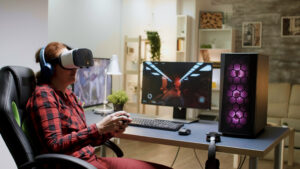 Games might gradually get mainstream as time passes. But with technological advancements reshaping the future of video games and the gaming industry as a whole, it is safe to say that computer games in the future will revolutionize the very concept of "gaming" as we know it.
With more and more individuals joining the video gaming hype, you must be asking questions like: "What's next?" or "What does the future of gaming look like?"
Whether you're a casual gamer or someone who engages with competitive hardcore gaming, Sony's PS5 and Xbox Series X are just the beginning, there's more! Get your gaming chair and controllers ready. Let's explore the future of the gaming industry.
Video Games: What Will Shape Their Future
Although some of the hottest game titles of the year like The Last of Us: Part 2, Spider-Man: Miles Morales, Cyberpunk 2077, and the long-anticipated Halo: Infinite has shown significant upgrades when it comes to gameplay, narrative, accessibility, and graphics, it is merely scratching the surface of what the future holds for the video game industry
1. Cloud Gaming
Also known as gaming on-demand, cloud gaming is one of the fastest-growing gaming trends of today's generation. As opposed to traditional gaming, where games and applications run locally on consoles, computers, or smartphones, cloud gaming highlights ease-of-access, convenience, and flexibility when playing games.
One advantage of using cloud-based games and applications is users can upgrade and update software versions much faster and easier without requiring them to upgrade their consoles and devices as the server hosts the processing power to run the game.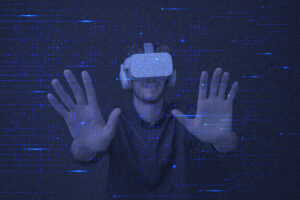 Also, cloud gaming allows gamers to freely choose the input device they feel most comfortable using (whether it be keyboard, mouse, controller, or sensors, etc…). Lastly, cloud gaming doesn't require users to use up all their devices or consoles' memory space as they can play the game immediately from the remote server. It is a convenient alternative compared to downloading the game and it also aids in protection against piracy.
One of the most well-known cloud-based gaming platforms is Google Stadia, where users can run games through a web app on a PC. Also, Netflix confirmed that they will soon venture into the world of cloud gaming.
2. Virtual Reality
Although it went on a rough early phase for being a somewhat niche-categorized gaming context, Virtual reality or VR, made a significant breakthrough when Sony's Playstation VR and Oculus Quest released their version of a gaming platform that promised players of all ages to enjoy the whole new meaning of immersive gaming.
Games like No Man's Sky VR, Beat Saber, and the most anticipated Resident Evil IV: VR that was recently launched last October are some of the most popular VR games right now.
Another thing to consider when talking about virtual reality is the concept of augmented reality or AR. The sole difference between AR and VR is that AR offers visual elements that are embedded into the player's real-world using a headset and a camera whilst VR is purely done virtually using a VR headset. One good example is Nintendo's Mario Kart Live: Home Circuit.
3. Next-Gen Consoles
Along with the launch of different cloud gaming (and streaming) and VR-based platforms are the introduction of the next generation gaming consoles. Manufacturers from different gaming console companies like Sony, Microsoft, and Nintendo have embraced and incorporated these gaming trends into their own gaming consoles.
Not only do next-gen consoles allow users to buy games and applications either physically or digitally, but they also enable players to run them with cutting-edge graphics, faster boot-ups, and accessible user interfaces. This only shows us a clear view of how bright the future of the gaming industry is.
An excellent example of a game that pushes these next-level gaming consoles into their full performance is Ratchet and Clank: Rift Apart. Since the gameplay requires players to switch from one place to another (through rifts, apparently) without loading times—that most games do— is a truly remarkable feature that a next-gen console like PS5 can contribute to how we shape the future of gaming.
4. Dawn of Mobile Gaming
With 238 million active users in the US and Canada alone, mobile gaming is gradually becoming one of the go-to platforms for people to connect and play. In fact, recent surveys have stated that mobile gaming is growing so fast that it has become an incredible contributor to the success of social networking games and various eSports platforms.
Although not all mobile games are accessible to most countries, it still shows great potential for industry growth. Gaming giants like PUBG Corporation and Riot Games are embracing the mobile gaming hype by developing mobile counterparts of their well-known games, including League of Legends: Wild Rift and PUBG: Mobile.
With technological innovations and consistent developer upgrades, mobile gaming will surely secure its spot beside big game genres.
5. Diversity
What is the future of the gaming industry for players in general? Well, let's say that the concept of "video games are men's stuff" is a thing of the past.
With the rise of different gaming trends, players become more and more diverse. Female players start to engage with not only casual games but also hardcore and more competitive games. Also, with the emergence of different gaming platforms, both consoles and cloud-based games will serve as an excellent avenue for the gaming market to thrive and expand.
However, to ensure that this place for diverse players is safe from hostility and shady schemes by other players, it is a must for platform developers to employ game moderation services. This way, they can guarantee that their gaming platforms and servers foster a scam-free online space for players across the globe.
Next-Level Gaming Experience with Customer Support
As mentioned, the gaming industry is here to stay. As it continuously gains more loyal enthusiasts, releasing games with state-of-the-art features is not enough. Providing a next-level gaming experience through effective customer assistance must be considered now more than ever.
Why is customer support in gaming important?
There are several reasons why game developer companies must take customer support into consideration. But here are three of the most noteworthy ones:
It allows you to understand your customers better. Having a deeper understanding of what your customers' wants and expectations allows you to improve your long-term B2C engagements.

Customer support helps you categorize your players' niche or interest through customer feedback, thus enabling you to come up with better ideas on how to improve your games in terms of gameplay, accessibility options, features, and other factors that affect gaming experiences as a whole

Real-time and multichannel help desks prove invaluable in improving your overall retention rate. A game cannot be called an excellent game when it falls short on connection. That is why going above and beyond chat and email-based customer assistance is vital. AI-powered live chat widgets and voicebots can always come in handy.
The main goal of customer support for gaming is to augment the satisfaction that players get when playing a particular game (especially those that can only be played online). An accessible player help desk makes addressing player queries, providing technical resolutions, and enhancing their gaming experiences easier and more efficient.
What's Next?
The gaming industry is taking the world by storm. From being a mere pixelated, one-dimensional space shooter to an almost human-like and friendly web-slinging superhero swinging across the buildings of New York, video games have shown tangible developments. These developments have become a significant aspect for the industry to flourish, all thanks to technological advancements.
As the world progresses further and developers continuously introduce newer gameplay, accessibility, and game narrative designs, players will likely immerse themselves in a more realistic and captivating gaming experience where they can have fun and connect with other people.
So what's shaping the future of the gaming industry? The answer is simple:
Experience and communication.
It is the people's desire to show the world all the incredible experiences awaiting to be discovered. It is the drive to take on new challenges and realities that motivates the creation of an accessible space to interact and bring everyone together.