Amazon is the world's largest online marketplace, where consumers buy products worldwide. It offers a wide range of products, from books and electronics to clothing and home goods. The Amazon also has a lot of touch regarding ethnicity, geography, and language. It also offers several language options, which means you can change the language on Amazon.
Different language options on Amazon ensure that customers can easily review and describe their language. Suppose your Amazon app or website switched to Spanish by mistake, and you don't know how to change the language to its default language. In that case, this article will help you to change Amazon to another language. So, let's move on to the guide to learning how to change the language on Amazon.
What are the Language Options on Amazon?
Amazon supports several languages on its website and applications. You can switch the language on Amazon to English, Spanish, German, Italian, Japanese, Chinese, and Portuguese. Moreover, you can also choose more regional languages based on your region. For instance, in India, you can select to see Amazon in English, Hindi, Telugu, Tamil, Kanada, Malayalam, and Bengali. So let's move on to changing the Amazon language step-by-step.
How to Change Amazon's Language on Desktop Website
Suppose your Amazon language is changed to Spanish by mistake, and you want to switch to another language, such as English, Hindi, or another. In that case, you can easily change it by accessing it from the Amazon website. Here's how you can change the language settings on your Desktop website:
Open any web browser on your PC and navigate to Amazon's website.
At the top of the page, you can see the Flag icon next to the Account & Lists option.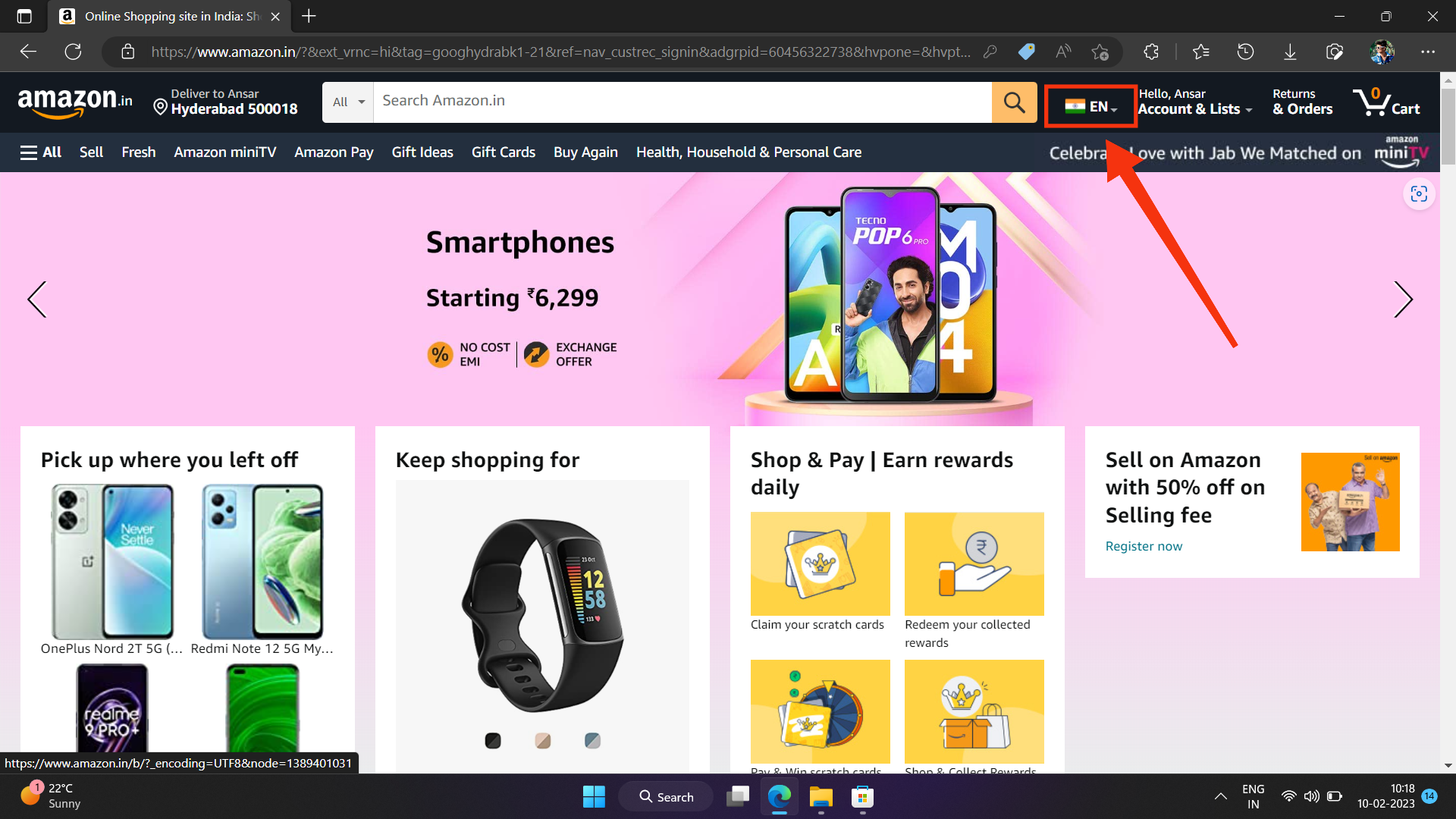 3. Click on the Flag icon and select your preferred language by choosing each language.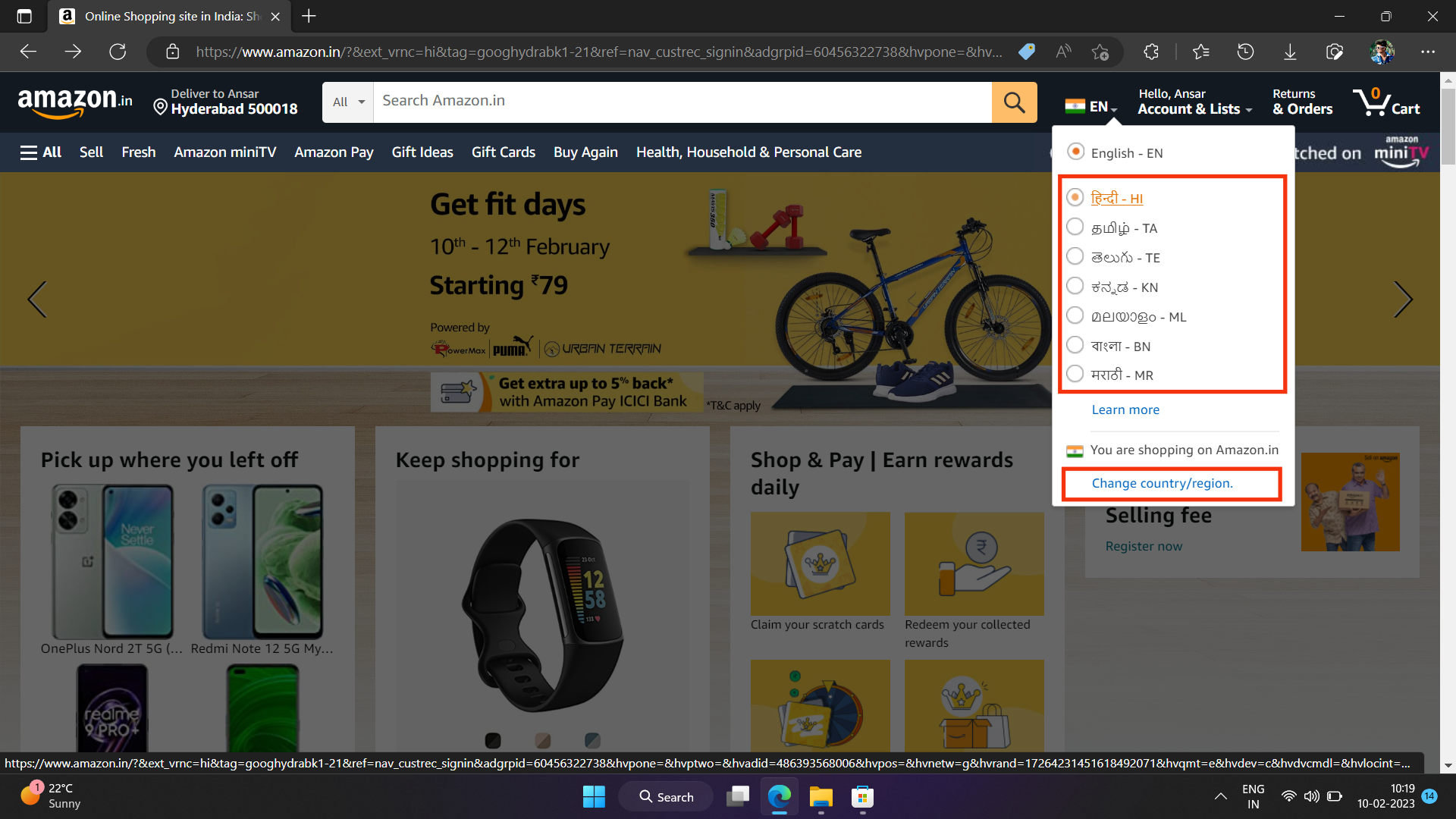 If you want to change the region, click on country/region. The supported language will change accordingly as the specific region.
How to Change Amazon's Language on Mobile Website
If you want to change the Amazon language on a mobile website and you don't have to change the language settings, don't worry. You can easily change the language settings by following the below instructions.
Open Google or Chrome browser on your smartphone and go to the Amazon website.
Scroll to the bottom and find the Globe icon with English text. 3. Tap on the Globe icon, choose the preferred language, and tap on Save changes.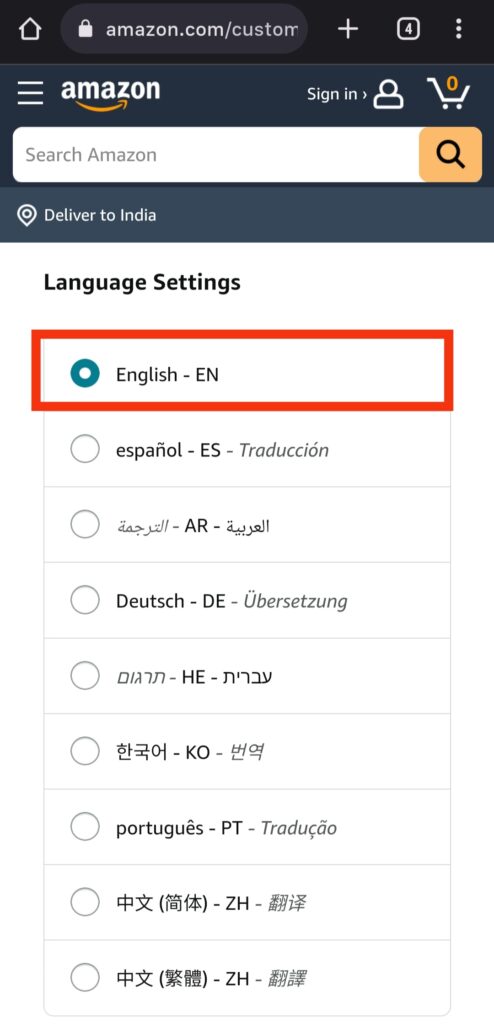 4. Now Amazon is set to the language in which you are selected.
Amazon will send you a confirmation email to confirm the selected language preference, and that's it.
How to Change Amazon's Language on the Amazon App (Android & iPhone)
If you are facing a language issue set to an incorrect language and want to change to its default language, you can easily fix the language issue on your Android or iPhone device. Changing the language is an easy step that can be easily accessed from the settings. Here's how you can change the Amazon language:
Open the Amazon app on your Android or iPhone device and tap on the three horizontal lines icon at the bottom of the page.
2. Tap on Settings and choose "Country & Languages."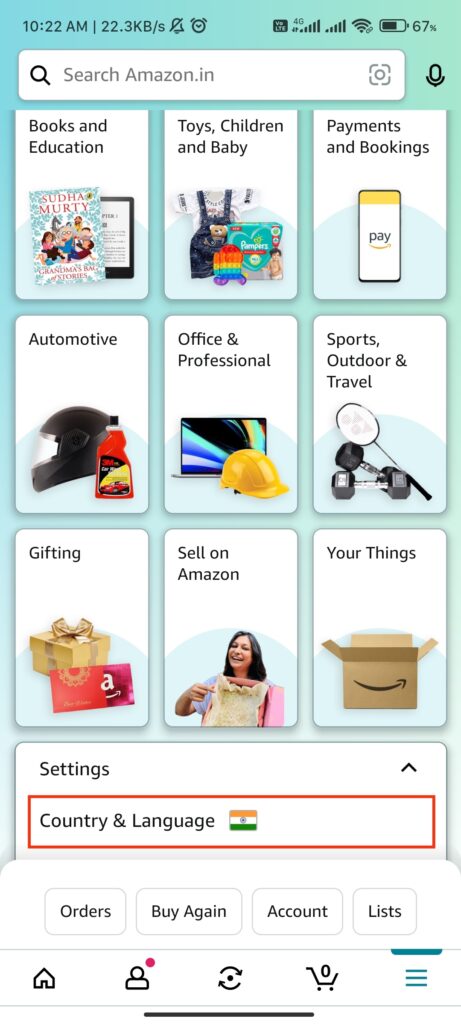 3. Now select the language option which you prefer from the list.
That's it! You will now see your Amazon in your preferred selected languages. However, Amazon will confirm that you have selected the preferred language.
Frequently Asked Questions
Why has my Amazon account switched to Spanish?
There could be several reasons for this change, such as a change in the language settings on your device, a recent trip to a Spanish-speaking country, or accidentally selecting Spanish as the preferred language while setting up or using Amazon.
Can I have my Amazon account in both English and Spanish?
No, your Amazon account can only be set to one language simultaneously.
Will changing the language setting affect my previous purchases and saved content?
Changing the language setting will not affect your previous purchases or saved content. Your account information, including order history, will still be available in the language that it was originally saved in.
Final Words
This article has provided helpful information on troubleshooting and fixing Amazon if it appears in Spanish. It goes over the different reasons why this might occur and provides solutions to fix it. With the guidance provided in this article, you should now be able to troubleshoot and fix any Amazon-related issues easily.