Pendrives or thumb drives are very useful pieces of hardware. They can be used to transfer files very conveniently when compared to CDs and DVDs. Since they are small and compact, they are very durable, unlike CDs. But sometimes, you might get in trouble while formatting your Pendrive or SD card. I'm talking about the famous Windows was unable to complete the format error, which users frequently get while performing the format action n their devices.
Just like any storage device, these pen drives also has to be formatted into the compatible filesystems like fat32 or NTFS based on the use case. But when you right-click on your drive and select format, you might get a "Windows was unable to complete the format" error. This Error pops up regardless of your OS version.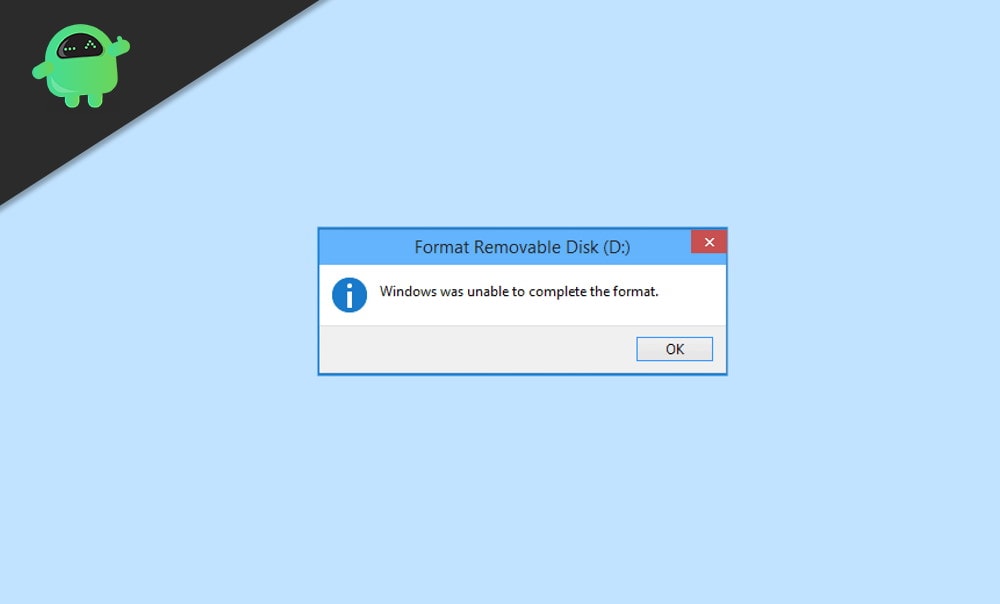 How to fix Windows was unable to complete the format error?
This error means that Windows cannot complete formatting the drive because of some issues. This could be caused by corrupt partition details or any other physical damage to the drive.
Most of the time, this error occurs when you accidentally remove the pen drive while Windows is transferring files or formatting the drive. So whatever your case is, we are going to give you some solutions that you can try to fix this issue.
Warning
If your drive contains valuable data, it's best to visit a data recovery service before attempting anything by yourself.
Method 1: Check physical Damage
This is the most common cause of the issue. Sometimes, a damaged Pendrive will also show up in the Explorer. But you cannot do any changes to the drive like formating it. File transfer to the drive will also fail with errors. Check these points before continuing further.
Try using the thumb drive in a different port to check if the port is causing the issue.
Similarly, insert the thumb drive to other PC (or even mobile phones using OTG cables) and perform a format on the device.
If that too cannot format, try using a different thumb drive on the same PC. Finally, you can come to a conclusion which one is causing the problem.
If you think the drive is working and there are no issues with the ports as well, you can try using the following methods.
Method 2: Format using Disk Management Utility
Windows has a very useful tool to manage disk-related tasks, which is the Disk Management Utility. We can use it to format the Pendrive. To do so,
Press Windows key+R to launch the Run box.
In it, type diskmgmt.msc and hit enter. (Keyboard shortcut Win+X, press K)
Now this will open the Disk management utility.
From the utility, right-click on the Pendrive.
Note: make sure you selected the Pendrive and not any other disks.

Click on the format and click on Yes for confirmation.
From a popup, enter/select
Volume name = Drive name of your preference
Filesystem = Fat32 (for using with all devices) or NTFS (for using only in Windows).
Allocation Unit size = Default
Make sure you have the tick mark in Quick format (if it fails again, try removing the tick mark).

Click on okay and confirm again, wait for it to complete the format.
Now the Utility will format the pen drive, and the drive should show up in the Explorer. If this fails again, you can try the next method.
Method 3: Format using Diskpart
Diskpart is a command-line utility for managing disks and partitions in windows. You can format your drive using diskpart by following these steps:
Open a command prompt (or PowerShell) as admin. (Key shortcut: Win+X, press A.)
Type diskpart and hit enter.
Under diskpart, type List Disk.
This will show all your available disks. Find your disk(Pendrive) by recognizing its size.
Now type select Disk x (Here replace Disk x with the disk no. for your Pendrive for example, Disk 1)
Note: Selecting the wrong disk will result in data loss. Make sure you selected the correct disk. Type in List disk again to make sure the right disk is selected. The selected disk will have a * symbol before it.
Now type the following one by one:
Clean
Create partition primary
Active
format fs=fat32 quick (note you can choose NTFS and also remove quickly to perform full format)
Assign

That's it your device will be formatted, and a drive letter will be assigned to it.
So, now you should be able to see the drive in the File Explorer.
Method 4: Using a third party, Disk or partition managers
Although Diskpart and Disk management utility are very powerful tools, there are some other third-party tools available to do the task. But these partition managers offer more tools and features. For instance, these tools can perform certain operations without data loss that the Disk manager couldn't do otherwise.
EaseUS Partition Manager
For example, we can use the Ease US partition master. However, you can use any of your preferred tools for this task. EaseUS provides a similar interface to the one found in the Disk manager. So you can simply right click on the disk you wish to format and select Format.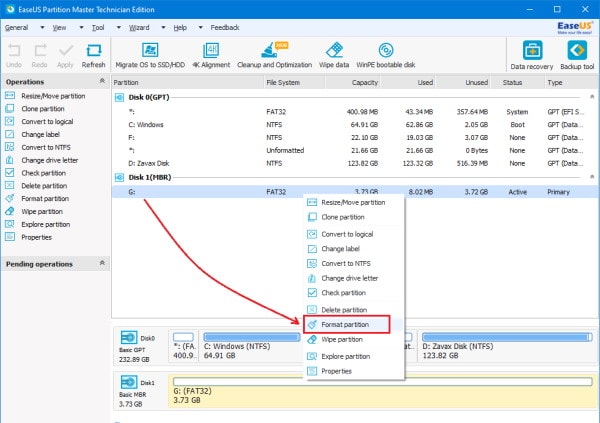 Rufus
Rufus is a free and brilliant tool that can create a bootable installation medium using iso files. The tool can also be used to format USB sticks. Just click on the format without selecting any iso files. Rufus will simply format the drive for you.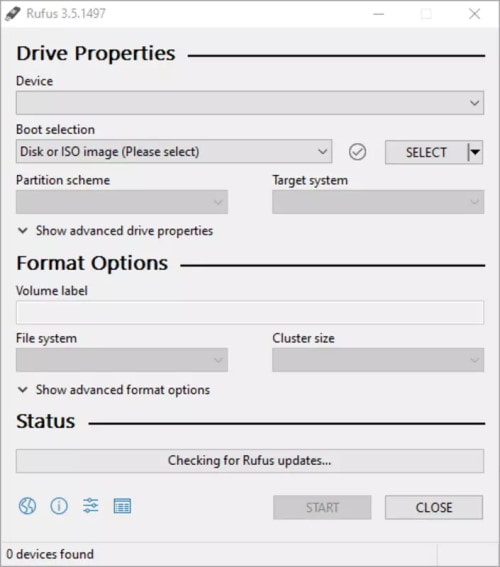 Although there is an advantage in using this software. This software only shows USB Drives. So you eliminate the risk of selecting other disks or Drives by mistake.
Conclusion
These were the solutions for Windows was unable to complete the format error issue. These solutions will work on all versions of windows. Although if you cannot format even after using these steps, this means that the drive itself is corrupted. At that point, you cannot do anything except to replace it with a new one.