Right now, most of the iPhone 11 series devices like iPhone 11 or 11 Pro or 11 Pro Max devices are running on stable iOS 13.3 version. Though iOS 13 is one of the iOS versions that comes with so many bugs and stability issues. However, iOS 13.3 seems quite stable enough and recently Apple has released iOS 13.3.1 on January 28, 2020. Meanwhile, some of the iPhone 11 series users are facing plenty of system issues including Won't connect to App Store on the iPhone 11 problem as well.
As you know, in order to use the iPhone, users need to sign in to the Apple ID for iCloud, iTunes, App Store, and other Apple services for authentication. Additionally, you require an internet connection and storage space in order to install applications on your iPhone. But some times, users can't install apps from the App Store due to some of the specific reasons that we've mentioned below. Check the troubleshooting guide to fix this issue completely.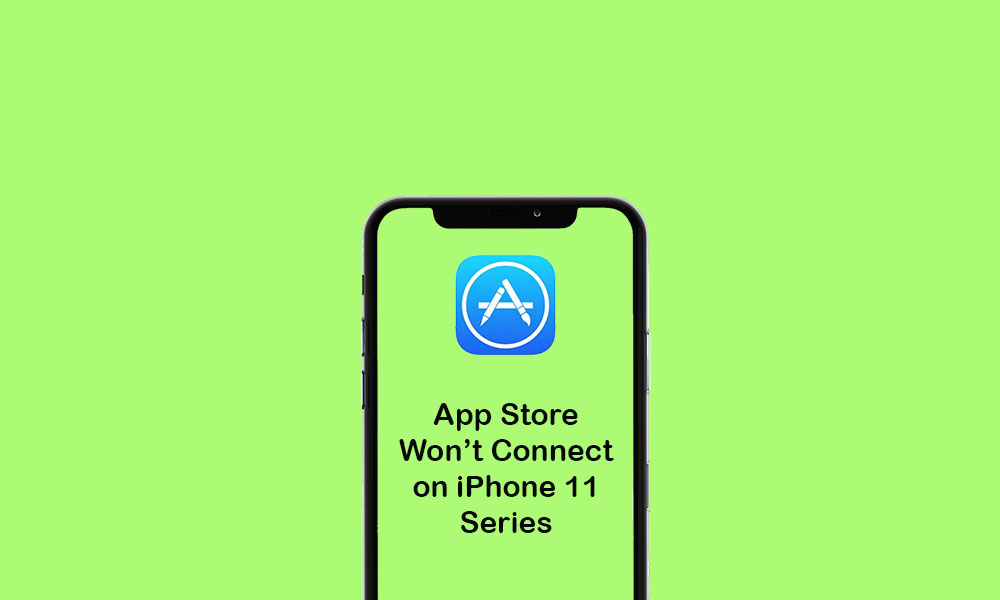 Won't connect to App Store – How to fix on iPhone 11/11 Pro and Pro Max
It's worth mentioning that some times Apple services or apps can't work properly due to the server downtime or maintenance issue. So, it's a better idea to check the App Store downtime via the System Status page from the official Apple website.
Now, before heading over to the solution, make sure that the date & time are correct on your device. You will require an active internet connection and the battery level should be 20-30%.
1. Force Restart your iPhone
Quickly press and release the Volume Up and release.
Quickly press and release the Volume Down button and release.
Then long-press the Power/Side key until the Apple logo appears.
Next, release the key and your handset will reboot automatically.
2. Turn Off and On the Internet
Whether you're using Wi-Fi or mobile data, you will need to disconnect the Wi-Fi or mobile data and wait for a couple of seconds.
Go to the Settings on your iPhone.
Tap on Mobile Data or Wi-Fi and turn off the toggle.
Wait for a few seconds and turn it on again.
Some times, this trick will refresh the internet connectivity and your device works like before if there was any glitch or cache issue.
3. Turn On/Off Airplane Mode
Now, if the above method doesn't work for you, you can always try to turn on & off the Airplane mode on your iPhone.
Head over to the Settings menu > Tap on Airplane Mode toggle to turn it on.
Instantly, the Airplane icon will appear on the status bar of your iPhone.
Wait for a while and then turn it off again to refresh the internet and cellular connectivity.
Now, try once the App Store to install any app and check whether the issue is still present or not.
4. Forget Wi-Fi Network to fix issue – Won't connect to App Store on iPhone 11
Open the Settings > tap on the Wi-Fi menu.
Now, the list of available Wi-Fi networks will appear.
Tap on the "i" icon beside the connected Wi-Fi network name.
Next, tap on the Forget this Network option.
Tap on Forget Network again to confirm, if required.
Once done, reboot your handset.
Finally, re-enable the Wi-Fi network by entering the password.
5. Check iPhone Screen Time Management
Go to the Settings menu.
Tap on Screen Time > select Content & Privacy Restrictions.
If prompted, enter your passcode.
Tap on iTunes & App Store Purchases.
Next, select on In-app Purchases and select Allow.
Now, if you can see that the App Store is already restricted with some access or timing limitation, simply remove it. Then you can try again to install any app via the App Store.
6. Reset All Settings on iPhone
Head over to the Settings > Tap on General > Tap on Reset.
Tap on Reset all settings.
If prompted, enter the passcode.
Next, select Reset all settings again to continue.
Reboot your iPhone.
7. Log Out and Log In App Store Account to fix issue – Won't connect to App Store on iPhone 11
Head over to the iPhone Settings > iTunes & App Store.
Tap on the Profile icon on the upper-right corner of the screen.
Scroll down to the bottom and tap on Sign Out.
Reboot your device and Sign In back by going to the App Store > Profile icon again.
8. Connect to iTunes and Restore your iPhone
You will require a PC/Laptop, a lightning cable, and iTunes or Finder software. Now, follow the below steps.
Connect the iPhone to the PC using the lightning cable.
Launch iTunes software and wait for the system to detect your connected device.
An iPhone icon on the upper-left side of iTunes will appear.
Now, click on the iPhone icon and click on the Restore button.
Sign out from the Find My iPhone.
Click on Restore.
Click on the Restore button again to confirm.
It'll completely erase your device data and restore iOS again.
Finally, your device will boot into the system.
That's it, guys. We hope you've found this guide useful. If you've any queries, let us know in the comments below.