OnePlus has launched its first foldable phone, the OnePlus Open, in India. The device has the powerful flagship Snapdragon 8 Gen 2 chip, a 7.82-inch AMOLED inner display, and a 6.31-inch outer screen. It is backed by a 4,800mAh battery that supports 67W charging. It has been reported that some users have experienced battery drain issues with these devices. There is a significant impact on the device's overall performance and usability due to this issue, which can be frustrating for users. Here are some possible solutions to the battery-draining issue on the OnePlus Open devices.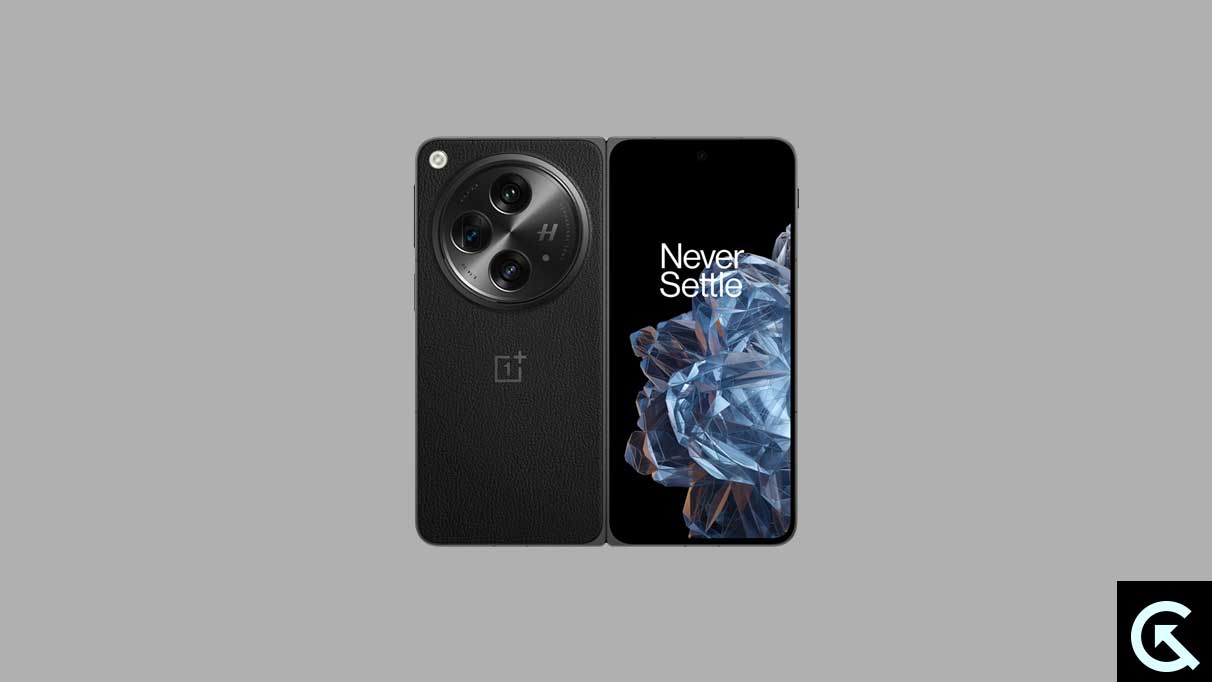 OnePlus Open Device Overview:
The OnePlus Open is a cutting-edge foldable smartphone that runs on OxygenOS 13.2, based on Android 13. It features a dual-SIM (Nano) setup and is powered by the potent Qualcomm Snapdragon 8 Gen 2 chip, accompanied by an Adreno 740 GPU. For memory, it boasts 16GB of LPDDR5x RAM with the unique capability to expand memory using unused storage in increments of 4GB, 8GB, and 12GB. The device offers substantial storage with 512GB of UFS 4.0 onboard. Connectivity is robust, including 5G, 4G LTE, Wi-Fi 7, Bluetooth 5.3, and various GPS options, along with NFC and a USB Type-C port.
Display-wise, the OnePlus Open excels with two high-quality screens. The primary 7.82-inch 2K Flexi-fluid LTPO 3.0 AMOLED display offers a dynamic 1-120Hz refresh rate, a 240Hz touch response rate, and a peak brightness of 2,800 nits. It's protected by Ultra Thin Glass and features 1,440Hz PWM dimming. The outer screen is a 6.31-inch 2K LTPO 3.0 Super Fluid AMOLED display, also boasting a 10-120Hz dynamic refresh rate and similar brightness and touch response, safeguarded by a ceramic guard. Both displays are TÜV Rheinland Intelligent Eye Care certified, ensuring a comfortable viewing experience.
The camera system on the OnePlus Open is a major highlight, featuring a Hasselblad-branded triple camera setup. This includes a 48-megapixel primary camera with a Sony LYT-T808 sensor, a 64-megapixel telephoto camera with OmniVision OV64B sensor, and a 48-megapixel ultra-wide and macro camera with a Sony IMX581 sensor. For selfies, it has a 20-megapixel primary camera on the inner display and a 32-megapixel outer screen camera. The phone supports a dual-cell 4,800mAh battery capable of 67W SuperVOOC charging, and comes with an 80W charger. Other features include a tri-state alert slider, a side-mounted fingerprint scanner, face unlock, and a range of sensors for enhanced functionality.
Possible Causes of Battery Draining Issue on OnePlus Open
To resolve the battery draining issue on OnePlus Open devices, we must first understand the possible causes. Here are a few common causes:
Using the device heavily is one of the most obvious causes of battery-draining issues. Gaming or video streaming can drain your battery faster if you use your device long-term or engage in activities requiring much battery power.
Faulty apps can consume much battery power even when not in use because they may not be optimized for the device. Such apps can exacerbate battery-draining issues.
You may also experience battery-draining issues due to battery optimization settings on your device. Battery life can be shortened if the settings are not correct.
As with any electronic device, the OnePlus Open devices are susceptible to software bugs that create battery-draining problems.
How to Fix the OnePlus Open Battery Draining Issue
Now that we know what may cause battery-draining issues on OnePlus Open devices let's look at possible solutions.
Fix 1: Optimize Battery Usage
Your first step should be to optimize your battery usage. To do this, follow these steps:
The display of the device primarily causes battery drain from devices. Power consumption can be greatly reduced by reducing the screen brightness.
If you are not using certain features like Bluetooth, GPS, or NFC, turning them off can help you save battery life.
You can also save battery power by shortening the screen timeout. You can do this to ensure the screen turns off quickly when not using the device.
It is possible to extend the battery life of the OnePlus 11 or 11R 5G device by enabling the battery saver mode. To save battery power, this mode limits background activity reduces screen brightness, and limits performance.
Fix 2: Check and Optimize App Usage
You can also check and optimize your app usage as a second solution. Some apps can consume a considerable amount of battery power even when they are not running. If you want to optimize your app usage, you can do the following:
Go to Settings > Battery to see which apps consume the most. You can uninstall or optimize battery-consuming apps if you find any that use a lot of energy.
It is important to limit background activity: Some apps may operate in the background even when not being used, consuming battery power. Using Settings > Apps and Notifications > Apps > [App Name] > Battery > Background restriction, you can limit such apps' background activity.
To reduce battery consumption, you can also optimize the settings of individual apps. If you want to reduce the frequency of notifications for social media apps, you can disable auto-sync for email apps.
Fix 3: Check and Optimize Battery Optimization Settings
Your battery optimization settings should be checked and optimized as a third solution. Your device's battery optimization settings can be contributing to battery-draining issues. You can do the following:
Go to Settings > Battery > Battery Optimization to check battery optimization settings. Listed below are battery-efficient apps. If you notice any apps that are not optimized, you can manually optimize them.
You can disable the adaptive battery if you don't want it to adjust your battery usage according to your app usage patterns. Some users may not benefit from this feature, and disabling it may help to reduce battery drain. You can disable the adaptive battery by going to Settings > Battery > Adaptive battery.
Disable Digital Wellbeing: You can manage and control your app usage by disabling Digital Wellbeing. Nevertheless, this feature may also consume battery power in the background. Go to Settings > Digital Wellbeing & Parental Controls > Digital Wellbeing to turn off Digital Wellbeing.
Fix 4: Update your Software
In the fourth solution, you can update your device's software. Software bugs can cause battery drain issues on OnePlus Open devices, just like any other electronic device. It is possible to fix these bugs by updating the software on your device, and your device can perform better as well. Go to Settings > System > System updates to update your device's software.
Fix 5: Factory Reset
It might be a good idea to try a factory reset if none of the other solutions work. In a factory reset, all data and settings are erased, and the device is restored to its original state. If a software issue causes the battery draining issue, this can help to resolve it. If you are going to perform a factory reset, make sure to back up your data first. In order to perform a factory reset, go to Settings > System > Reset options > Erase all data (factory reset).
Fix 6: Check and Disable Background Apps
Even when you aren't actively using them, background applications run in the background. Battery power can be consumed by these apps, especially if they are resource-intensive. Here are the guidelines you need to follow to check and disable background apps on your OnePlus 11 or 11R 5G device:
Go to Settings > Battery.
To access the menu, tap the three-dot icon at the top right of the screen.
Select Battery usage.
In this section, you will see a list of apps and their battery usage percentages. In the foreground and background, you can see how much battery an app has used.
To disable an app that consumes excessive battery power in the background, go to Settings > Apps & notifications > See all apps > Select the app > Battery > Battery optimization > Select "Don't optimize."
Fix 7: Disable Location Services
For apps like navigation or weather apps that require your location to function, location services are useful. Nevertheless, these services can consume battery power, particularly if they track your location continuously. Here are the guidelines you need to follow to disable location services:
Navigate to Settings > Location.
You can turn the location switch off by toggling it off.
You can also disable location services for specific apps by going to Settings > Apps & notifications > See all apps > Select the app > Permissions > Toggle off Location.
Fix 8: Check for Battery-Hungry Apps
There are some apps that consume a lot of battery power, even when not being used. Streaming services, gaming apps, and social media apps can all fall into this category. Follow these steps to see if your apps are battery-hungry:
Navigate to Settings > Battery.
In the top right corner, click the three-dot menu icon.
Choose Battery usage.
You can view a list of apps and their battery usage percentage here. Even when the app isn't running, keep an eye out for applications that consume a large amount of battery power.
To save battery power, consider uninstalling or disabling the app.
Fix 9: Adjust Screen Brightness and Timeout
In a smartphone, the display is one of the most energy-intensive components. To conserve battery power, adjust the screen brightness and timeout. You can adjust the screen brightness and timeout by following these steps:
Navigate to Settings > Display.
Make sure the brightness slider is set at a lower level.
Make the screen turn off automatically when not in use shorter by selecting Sleep > Set a shorter time.
From Author's Desk
If you are a user of OnePlus Open devices, you may face battery draining issues that can negatively impact performance and usability. Fortunately, there are solutions available that can help you fix this problem and enjoy all the benefits of your device. We hope that this guide has been helpful in fixing the OnePlus Open battery draining issue. If you require additional information, please feel free to leave a comment below and let us know.