Airdrop is an exclusive file transferring service that's developed by Apple to share or receive media files, documents, and more from iOS to iOS, iOS to macOS, vice-versa. It offers lightning faster, reliable, and stable data transferring between Apple devices (iOS, macOS). Though it uses Wi-Fi or Bluetooth range for connectivity. Now, if you're using an iPhone device and facing issues with the Airdrop feature, check out the troubleshooting guide on how to fix Airdrop not working on iPhone 11/11 Pro/11 Pro Max.
Before heading over to the solutions, make sure that the Airdrop feature is properly set up or enabled on your iPhone 11 series device. Additionally, you can select the Airdrop receiving contacts only or for everyone if you use it quite frequently. Those who don't use the Airdrop can set receiving off as well.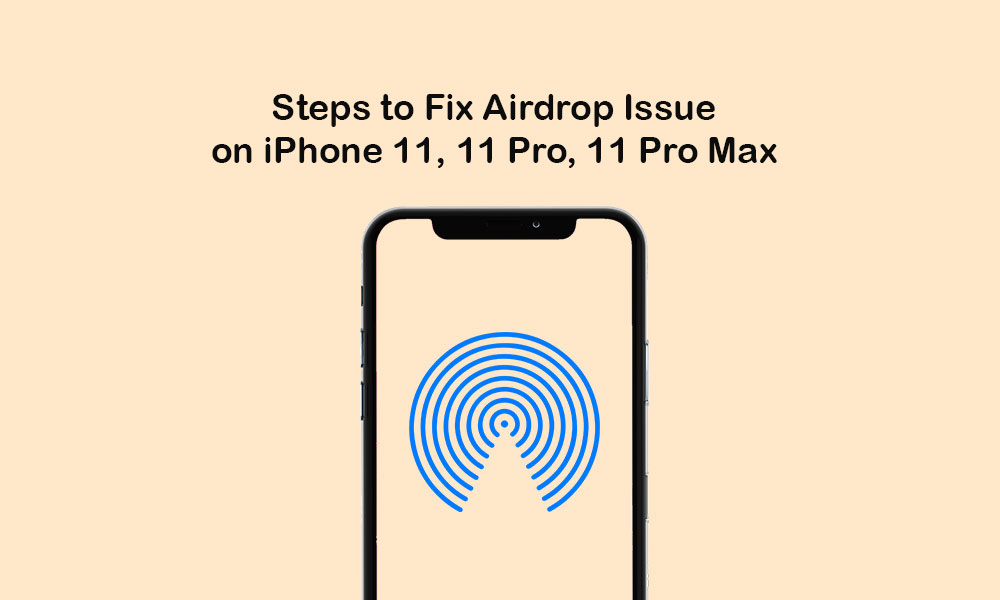 Steps to Fix Airdrop not working on iPhone 11/11 Pro/11 Pro Max
As we mentioned, check whether the Airdrop is enabled for contacts or everyone or not. Then turn on the Airdrop from the control center. Now, make sure to enable Bluetooth or Wi-Fi on your iPhone to work the Airdrop feature properly. The other Airdrop-enabled device should be active means the display should be turned on. Still, can't use the Airdrop properly? Follow the possible workarounds here.
1. Soft Reboot your iPhone 11
Long-press both the Power/Side key + Volume Up or Down button for a few seconds.
The Slide to Power off bar will appear. Release both the buttons.
Drag the slider to turn off your iPhone.
After waiting for around 30 seconds, press and hold the Power/Side button for a few seconds.
Then the Apple logo will appear and release the button.
The iPhone will reboot.
Also Read: How to Turn On or Off AirDrop on a Mac?
2. Use Airplane Mode
Open the Settings menu -> Turn on the Airplane Mode toggle.
By doing this, all the network connections will be disabled on your device.
Now, wait for a few seconds and turn off the Airplane mode.
Turn on the internet connection and check the Airdrop again whether it's working or not.
3. Sign Out iCloud Account and Log-in back
Open the iPhone Settings > Tap on iCloud.
Select your iCloud ID and tap on Sign Out.
Now, reboot your iPhone > Head over to the iCloud account settings > Sign into it.
Then check the Airdrop again.
4. Reset Network Settings
From the home screen, go to the Settings menu -> Tap on General -> Tap on Reset.
Tap on Reset Network Settings.
If prompted, enter the passcode and proceed.
Finally, restart your iPhone.
Also Read: Why Airdrop not working on iPhone SE
5. Check iOS Update
In order to check iOS update, head over to the device Settings -> go to General -> go to Software Update.
Make sure that the mobile data or Wi-Fi network is connected.
If there is an update available for your device, just grab it by downloading and installing it.
Once done, your device will reboot into the new system.
Finally, go to the Airdrop and check whether the issue is fixed or not.
That's it, guys. We hope this guide was helpful to you and you've fixed the Airdrop issue on your iPhone 11 series device successfully. If you've any queries, feel free to ask in the comments below.