Are you facing a problem with the Airtel network? Then you are not alone. Well, there are many complaints that users are facing problems in the Airtel network where the user's unable to make calls, internet not working, Slow internet issues. Let's find out whether Airtel is really down or it is not working only for you.
As we write this, we found many users reporting about the Airtel internet outage problem all over India. Yes, the Airtel network is having a technical issue now. The team is currently trying to fix the problem. If you are alone facing this issue, it is always better to contact the support team of Airtel to look into your problem and resolve this.
Bharti Airtel Limited, also known as Airtel, is an Indian global telecommunications services company based in Delhi, India. It operates in 18 countries across South Asia and Africa, and also in the Channel Islands. Wikipedia
New Update on April 22, 2020: Today many users via Twitter and Reddit started experiencing network coverage, Internet and more issue via Airtel. Here are a few of the tweets related to the Internet issues on Airtel.
@airtelindia @Airtel_Presence @JagoGrahakJagoo Airtel internet service not working properly and also Customer care IVR system not working properly then how to connect them & solve my problem?

— Amit (@QA_Amitkute) April 22, 2020
Service Request : SR#116767194 & SR#116958478
I am restarting Your Airtel Modem 10 to 15 times a day.. As advised. But couldn't get the internet. It doesn't make any sense to me.
No internet for the past 10 Days.Not resolved. #AirtelBroadband #AirtelNoThanks #AirtelCheat

— Diamond (@cvairamchennai) April 22, 2020
My Airtel Number 9880476792, is not working from past 1 week…. I have tried everything over the internet, but I still have the same issue… Have emailed the complaint…but no use this is the worst possible customer service by Airtel… #Airtel #consumercourt #jagograhakjago

— MohithS (@MohithS14) April 22, 2020
New Update on March 25, 2020: Today there are many reports about the Airtel network issue in many parts of the country. Even Broadband users are facing the issue, Airtel Hotspot issue, Postpaid network issue too. Here are some tweets reporting about the issue.
@airtelindia Airtel Sucks. After using 11 years, I am considering an MNP to Jio now. No internet for 10 long days!!

— Pinaki Pratihar (@pinakiR) March 25, 2020
I'm experiencing an outage of the airtel broadband since March 13 and it hasn't been resolved till date. It's really a big inconvenience considering the time we have to spend at home in quarantine.@airtelindia @ShivSena @CMOMaharashtra @AUThackeray #WorkFromHome #quarantine

— AzimSiddiqui (@AzimSid30852104) March 25, 2020
Need to some changes with my Airtel Broadband connection on urgent basis but your customer support no isn't working. Need to connect @airtelindia @Airtel_Presence Waiting for your reply

— Pulkit Juneja (@Pulkit_Juneja) March 25, 2020
@Airtel_Presence @airtelindia
My Airtel hotspot is not working trying to connect to customer care but unable to reach them, can someone help on priority as Im doing work from home.

— Gagandeep Saini (@gagan3saini) March 25, 2020
After hearing users' problems, Airtel replying via the Official twitter handle about the problem and they are looking into it. As we all know, India has lockdown all the states and limited the number of workers in any firm to reduce the contact, due to this, Airtel is also suffering to fix the problem quickly as possible.
Hi, in purview of COVID-19, we are currently operating at reduced strength. This has been done to ensure the safety of our staff. We encourage you to use #AirtelThanks app for service requests.

— airtel India (@airtelindia) March 25, 2020
Is it a Really Airtel Network issue?
If you are probably wondering how to confirm whether it is an Airtel technical issue or you alone facing this problem, well, the answer is simple. You can check the down detector website to see if the problem persists for everyone around the states. To do that, Go to Downdetector website and look for the graph if there is a trouble you will see a graph hike in blue color.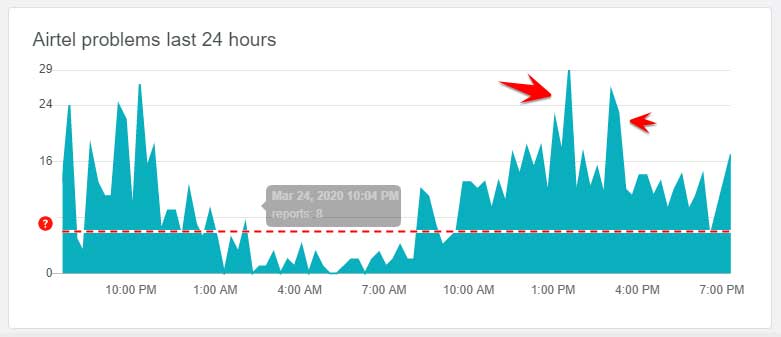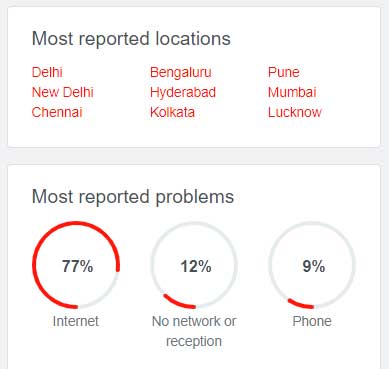 From the graph, we can clearly understand that many are facing the network issue on their Airtel sim.
How to Fix the Airtel network issue?
If the Airtel Internet or Network is down for everyone, then you need to wait patiently for the Airtel to resolve this issue by themself. If you are alone facing any trouble with the internet, then you can contact their support team to resolve your problem.
Here are the support team:
https://www.twitter.com/airtelindia
https://www.facebook.com/147351511955143
Once the problem has been restored, make sure you follow our next steps to fix any problem
Restart Your device
When the problem has been resolved, and you are still alone facing the problem, then make sure to restart your device. Rebooting can fix the problem.