South Korean tech giant Samsung released Android 12-powered OneUI 4.0 stable update on Galaxy Z Flip 3 and Galaxy Z Fold 3 just a couple of days ago. Although the update should've brought a stable update on the two foldable devices, it has so far been a disaster as there are countless reports on the stable update failing.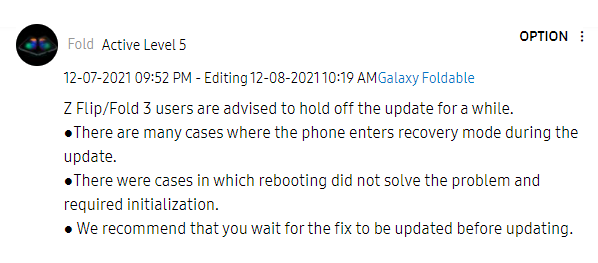 According to user reports, foldable smartphones from Samsung that received the said stable update in a few countries are facing issues like the devices are getting bricked after installing it. If only this wasn't a problem, some users reported varying degrees of issues such as screen flickering, slow performance, device entered in recovery mode, Dual Messenger feature not working on some apps, issues with dark mode, and so on.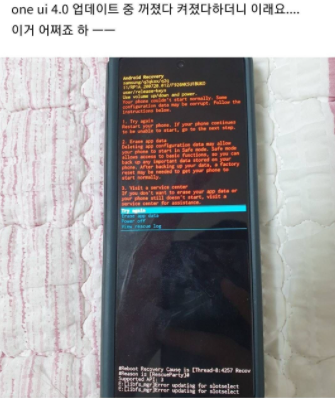 Another set of issues on the Android 12-powered OneUI 4.0 on Galaxy Z Flip3 and Z Fold 3 suggests the update has issues taking screenshots, streaming apps like YouTube and Netflix aren't playing videos as well. Some users reported that there's an issue with the camera app where all the photos that they captured automatically delete when they check it out in the photo album (gallery) albeit they are momentarily available after capturing it. There's a bad audio quality issue while some units are facing trouble accessing anything above 60Hz.

If you are thinking of upgrading to the stable OneUI 4.0 for both the aforementioned foldable phones, I would suggest waiting for a patch that Samsung could release in some time. If you have already upgraded to the stable OneUI 4.0 and are facing issues, downgrading to a previous version, deleting cache partition, and performing a factory reset (if available) might help.
For those with camera issues, deleting cache and data and optimizing the camera app can help in their favor. Also, Samsung has mentioned that sending log files when users reproduce any of the errors mentioned will help them analyze and come up with a fix quickly.
Update [1 PM IST]: Samsung has stopped the rollout of Android 12-powered OneUI 4.0 stable update on both Galaxy Z Fold3 and Z Flip 3 due to various issues users have encountered so far. It will iron out the bugs and release another version soon although there's no date yet.
Also Read: Fix: After Android 12 Update, Bluetooth Issue on Pixel Device