Android 12 is winning hearts across the globe among Android users and those even who're using other mobile operating systems. Google has done a remarkable job by developing Android 12 because it has whole new UI changes with improved features. Some of the visual changes are too good that users asked for years. Meanwhile, here we've shared How to Get Android 12's Privacy Dashboard on Any Android Phone.
Although Google has released the Android 12 Public Beta for a couple of eligible devices officially, the company will release the official stable version publicly in September 2021. This is what Google is following to release its latest Android OS version every year as a trend. There are plenty of important features available on Android 12 that most users appreciate. But the Privacy Dashboard option is exceptional.
Privacy Dashboard App (Third-Party): Overview
Google won't gonna bring this specific feature to the older Android devices (for example, Android 11 or lower). But here in this useful guide, we'll share with you easy ways to experience this particular feature right away on any of your Android devices whether they're running on the latest Android 11 OS or lower.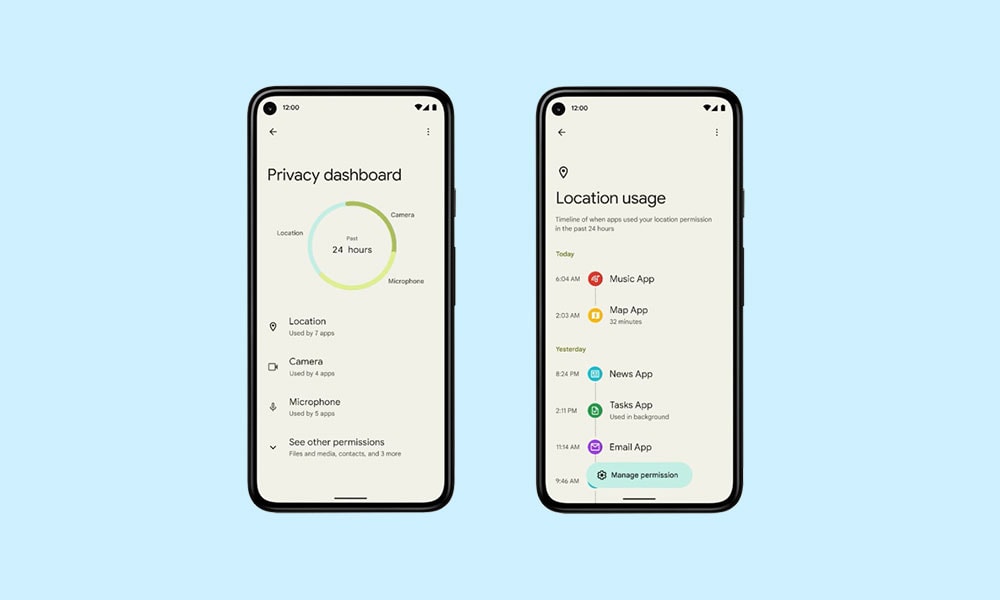 Thanks to an Indian developer Rushikesh Kamewar for developing and sharing the Privacy Dashboard app directly on the Google Play Store to get the same taste of Android 12's Privacy Dashboard as the name is also the same. You can't even believe that this third-party app offers and works the same as the official one with the additional benefit of having installed on any Android phone.
So, the inspired Privacy Dashboard app lets you track camera, location, microphone usage on your Android device whenever any app or service uses them in the background. Additionally, it notifies you about that on the screen by indicating the specific icon in a subtle and cleaner way just like we've already seen on iOS 14.
For example, whenever you open the Facebook app, and if it accesses location or camera then the camera and map icon will appear on the top of the screen. Apart from it, the app also lets you check all the permissions history individually for each app or service on the device which is really cool. Whereas it also provides you full details about how many apps used permissions in a whole day.
How to Get Android 12's Privacy Dashboard on Any Android Phone
Android 12's official or native Privacy Dashboard feature will widely be rolled out with the OS by the end of this year accordingly. Whereas you can easily install the third-party Privacy Dashboard app for free of cost from the Google Play Store right now on any of your Android devices that runs on Android 7.0 Nougat or above.
This third-party app will simply replicate the Android 12's Privacy Dashboard feature on older Android devices and offer a similar experience. We should also mention that the developer has promised to keep the app ad-free. So, if you found this app useful, then do not forget to appreciate his work by donating via the in-app purchases option which will also help him to support better.
Download Link:
Privacy Dashboard from Google Play Store (Free, offers in-app purchases)
Steps to Install and Set-Up Privacy Dashboard App
Once you've installed the app on your Android handset, just tap on Open.
For the first time, the app will ask you to grant several permissions like location and accessibility on the device.

To clarify, the accessibility permission will let the app track camera, microphone, etc usage on the phone. Whereas location permission is required to log app location usage.

So, simply tap on Allow Access for 'Location access' > Select While Using The App.
Now, tap on Open Settings for the 'Accessibility Setting' option.
Once you're inside the Accessibility page on the device Settings menu, make sure to tap on the Privacy Dashboard app.
Then tap on the toggle 'Use Privacy Dashboard' to enable it.
If prompted, tap on Allow to grant the accessibility permission.
Now, you're good to go.
However, the app will constantly be showing 'app is running in the background' persistent notification so that you can understand whether it's running or not while you need it most. But if in case, this bothers you a lot, and you want to turn it off the notification panel, then do the following steps to disable the persistent notification:
Make sure to open the Privacy Dashboard app on the device.
Head over to the app Settings menu > Tap on Hide notification.
Here you'll find out an option called "All 'Privacy Dashboard' notifications".
You can either turn it off completely or long-press on it to choose the 'Important' or 'Less Important' option accordingly.
Steps to Use Privacy Dashboard App on your Android Device
Once you've set up the app, you're now ready to rock. Head over to the app's home page and check how many apps have been used the location, camera, and microphone on your device in a full day.
You can simply tap on the Location, Camera, or Microphone options below to view detailed info with timelines.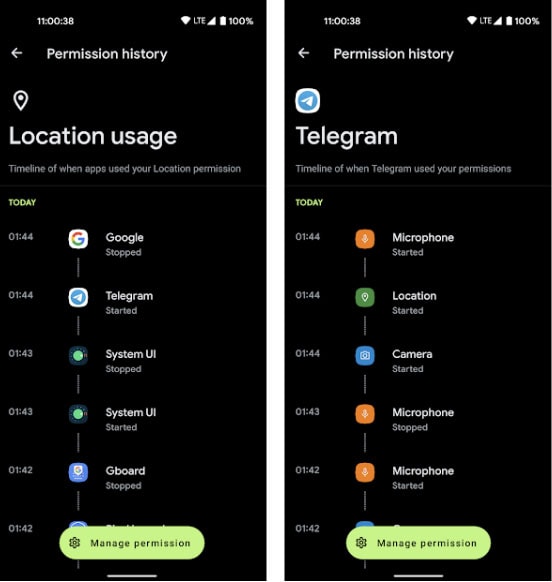 Whenever any app uses any of these three permissions (location, camera, or microphone) on the handset in the background (silently), the Privacy Dashboard app will instantly notify you about it by indicating the icon on the top bar of the screen.
So, that if in case, some of the apps are unnecessarily using the permissions that you feel useless then make sure to head over to that specific app info page and 'Manage Permissions' right away according to your need. Otherwise, you may not even know which apps are using which access and when… Isn't it?
However, the Privacy Dashboard has a flaw right now because it mistakenly logs apps that are running in the foreground and even the stock apps. We hope the developer will do something about it soon. [Make sure to keep updating this app whenever possible]
Additionally, you can change or edit the privacy indicator from the app settings page according to your preference.
Enjoy!
That's it, guys. We assume this guide was helpful to you. For additional queries, you can comment below.