The Asus ROG Ally is a powerful handheld gaming console designed to provide players with high-level gaming experiences, thanks to its impressive features. This device is powered by an AMD Ryzen ZI Extreme – an 8-core processor capable of handling large games and ensuring a smooth gameplay experience. Unfortunately, a considerable number of players have reported encountering issues with the screen on their Asus ROG Ally device, which can be quite frustrating.
According to various reports, users have found themselves unable to operate the screen properly, or in some cases, the screen has ceased to function altogether after a firmware update. These issues have been reported across several platforms, including Reddit. If you're among those facing problems with the Asus ROG Ally screen, don't panic. You're in the right place. Fortunately, there are effective solutions available that can help you troubleshoot and resolve the problem with your Asus ROG Ally device. So, let's get started.
After updates, touchscreen stopped working
byu/DatabaseComfortable5 inROGAlly
What Reasons Asus ROG Ally Touch Screen Not Working?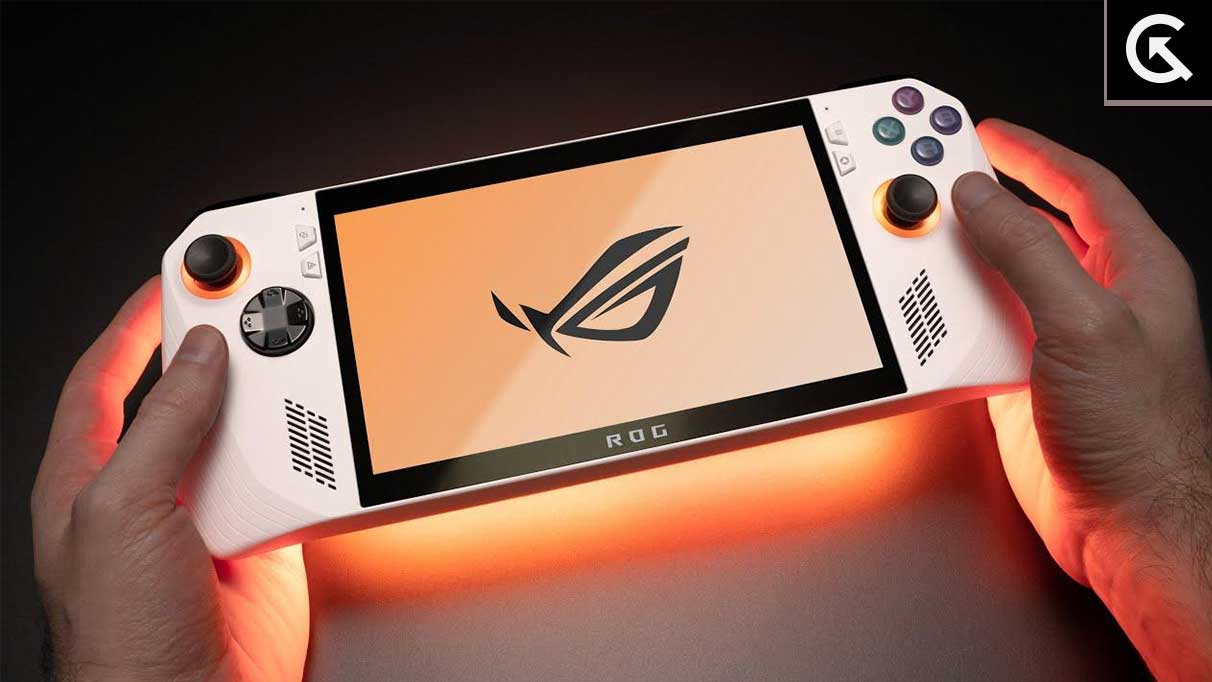 The Asus ROG Ally handheld gaming console's touch screen not working issue is commonly attributed to several primary reasons, including non-functioning touch screen, software issues, technical glitches, hardware issues, and overheating. A substantial number of users encounter this problem with their Asus ROG Ally device, especially after updating the firmware. However, worry not, as there are some effective methods you can employ to resolve the problem.
Fixing the Asus ROG Ally Touch Screen Not Working Issue
If you're dealing with touch screen issues on your Asus ROG Ally device, the following listed workarounds might be of help. Simply follow the steps below until you find the solution that works for you:
Force Restart Your Device
The first course of action should be to force restart your Asus ROG Ally device. This can often resolve the touch screen issue, which may be caused by software bugs or technical glitches. Restarting the device also fixes several other system issues, enhancing overall performance and stability. To restart your Asus ROG Ally, press and hold the power and volume down buttons simultaneously for about 10 seconds. Following this, the screen will automatically turn off and back on after a moment.
Perform a Factory Reset
If a simple restart does not resolve the issue, you should consider performing a factory reset. Many users who have experienced this problem following a firmware update have found success with this method. A factory reset can help clear any software bugs and glitches.
Do bear in mind, however, that a factory reset will erase all your personal data, including media files, documents, and installed applications. Therefore, it's crucial to back up all important data first by either connecting to your computer or transferring the data to an SD card. To factory reset your Asus ROG Ally device, follow the steps below:
Press and hold the volume down button and power button simultaneously.
Continue holding the buttons until the device enters the BIOS screen. This should take around 30 seconds.
Once you enter the BIOS screen, press the Y button to exit EZ mode.
Navigate to the Advanced tab.
Select ASUS Cloud Restore and press the A button.
The Asus ROG Ally will now automatically download a fresh copy of Windows, which will take a few minutes. Make sure you're connected to Wi-Fi, as you will be prompted to connect during the reset process. After the reset, set up your Asus ROG Ally again and check if the issue persists.
Check for Hardware Issues
If a factory reset doesn't resolve the problem, it may be worth checking for hardware issues. Sometimes, touch screen problems can arise due to faulty or damaged hardware components, which can occur if the device is dropped or exposed to water. Inspect your device to ensure there are no apparent hardware issues, and try to diagnose the problem accordingly.
Contact the Asus Support Team
If you've tried all of the above workarounds and the issue remains, it may be time to contact the Asus support team. They can provide you with additional troubleshooting strategies, potentially resolving the issue quickly. Alternatively, consider visiting a nearby service center and ask them to rectify the problem.
Conclusion
The Asus ROG Ally handheld gaming device is a popular console, offering users an elevated gaming experience with its additional features. However, encountering issues like a non-responsive touch screen can be disheartening. Fortunately, the solutions detailed in this article should help address the issue. Before rushing to a service center, give these methods a try. We hope you find this guide useful and encourage you to let us know in the comments section below if you have any other questions. Do also share which workaround proved successful for you.