Samsung has promised 40 hours of battery life on Samsung Galaxy Watch 4 or say, four days of battery life. Well, that's true for so many users, however, there are a lot of users who have complained against battery draining issues on the Samsung Galaxy Watch 4. Some users aren't getting more than 10 hours of backup on a fully charged battery which is a call for concern.
Turns out we had a unit with the same issue and thus, after reading a tonne of complaints and forums and more, here's a list of 10 things you can do to fix the battery draining issue on Samsung Galaxy Watch 4. Turns out this listicle can be used for other smartwatches too so read along if you are facing the same battery draining issue on your watch (but it isn't Watch 4).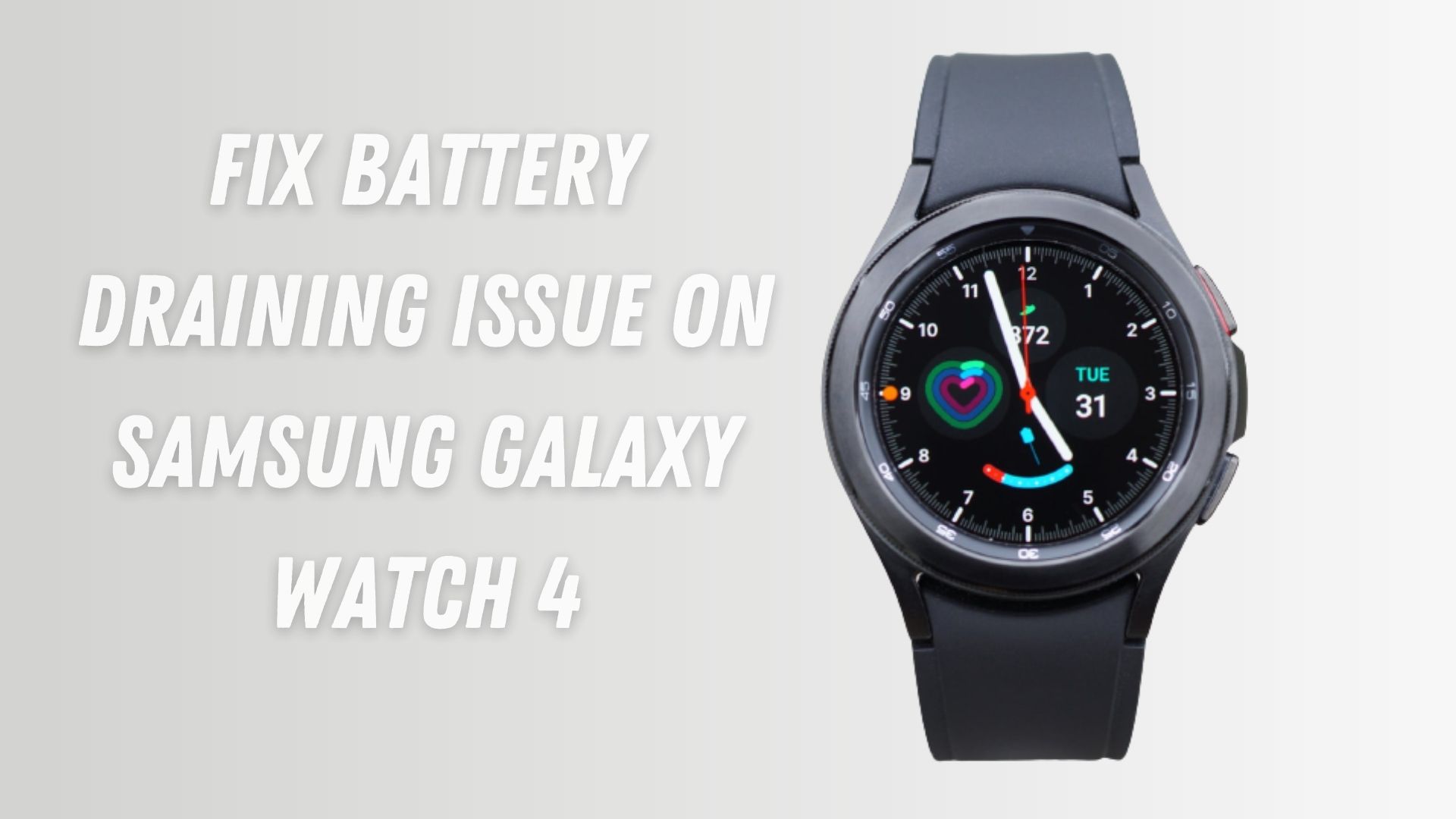 Fix Battery Draining Issue on Samsung Galaxy Watch 4
1. Reboot
Turns out rebooting is a powerful troubleshooting method that you can use for any type of issue on your smartphone or smartwatch. The battery draining issue that you just reported could be because of some glitch or some apps/processes are consuming more resources than they should and that is why your battery is draining quickly. Of course, there are other factors involved here as well.
A quick reboot can fix the problem without requiring a professional's help. Here's how you can do it.
If you want to shut down the smartwatch, press the power key on the top-right of the dial and select "Turn Off" when the option appears.
Simply press the power button for a few seconds and the smartwatch will turn on.
If it is about rebooting, long-press on the power button for a few seconds for the device to bypass the "Turn Off" option and instead show "Rebooting".
Release the button and you have successfully rebooted the Samsung Galaxy Watch 4.
"Incase if you are following this method for any other smartwatch than Galaxy Watch 4, the procedure for a reboot is almost similar."
2. Update The Software
Your Samsung Galaxy Watch 4 has made up of two halves i.e. hardware and software. Talking about the latter, there's an OS and apps that allow users to do things they can on a smartwatch. Both the apps and the operating system require you to stay updated to ward off any virus, malware, and bugs, and battery draining issues are one of the many issues you could face on your device. Here's how you can update both the OS and the apps installed.
Update the Software
You would need your phone paired with the smartwatch to carry out this procedure.
Firstly, go to the Galaxy Wear app on your device.
Next up proceed to Settings >> About Watch >> Update Watch Software.
If there's an update, you will see it on this page where you can tap on "Update now". If there's no update but you have a firmware update file,
tap on "Download updates Manually".
It's wise to tap on "Auto Update" in this section so that the smartwatch is updated as soon as Samsung sends an update.
Alternatively, you can update the software on your smartwatch as well. Here's how.
Check out the Settings on your Samsung Galaxy Watch.
Proceed to "General >> Watch Software Update".
Agree to the notice and install the updates if any.
Update the app
This procedure belongs to updating apps on Galaxy Watch 4 (and other watches). Follow accordingly.
Firstly, retreat to the Galaxy Wear app on your device and proceed to Settings.
Next up, go for Galaxy Store >> More Options (denoted by three vertical dots)
Proceed to "My page" and view all the apps with available updates. Once you find that particular app(s) has an update, you can either tap on "Update" for one app to update or click on "Update all" for all the apps to update automatically.
3. Customize notifications settings
Your phone gets a lot of notifications from 'n' number of apps and the smartwatch is no different if you are subscribed to a lot of apps or sites. You can customize notifications settings as notifications can go off repeatedly draining the battery.
To alter notification settings, go towards the Google Wear app on your phone and proceed to Settings >> Notifications.
You have two options here.
The "Auto show details" show notifications instantly but when turned off, it will not show notification details.
The "Turn on-screen" when turned off, will keep the display off when receiving notifications.
4. Get rid of unwanted apps
Many apps are pre-installed on smartwatches plus there are many that users add on the way. Apps will surely aid in accomplishing certain tasks but unnecessarily filling the device with too many apps is an ill practice. This is because apps need constant updates irrespective of whether you are using them or not. Also, some apps will keep on consuming resources on your smartwatch even in idle mode and thereby causing a dip in the battery performance. Thus, getting rid of such apps is recommended.
To uninstall apps from your Samsung Galaxy Watch 4, check out the app drawer.
Long press and hold on to the center that should give you options to uninstall an app.
Also, check out the battery section to find out which apps are consuming more resources as opposed to their usability and uninstall any suspected app if it is consuming too much battery than required.
5. Disable GPS, Bluetooth, Wi-Fi
I don't understand why people keep their GPS, Wi-Fi, or Bluetooth enabled when they don't need it at the moment. It is not a surprise that these connectivity features are wholesome and offer a lot on the table but you also drain a lot of battery life on keeping these features afloat. It is perhaps recommended to turn off these features when not in use. If the sole reason behind the battery draining issue on Samsung Galaxy Watch 4 is because you keeping these features enabled, you know how to fix it now.
Your Samsung Galaxy Watch 4 has a heart rate monitoring sensor, sleep, and a stress sensor to name a few. All these features constantly keep you updated with crucial information such as heart rate over time. However, it is also consuming battery life and that is why you often end up with a drained battery. Here's how you can use a bit of change in the settings to bring down its battery consumption.
First up, proceed to the Samsung Health app and proceed to the health menu.
To turn off the Sleep feature, go for its Settings >> Switch Off >> OK.
Repeat the same for Heart rate i.e. Auto HR Settings >> Never; and Stress: tap on Auto stress settings >> Switch off.
This will effectively doze up these health-related features only to be revived when you allow them and thus, it will save a lot of juice from the battery from evaporating like gasoline in a tank with a lid open.
7. Clear background apps
Just like how background apps can consume some resources even when in the background on your phone, the same thumb rule applies to a smartwatch as well. Thus, it is better to close all the apps running in the background. To do it, go for the recent apps list and scroll to the extreme left (or right, depending upon the make and model) and tap on "Close All" or "Clear Now/All" and that should do the trick. It is an easy-to-follow troubleshooting method that you can use to fix battery draining issues on Samsung Galaxy Watch 4.
8. Disable Always-ON
I know keeping the Always-ON Display (AOD) feature on your smartwatch looks cool and all but hey, it consumes battery as it goes along. It may not be a huge chunk but it adds up with the other components consuming the juice from the battery. Thus, you can disable the AOD feature on your smartwatch to keep the battery from draining too quickly. Here's how you can do it.
First up, press the home key or power key on your smartwatch and proceed to the Settings app as usual.
Next, you need to go to the Display section and navigate to Watch Faces, and check out the "Watch Always ON" feature.
Tap it to turn it off and voila, it is done.
9. Turn off wake-up on assistants
Previously, you'd need to say a specific word to wake up Bixby or other assistants, however, the technology has progressed a lot since then. You no longer need a wake-up phrase but the assistant (Bixby or S Voice) is always active and thus, activates when you want to give a command. It isn't rocket science and keeping this feature afloat requires battery backup as well and that is one of the components that has been munching on the battery life.
To fix it, go to the Home/Power button on your smartwatch and proceed to "Bixby" or "S Voice" from the app drawer.
Next, proceed to "More Options" which is denoted by three vertical dots.
Finally, tap on "Voice wake-up" and turn it off.
It will take just a few seconds to do it but it will save some if not much of the battery backup consumed by these unwanted features.
10. Enable The Power Saving Mode
Your Samsung Galaxy Watch 4 is equipped with a tonne of features which also include a standard and a power-saving mode. The standard mode is on which you use the smartwatch by default. Since you are facing a battery draining issue, it is time to try out the power-saving mode on your device.
Once you enable it, all functions except calling, texting, Wi-Fi, mobile data, Bluetooth (and a few others) will be turned off and the display would turn grayscale to put less strain on the battery. You can use the step-by-step procedure mentioned below to bring the power-saving mode to life.
Firstly, press the Home/Power button on your Samsung Galaxy Watch 4.
Proceed to the Settings app that should be available on the front of the app drawer.
Scroll using the pressure-sensitive dial to go to Battery/Battery Management.
Tap on Power Saving mode and tick/enable the Power Saving Mode.
You can tick/checkmark it again to turn off the power-saving mode.
11. Do not expose the watch to extreme temperature
Just like any other electronic device, your smartwatch is tested to withstand a range of temperatures beyond which damages can be fatal to the device. Exposing the smartwatch to extreme cold or hot temperatures beyond the permissible temperature can damage the battery (for starters) leading to shortened battery life and extended damage to it. The result of which will be a battery replacement or even more.