Looking for some good apps or services to create professional presentations with? If you have used Google Slides in the past and have disliked a part of it, this guide is just the right one for you! Read on to discover some of the best Google Slides alternatives you can use in 2021 to create and share professional-looking presentations with!
Google Slides is Google's answer to one of Microsoft's best-selling products – PowerPoint. Google Slides is a completely free and online service that allows you to create some darn good presentations in a matter of a few minutes. It is available for the web, and as an app for both Android and iOS devices too. Over the years, Google Slides has seen several updates that have made it quite comparable to the likes of PowerPoint.
However, no product is without its flaws. While Google Slides has ease of access as a huge advantage, working against it are things like fewer options, a lackluster user interface, and fewer themes and power user tools. To counter this, we have listed some of the best Google Slides alternatives that you can use in 2021 to fulfill the same purpose. With that being said, sit back, relax, and enjoy the read!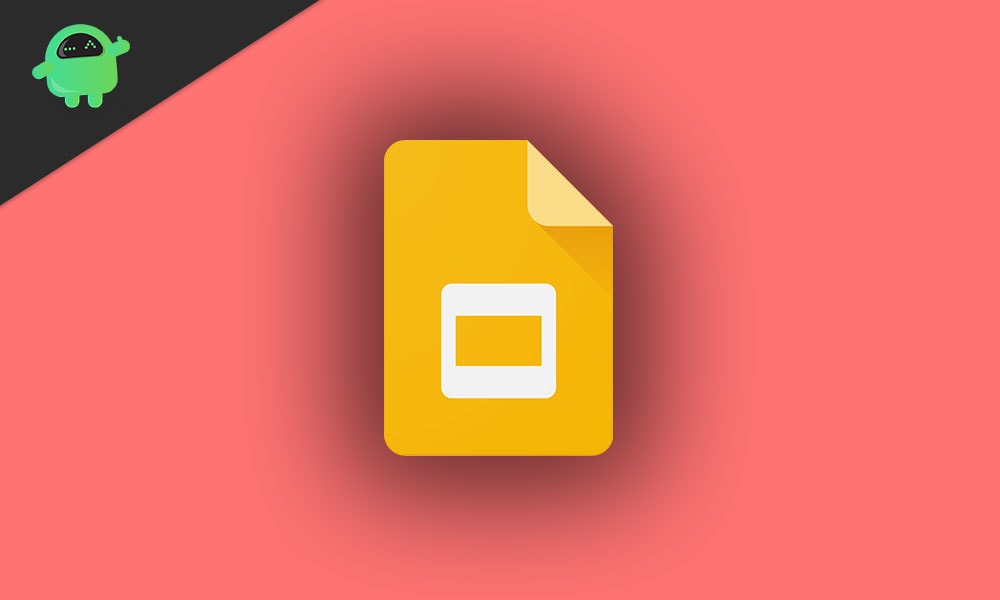 Best 5 Google Slides Alternatives
1. Microsoft PowerPoint
Price: $100 per year for Office 365 Family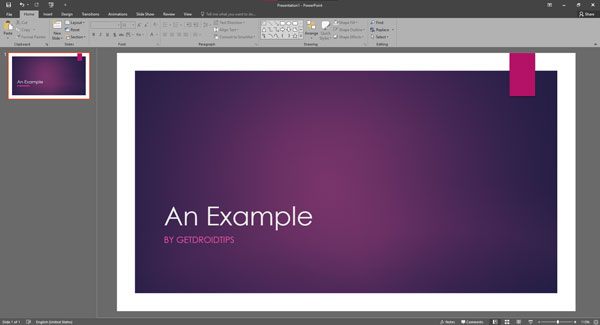 Kicking the list off, we have one of the most obvious alternatives to Google Slides. Not only is PowerPoint the granddaddy of all presentation maker apps, but it has proved its superiority over most other free alternatives when it comes to things such as the number of features, user interface, themes, and popularity. Migrating from Google Slides to PowerPoint might take some getting used to, since PowerPoint is a software that you need to download, as opposed to one that can be accessed on the web.
One of the biggest advantages of using PowerPoint is the great number of features and options it brings when compared to online-only platforms such as Google Slides. It has a highly refined user interface, with a lot of power user features and tools. The only huge caveat with Microsoft PowerPoint is the fact that it requires an Office subscription for you to use it. This might come free with certain laptops and desktops, but in case you have been looking for cheaper or free alternatives to Google Slides, we recommend you try the other services on the list instead.
2. Microsoft PowerPoint Online
Price: Free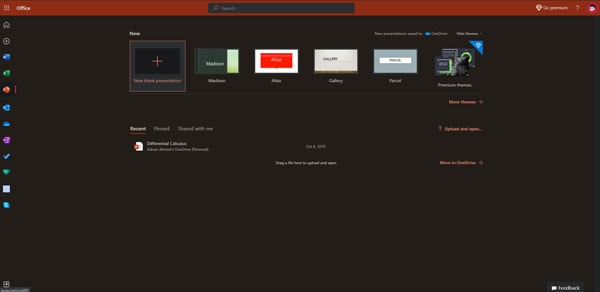 PowerPoint Online is Microsoft's jab at Google Slides. Its name is pretty much self-explanatory – a stripped-down, online version of the good old Microsoft PowerPoint that we all know and love so much. Just like Google Slides, you will find fewer options and features when compared to a full desktop suite app like PowerPoint. However, for most people who find themselves creating and editing quick presentations on the go, this service works like a charm.
It has a user interface that resembles the desktop version of PowerPoint which makes getting used to it rather simple. You will still be able to enjoy the vast catalog of themes and color presets that Microsoft has in store. The best part of using PowerPoint Online is that you can do most of the common editing without the need of a subscription. Overall, we would highly recommend PowerPoint Online to those who wanted a more powerful experience while creating presentations.
3. Keynote by Apple
Price: Free for Mac users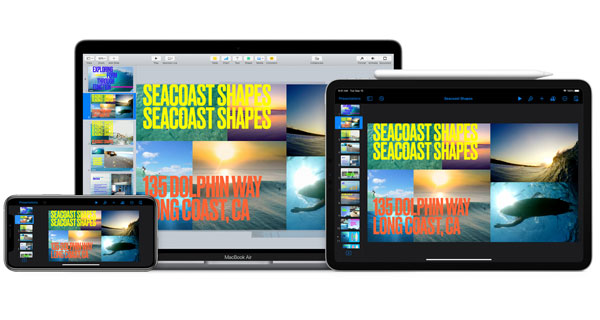 Next on our list of some of the best Google Slides alternatives in 2021 is Apple's take on a slideshow maker – Keynote. Keynote is everything that professionals have asked for years. It features a very simple and no-nonsense user interface with features that surpass the likes of all other presentation maker apps. With Keynote installed, you will be able to create some of the most cinematic presentations you have ever created.
There are loads of cinematic effects and transitions ready for you to use in Keynote. You can use these effects on text, images, videos, or even GIFs. The transitions that Keynote has to offer make the ones that the other apps have seem very cheap. Unfortunately, Keynote is only available for macOS and iPadOS users. If you have an iPad, we highly recommend you try Keynote from the App Store as well.
4. Slides
Price: $5/month per user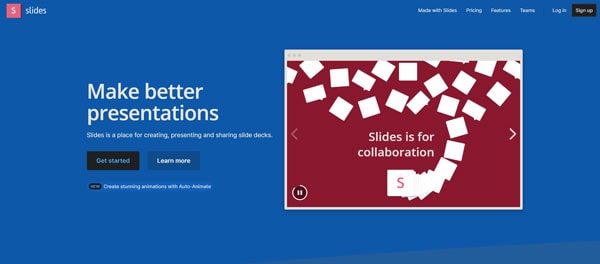 Up next on the list is Slides.com, which is yet another great alternative to Google Slides. While it doesn't come cheap, it offers desktop-grade editing when it comes to presentations and slides. We really enjoyed using the web version of the app and the user interface was really solid. In terms of features though, we would still crown the desktop version of Microsoft PowerPoint as the king.
For the slightly steep pricing, you get access to a ton of useful features though. Slides.com focuses a lot on user privacy and security, so you can trust this service with the most confidential of presentations that you need to create and share. There are various collaboration tools that help you and your team to work together on a single project as well. However, this feature costs extra. The other notable features include a fully-fledged CSS editor, the ability to add videos and GIFs, and a great analytics dashboard to keep track of all of your upcoming and ongoing projects.
5. Zoho Show
Price: $4/month per user for Zoho Workplace Bundle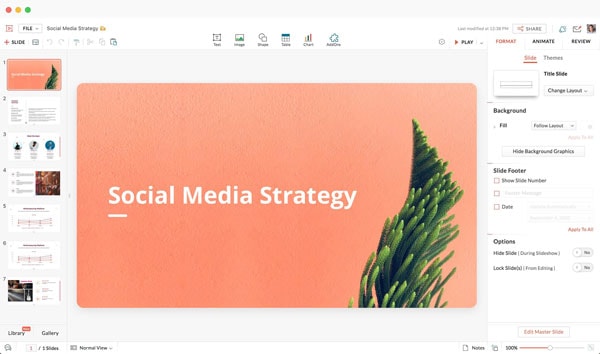 Ending our list of some of the best Google Slides alternatives, we have Zoho Show. We have talked a lot about Zoho and its various productivity-oriented apps and services in the past. Zoho Show is Zoho's answer to an all-around great presentation or slideshow creator. It comes bundled with the Zoho Workplace Bundle. When it comes to features, it almost nearly matches Microsoft PowerPoint.
Where Zoho Show shines the most though, is on the collaborative front. If your workplace already used Zoho, then we don't see a reason as to why you wouldn't switch to Zoho Show to create and manage all of your presentations as well. Apart from the huge range of features and options, you can also export your presentations in a variety of formats as well, including PPT, PPTX, PPS, PPSX, and SXI. All in all, Zoho Show is a very powerful alternative to Google Slides.
Conclusion
That's all folks! We hope you enjoyed our roundup of the best Google Slides alternatives in 2021! Which one among the list is your favorite, and how many of these Google Slides alternatives have you already known or have been using? Know other good apps or services to create presentations with that you feel people might find interesting and helpful? Do let us know in the comments section below, we'd be delighted to hear from you guys!