If you have been on the lookout for some of the best apps to get fit in just 7 minutes a day, then we got just the right selection of apps for you. Read on to learn more about a few of such applications that help you maintain your physique while being minimal and easy to use.
With the ever-growing demand for lifestyle improvements and changes in the modern-day and age, it is really difficult for an individual to take out valuable time from their schedule for their own bodily requirements. We've seen a rise in the number of unhealthy people as technology has advanced. This is largely because most people think staying in shape requires a set amount of hours per day or week and utmost dedication which might affect their social or work areas. However, there are already a set of predefined workouts that don't even last as long but do help greatly in helping one stay fit.
This is where the entire concept of 7 minute workouts has come into the picture. With only a few types of movements and warm-ups, you can drastically improve the way your body functions on a day-to-day basis. As the name suggests, 7 minute workouts only last 7 minutes and are composed of a few basic exercises to keep your muscles and joints in check. While you can find most of these exercises and manually select them per day, there is a much easier way out of this. There are plenty of applications available for both Android and iOS that assist in such 7 minute workouts.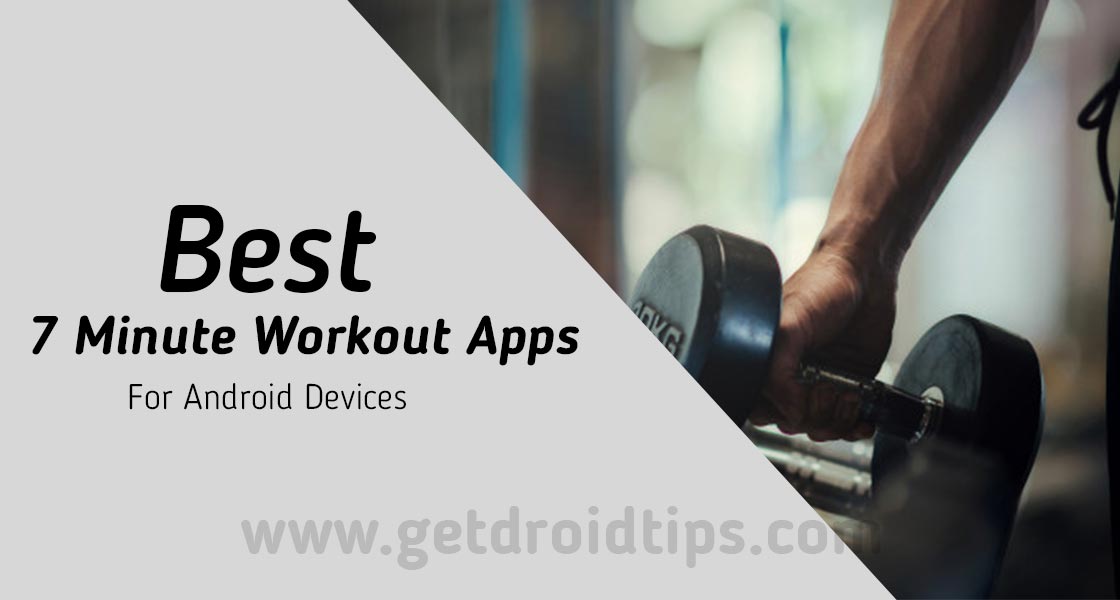 This is why we have curated a list of some of the best apps to get fit in just 7 minutes a day available on the Google Play Store for Android devices. Some of the apps have a higher selection of exercises than the others, while some have better interfaces and are easier to use. Anyhow, if you have been searching for an all-around good application to get back in shape, then look no further!
Best Apps to Get Fit in Just 7 Minutes a Day
All of the apps mentioned below have been tried and tested by yours truly, and I recommend only those apps that provide a fulfilling user experience. As far as availability goes, most of the apps we've mentioned below are free, to begin with, but run on a freemium basis which means users can opt into buying the premium versions which unlocks a whole lot of other cool features. Overall, if you don't plan on spending any money for a 7 minute workout Android app, you can still enjoy most of the listings here too! With that being said, let's take a look at our top picks!
#1 – J&J Official 7 Minute Workout
Our first app pick for the day is Johnson and Johnson's Official 7 Minute Workout app, designed by none other than Chris Jordan, Director of Exercise Physiology at the Johnson & Johnson Human Performance Institute. J&J Official 7 Minute Workout is one of the most popular 7 minute workout applications available on the Google Play Store. It has over 2.5 million downloads from users scattered over 250 different countries!
As soon as you launch the application, you will be greeted with three options. You can choose to start your 7 minute workout, take a look at the entire workout library or even do a smart workout, which gets better and more personalized for you over time. You can start your short-timed workout with the first option, and you will be assisted by a great interface throughout. The workouts themselves are easy to follow and can be understood easily thanks to the animations the app displays before you begin them. The time taken for each exercise is also displayed smartly by a ring around the animation, and your phone beeps when the time runs out. This way, you get to quickly go through your daily 7 minute workout session without really planning much ahead of time.
If you're interested in more than just the 7 minute workout session, then you can also choose any workout from a number of them in the third option on the main menu. Here, you will be guided on how to perform all the exercises with clean and clear animations and more details. Over time, the application learns from your daily routine and finally creates a smart workout for you to follow as well. Overall, the J&J Official 7 Minute Workout app has a user interface that is left unparalleled, a host of different workouts, and a great way to kick start a healthier life. You can download the latest version of the J&J Official 7 Minute Workout app from the Google Play Store by following the link given below :
Download
#2 – Seven – 7 Minute Workout
Next up is another great 7 minute workout application that is available on the Google Play Store. This app also has a paid version, although most users can get away with just the free version since it has so many features in itself. Anyways, the way this workout app functions is a bit different. The moment you launch it, you will be asked to choose a goal. You can choose to stay fit, get strong, or lose weight. It then proceeds to ask you how many days a week you intend to work out, followed by a time. The app takes all of these prerequisites and composes a list of workouts that last just around 7 minutes that will help you accomplish the goal easily.
The app also has clean animations, just like the J&J Official 7 Minute Workout app, and while it doesn't have just as many features or details in the animations, we still feel it's a great alternative to the aforementioned app. After every workout, the app will ask you for feedback, where you can select if the workout was too easy, just right, or too difficult. The app then takes this feedback into consideration and makes your workout for the next day much better. You can record and track your weight, height, and other details and view them over a span of 30 days with beautiful info graphs and more information.
Lastly, if you do ever get bored of the 7 minute workout sessions, you can also practice from tens and hundreds of other workouts and exercises that the app has to offer. There are many free exercises that you can download and practice daily with the help of animations and more information about the type of workout. We recommend this workout app to those who have a more specific goal set in their minds. You can download the latest version of the Seven – 7 Minute Workout app from the Google Play Store by following the link given below :
Download
#3 – 7 Minute Workout App
The next application of our mention in this list is a really simple to use and generic 7 Minute Workout App. It's available only for Android devices, and while it might not have the most intriguing design or even the best animations, it does the job really well. It displays a list of predefined workouts to spruce up your 7 minute workout routine daily. If you're ever bored of the same exercises, you can even go extra with the plethora of other workouts that the app has to offer.
What makes the 7 Minute Workout App unique is just how straightforward it is. There aren't any sophisticated menus or registrations needed. You launch the app, set a goal and that's it. The app has a clean white and green UI with big, bold icons and text to make it easier to read while you work out. You can also choose how long each exercise in your workout lasts, repeat the circuit a number of times and control a lot more of these little things.
Lastly, you can also link this app with your Google Fit account to make it easier to share data and monitor it on a 30 day or weekly basis. The app is reliable, fast, lightweight in download size, and works just splendidly. If you find either of the two apps above to be too fancy or confusing, then our best pick would be this one. You can download the latest version of the 7 Minute Workout App from the Google Play Store by following the link given below :
Download
#4 – 7 Minute Workout
The 7 Minute Workout app by Simple Design Ltd. is yet another great way to get yourself back in shape by spending no more than 7 minutes every day. The highlighting aspect of this app is its simple design and ease of use. The app was even nominated for the Best of 2016 Apps by Google Play itself. The app supports integration with Google Fit that makes it easier for you to transfer or sync data between your most used fitness apps.
This 7 Minute Workout app is number 1 in over 19 different countries and is constantly in the top 5 leaderboards for the best fitness apps in many other areas of the world. You can use this app to lose fat, get a flat tummy, or even work out your abdominal muscles. The app has support for voice guidance which makes it easier for you to follow the exercises without constantly having to look at your screen.
The workout log is a great place to keep track of your workout streaks and have a quick look at how you have progressed so far. You can adjust the rest time as well as create personalized workouts to fit your needs the best. You can download the latest version of the 7 Minute Workout App by Simple Design from the Google Play Store by following the link given below :
Download
#5 – Workout for Women
Ending the list of some of the best 7 minute workout apps for Android, we have a specific one for our female readers! Workout for Women is essentially like the other workout apps on this list but has workouts and an atmosphere tailor-made for women. The app follows the same 7 minute workout principle and has a multitude of exercises for you to follow.
The app was among the Google Best Health and Fitness Apps of 2019 and even won the Google #1 Free Female Fitness & Exercise App 2020. The app has a clean and familiar user interface for those who have used workout apps before. Workout for Women is suitable for both beginners as well as fitness fanatics who know what they're doing. The app also has a period tracker to better curate your workout sessions. You can download the latest version of Workout for Women from the Google Play Store by following the link given below :
Download
That's all folks! We hope you enjoyed our roundup of some of the Best apps to get fit in just 7 minutes a day! Which one among the list is your favorite, and how many of these fitness apps have you already known or have been using? Know other good Android 7 minute workout apps that you feel people might find interesting? Do let us know in the comments section below, we'd be delighted to hear from you guys!