It doesn't matter whether you are a hardcore tech enthusiast or not. The moment when you come across the term hacker your mind shows you a guy in a dark hoodie typing out quickly something on a PC. Then, one click and far somewhere someone's system or network drops dead. Well, that's how hacking and hackers have been portrayed in movies for a long time. Surely this adds up to the cool quotient but in reality, it takes much more to hack into some device. I mean there is a lot of technicalities involved in the whole process.
Along with a computer/smartphone, the hacker must also utilize some specific set of applications to implement the hack. Today we will talk about hacking on the Android platform. I will brush up some basics regarding hacking. In this guide, I have put up a List of the best hacking apps for the Android operating system.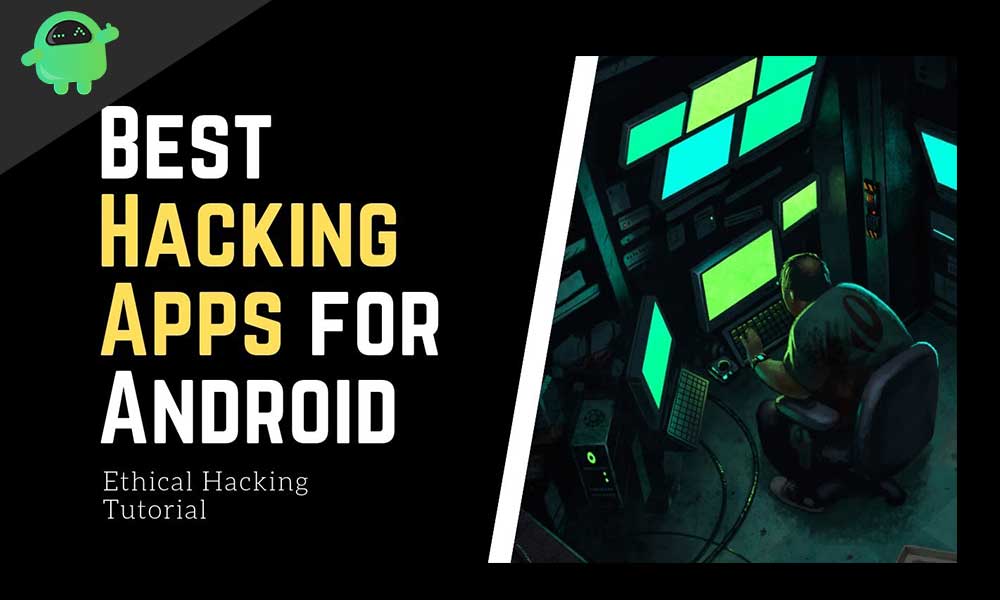 Related | How to Transfer Android Files to Mac with OpenMTP
What is Hacking.?
Now, let's understand the phenomenon of hacking and some of its related aspects. Hacking is basically breaking into a singular system or a network of systems. There can be two major reasons for this. First, to monitor the security vulnerabilities by attacking the system. Second, to knowingly harm a computer to steal information. The latter is carried out for data theft, ransom collection via Bitcoin, personal vendetta, or simply to show off hacking skills.
The hacker that does this for testing security is dubbed as White-hat hackers. The ones who have illegal motives behind hacking are called Black hat hackers. Both of these types of hackers employ the same tactics and technology to access a system.
There are various things they carry out which we collectively know as hacking. It includes DNS Poisoning, Packet Sniffing, SQL Injection, Mail Jacking, Trojan Attack, ARP Poisoning, etc.
Can Android be Hacked.?
Yes, any operating system can be hacked given there are a proper tool and an efficient hacker who can utilize those. Android is open source in nature. We do see the creative side of developers who can customize the Android OS and create custom ROMs. Also, we get to see many other kinds of stuff like custom TWRP, mods, etc.
On the other hand, there are also developers that have malicious intentions. They try to create exploits and gain access to an Android device. The primary motive is either stealing user data or to disrupt a device. Normally, disabling a device won't do any good for any hacker unless he wants some ransom. Mostly, data theft is a common reason that happens at beginner level hacking and spans up to the pro level.
Also, hackers can lock out a user from accessing their own device by putting up some malware. Then they ask for ransom money in terms of bitcoins(which is generally a big amount) and then they send the unlock key for the device.
Data theft doesn't necessarily have to cripple a system. The hackers install something called a backdoor over a system. Then they access the device for a long time and keep stealing information.
Some General Ways of Hacking An Android device
Now, let me tell you some of the most repetitive and common hacks that affect Android devices nearly every day all over the world.
Malicious Apps
These are the kind of applications that you will not find on Google Play Store. The sole intention of these apps are to get installed on your android device and gain access to your details.
This is one major reason, why I keep saying in my guides to install apps from Play store only. Google allows legit apps on its platform. So, anything you install from the play store is safe.
Usually, when we install an app, it asks for certain permissions to access details like contacts, etc. However, it is important for the user to know whether particular permission is really required or not. Let's say there is a game you want to install. It should ask permission for storage. But if it asks you about your contacts, messages, other apps, then know that it doesn't have good intentions.
SMS Trojan
This is another malicious technique that begins with infecting a smartphone with Trojan. Then the code is transmitted to other connected phones via some fake text message. The message would consist of a suspicious and strange link. The unsuspecting user will click on the link and the virus/malware will get installed on his device.
Data Sniffing
This is a very old method of data-stealing which is prevalent on major platforms like PC and smartphones. Basically, when two devices are transferring data packets between each other, a malicious third party sneaks into the network. This third-party then starts to steal or know the information being exchanged between the two parties. This mostly happens on an open public network.
It sounds simple but it's pretty technical. Once the malicious third-party enters the scene, they can use certain tactics to get hold of your passwords. I mean when you will use keystrokes on your device keyboard app, the hackers will get to know your passwords. Along with that, they can sniff your bank transactions, calls, emails, messages, etc.
Best Hacking Apps for Android
Disclaimer
I must mention it at the beginning that the author and GetDroidTips do not encourage hacking any device for malicious purposes. Also, the author and GetDroidTips will not be responsible for any issue that may occur due to the wrong use of any hacking app mentioned in this guide. This article only intends to throw some light on the aspects of Android hacking apps on a theoretical note.
So, here are some of the Best Hacking Apps used on the Android OS platform. To use some of these apps you may require to root your Android device. Besides, some of the apps may not be entirely free to download and use.
cSploit
To run this app for hacking, you need to root your device. It is a very efficient app for packet sniffing, emulate TCP, and UDP packets. You can download it here. It's free to use. Normally, white hat hackers implement this app to check and fix network vulnerabilities.
AndroRAT
RAT stands for Remote Administrative Tools. You can remotely gain access and control any smartphone using AndroRAT. Using this app you can have access to contacts, messages, call logs, web activity, etc. This free app can run in the background and collect information on the target smartphone.
Hackode
This app is free-to-use. You can use this for getting Wi-Fi password, port scanning, penetration testing. It can also be used for reconnaissance which means information gathering of a supposed victim.
Network Mapper
Another notable application for all kinds of tweaking on a network. You can discover hosts, protocols, open ports, services, and its configuration. It can also detect vulnerabilities on networks. Then you can penetrate through the vulnerable points and launch an attack.
This app acts as a front-end for the Nmap Scanner. All the popular Android architectures like x86, MIPS, and ARM. With this, you can transfer NMAP binaries using HTTPS.
Here is the Google Play Store download link for the Network Mapper app.
[googleplay url="https://play.google.com/store/apps/details?id=org.kost.nmap.android.networkmapper&hl=en_US"]
Sniffer Wiccap
Ideal for packet sniffing, this app costs around $5 to use and supports most of the smartphones out there. You don't require root access to use this application.
Here is the official Play Store download link for Sniffer Wiccap.
[googleplay url="https://play.google.com/store/apps/details?id=com.evbadroid.wicap"]
WiFiKill Pro
This app will give you access to a complete list of all apps connected to a network. You will get details of data transfer rates, name of the active devices sticking to the connection. Here is the official download link for the app. It is free to use.
[googleplay url="https://play.google.com/store/apps/details?id=wifi.kill.pro"]
Kali Linux NetHunter
All smartphone devices may not support this app. It was originally made for the Nexus smartphones. However, it is powerful in its own niche. You can carry out wireless injection, keyboard attacks, hacking into Wi-Fi, etc. Download if from here.
DroidBox
It's a free application that hackers can use for gaining information about the network activity, APK, calls, messages, Here is the download link for DroidBox.
DroidSheep
It's basically a Wi-Fi network sniffer. You can also use it to gain information about social media usage. Hackers can use it to track activities of their targets.
FaceNiff
Another notorious tool for stealing information from social media profiles, steal cookies, track user presence on the webspace. Its developer is Bartosz Ponurkiewicz. He is also the mind behind Firesheep that is used for hacking Firefox.
Do You Know | How to Create A Double Exposure Picture Using PicsArt
So, that's about it. This was a detailed insight into the ten best hacking apps for the Android operating system. If you have a curiosity for hacking then try out these apps. Keep in mind to do it for learning purposes and not harm anyone's device knowingly. That's wrong and is illegal. I hope that this guide was fun and informative for you.
You May Also Like,