If you are a regular at rooting your device, you must be familiar with the Magisk App. The Magisk Manager app is one of the most trusted and popular apps that lets you gain root access without the need for modifying the system partition on your device. Moreover, you do not lose the safety features on your device and continue to use the banking and other security involving apps with ease even after you have gained root access on your device. In this post, we will share the best Magisk Modules you should try in 2021.
With the help of the Magisk Manager app, you can manage everything once you have gained root access to your device. For instance, you can install an OTA update on your device without the need to lose root privileges, or create your own mod app, etc. However, if you want to install the Magisk Manager app on your smartphone, you need a custom recovery like TWRP flashed on your device. Now, coming to Magisk modules, these are small tweaks or functionality that enhance your rooted device's features. So, without any further ado, let us get straight into the article itself.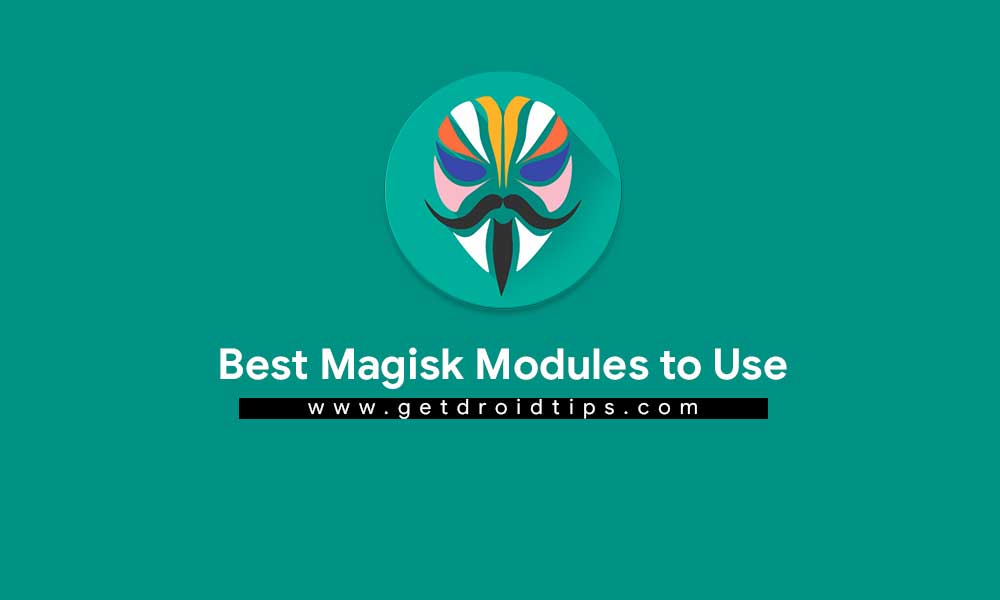 What is Magisk Module?
Developers design Magisk Modules to add more functionality to your rooted device. It is a systemless method that does not affect the system partition. These features are mostly what your OEM has on your device, even if your device is capable and powerful enough. Many of the Magisk modules are aimed at either customizing your device or adding functionality to the device. You can change your device's UI, change emojis on your GBoard app, install third-party apps as system apps on your smartphone, etc.
Best Magisk Modules You Should Try in 2021
Now, let us take a look at the best Magisk Modules you should try in 2021
Volume Steps Increase
I don't know if you have noticed this, but by default, the Android OS allows for only 15 steps between max and min volume (You can check out for yourself). However, it can be different, provided that your OEM has changed it. This can be a bit annoying for many users, as, in some smartphones, the difference between one step and the second step could be louder or lower than expected.
But, with the help of Magisk Modules, you can go about and increase the volume steps to a maximum of 30, which gives you more flexibility in choosing the right volume level on your device. Moreover, you can get this feature for both Media as well as In-call volume as well. This can be a significant feature for people who use their smartphones with their headphones on.
App Systemizer
Ever wondered how you can install third-party apps on your device as system applications. One of the main advantages of this would be, no one could uninstall the application on your device. This also gives you an extra layer of security for security-based apps like app lock, etc. Moreover, some apps perform better, provided that you give them extra system permissions. Note that the App Systemizer will not modify or tweak the system partition so, you cannot save space on your internal storage. Besides, you will be able to update all of your third-party apps via the Play Store as usual.
Viper4Android
If you are looking for the best equalizer mod for your device, look no further as the Viper4Android is the best and most popular sound management mod for Android devices. With the help of this, you can max up the volume beyond your device's limit and tweak the settings to improve the speaker sound quality. You can even create a new profile and save it on your device. Other features of this module are you get bass settings, add clarity with features like ViPER Clarity and XHiFi technology, control the audio outputs, etc.
YouTube Vanced
The best YouTube Magisk module out there for you to try is the YouTube Vanced module. Now, you might be thinking, what is so great about this? So, let me tell you that with the help of this mod, you can get features like background play, ad blocking, PiP (Picture in Picture), and many other features that you will not get on the official YouTube app. Note that the YouTube Vanced module will replace the official YouTube app on your device once you install this module.
Moreover, with this module, you can override resolution limits, use pinch-to-zoom, use the Dark Mode, etc. You can download it from the download section below;
Xposed Framework
If you are into rooting for quite a bit longer, you might know that the previous method you can run the modules on your device was through Xposed Framework. This was one of the main reasons to root the device that lets you run the GravityBox mod with hundreds of tweaks and mods. Fortunately, with the Magisk Manager, you can have the Xposed Framework features, probably better than the original one. Moreover, it does not stop you from downloading Android updates and does not contain any problems and issues. Besides, with the help of this module, you can get all the customization and mod features of a custom ROM on your Stock ROM.
Debloater Magisk Module
Other than Google Pixel smartphones and other running stock OS of Android, certain OEMs pre-install certain apps on their smartphones. Now, yes, there are ways by which you can debloat them and get that extra space on your device. However, with the help of this Magisk Module, you can debloat your rooted smartphone easily and seamlessly. Sometimes, you might have come across apps and games that cannot be uninstalled, known as bloatware pre-installed by your OEM. Besides, it creates a terminal with the Magisk Module to customize and uninstall the system app or the bloatware.
G-VisualMod
What's an open-source OS without customizations! If you also echo these thoughts, then this module is tailor-made for you. It gives you the option to customize the UI roundness, change status bar height, fix padding, change notification padding, pill thickness, color, and transparency. Likewise, you could also tweak the immersive mode and the full-screen mode or use the Notchkiller functionality. Furthermore, it also comes with the option to fix the MIUI status bar bottom padding, one issue that has been infuriating quite a few Xiaomi users for ages.
Emoji One
With the help of this Magisk module, you can add emojis to the device while messaging or any other social media application. If your smartphone is rooted, you can install this magisk module on your smartphone and enjoy more emojis.
Pixel Experience Magisk Module
Google Pixel smartphones are something that most people prefer even though the sales figure shows Samsung on top. The Pixel device's stock Android experience is something that I personally like, and many other users prefer it. There are already so many mods and ports from the Pixel devices, like the ever so popular Google camera port or the GCam, or the stock launcher itself. However, a Pixel Experience Magisk Module brings in the stock Android UI on your device.
With this module, you get the notification and other tones, fonts, Camera 2API, look and feel of the Pixel devices. Note that this might not work on heavily themed devices like the Samsung or LG but can run smoothly in near-to-stock experience Android devices. If you want to know more about this Pixel Experience Magisk Module, we have previously covered a post about it.
L Speed
This is a performance booster module that beholds a plethora of options related to the device's CPU, GPU RAM, Internet, among others. For example, you could tweak the Governor tuner, optimize the CPU utilization for optimal usage, manage the available virtual memory on your device and control the entropy. Along the same lines, it also comes with an in-built cleaner app to delete all the junk from your device.
Then there are quite a few under the hood tweaks under the miscellaneous section. However, if all these are too much for you, select from one of the available profiles in the form of Power Saving, Balanced, Performance, and let the app do its work for you. All in all, its inclusion in this list of the best Magisk Modules for 2021 was quite an easy decision for us.
Camera 2API Enabler Module
One of the best Magisk Module available for Android devices is the Camera 2API enabler. The reason behind its popularity is that Google Modded camera port or GCam apps can be installed only on devices with Camera 2API enabled. Moreover, some devices in the market miss out on this feature and require manual labor. GCam is the best camera mod APK that enhances the image quality and gives you features like Night mode, HDR+, and seamless Portrait mode.
Greenify4Magisk
If you are looking for the best battery saver Magisk module, then look no further than Greenify4Magisk. With the help of this Magisk module, you can save more battery. Now, every smartphone comes with an inbuilt battery saver, but this Magisk module is helpful for devices that are rooted. In fact, this module kills all the background running apps.
QuickSwitch
QuickSwitch allows users to disable quickly switching between applications. Moreover, with the help of this Magisk Module, you can change your recent apps provider. In fact, you can make use of the OnePlus launcher as a recent apps provider.
Energized Protection
When it comes to online privacy, there's always a risk of our data being tracked. Furthermore, there are tons of malware and adware looking for the perfect opportunity to intrude on your device. Well, not anymore, all thanks to this module. To begin with, it will get a list of such trackers and scripts and then create a host file, which would instruct your device not to connect to those sites.
It works pretty well both on websites as well as standalone apps. Since it blocks most of the trackers, you are also guaranteed a faster browsing experience with less data usage. Well, we had to include this in the best Magisk modules list without a shadow of a doubt.
A popular DNS module that lets you bypass censored content on your device. This module can be helpful for Android users in countries like China, Turkey, Venezuela, etc., where the government imposes certain restrictions on various websites. Not only this disables the tracking of your online activities by your ISP in turn, which is now sent over to Cloudflare. However, if you do not trust Cloudflare then, this module might not excite you. You can easily find this module in the Downloads section of the Magisk Manager app.
GPU Turbo Boost
If you want to get more out of your device while gaming then, this Magisk module is the one for you. The GPU Turbo Boost module enhances the performance of the GPU by almost 75%. However, note that there will be a notable decrease in the battery capacity by nearly 25%. Moreover, apart from the gaming experience, you also get enhancements in video acceleration, graphics booster, etc.
So, there you have it from my side in this post. Hope you guys liked our curated list of best Magisk module you should try in 2021. Let us know in the comments below which module you liked the most and whether there are any other modules that you have in mind. Feel free to share your favorite Magisk Module other than the list as well. Until the next post…Cheers!