With American Football being on the top 10 list of most popular sports in the world with a fan base of more than 400 million people, it is obvious that the sport will affect many industries from filmmaking to games.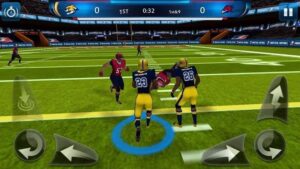 In today's article, we will focus more on gaming. Most people don't get a chance to play American Football, and the best way for them to get closer to the sport is by playing video games.
Thanks to all the technological advancements, sports games now look and feel like it is the real deal. They have impressively realistic graphics, great mechanics, and they open the encyclopedia of the sport allowing you to immerse yourself in the experience.
Nowadays, you don't need a high-performance PC or a console to play NFL games. Since the portable gaming trend is rising, developers are now focusing more on creating games for smartphones, and in today's article, we will highlight the top games every NFL fan should download right now.
Madden NFL 22 Mobile Football
Every year we get to see a new addition to the Madden NFL franchise and fortunately, the developers didn't forget the mobile version this year. The Madden NFL Mobile version is one of the most popular sport games for Android and iOS and there is a good reason for that.
Apart from the incredibly realistic graphics which are impressive for a smartphone device, this game lets you enjoy a beautiful football experience and play with the best offensive lines in the NFL ranked for 2021.Best NFL Mobile Games For Android
The trouble with smartphone games is usability and gameplay. It is hard to play a game without any physical buttons, but somehow the developers made the Madden NFL 22 very easy to play. On top of that, you get the most bells and whistles that come on the regular console and PC game such as creating your own character, starting your team, collecting rewards, statistics, tactics, and player transfers.
You can also compete against NFL Legends to collect the all-new Madden Masters. It is without a doubt the best NFL game you can play on your smartphone.
Fanatical Football
If for whatever reason you don't want to play Madden NFL 22 or you have an outdated phone that is not capable of running such a complex game, don't worry there is an alternative that will fuel your NFL passion just as well.
The game is called Fanatical Football and it is the closest thing you'll get to Madden NFL version for mobile. It is a 3D game with realistic graphics and a ton of features such as the ability to build your team and lead them through the season, play online matches, and come up with tactics.
The new and improved touch controls make the game much easier to control, and with its new design user interface it is also simple enough even for non-football fans.
The visuals are not on the same level as Madden NFL but they are not far behind. On top of that, they have impressive audio that includes environmental effects (crowd) and music.
Endzone Football Manager
Here we have a different type of game that opens the curtains of the NFL and lets you take a glimpse of what's going on in the background as a manager. All you need to do is pick your team and lead them to victory.
Easier said than done, right?
You have to go through exhibitions, seasons, and championships to become a Legendary Franchise Football Manager. The best thing about this game is that it allows you as a manager to get full control over your team and establish your own tactics.
On top of that, you can watch the live matches as your team performs or analyze your opponent before the match. It is a truly impressive game that every NFL fan must try.
CBS Sports Franchise Football
CPS Sports Franchise Football is a similar game to Madden NFL but with a twist. The game is about creating the ultimate team by opening packs. Your goal should be to get enough points to get packs and hope that you pull out some players with a high rating.
After you assemble your team, you can play throughout the 16-match season, exhibition games, and showdowns. It is a fun game to play that will keep you entertained for hours.