You just clicked some of the best shots of your life using your smartphone. Oh no! You accidentally deleted them (for whatever reason). Well, thankfully most Android devices now come with a recycle bin functionality for photos and videos. Nothing you delete will get instantly written off your phone's storage. You can usually find your deleted photos or videos in the "recently deleted" section in your gallery or file manager.
However, most of these recently deleted recycle bins only hold your photos and videos for a few days at best, after which your phone permanently deletes them. In such an extreme case where you might have lost your most precious memories in the form of deleted media, there is still hope for you to get it all back. There are various photo recovery apps available on the Google Play Store that claim to bring back deleted photos and videos.
The problem with most of these apps is the fact that they don't work as intended. The same is the case with PC recovery software, there are a few ones that genuinely do the job while most are just malware waiting to get injected into your computer. The Play Store is notorious for such apps that claim to do one thing but end up doing something entirely different. Thus, in today's guide, we have taken the liberty of finding out the best photo recovery app for Android devices you can use in 2021!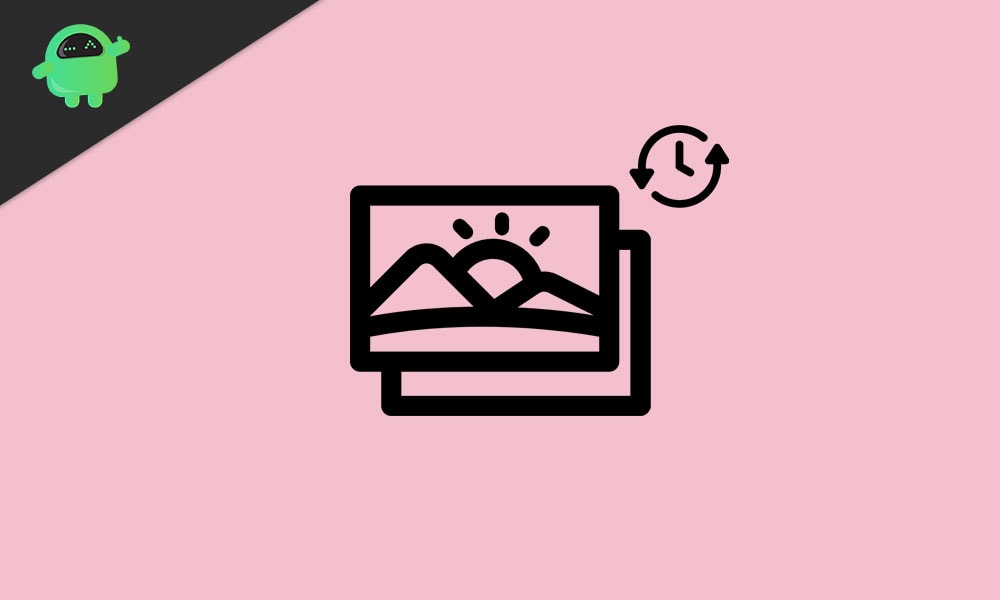 Best Photo Recovery App for Android Devices
1. Dumpster
Kicking the list off is Dumpster, an incredibly minimal app that does the job of recovering your recently deleted photos and videos very well. With over 10 million downloads and a plethora of 5-star ratings, the app seems to be the only one you should ever need in a dire situation. Using Dumpster, you can not only bring back deleted photos and videos but also extend this functionality to catch hold of deleted audio, text, document, and many other files.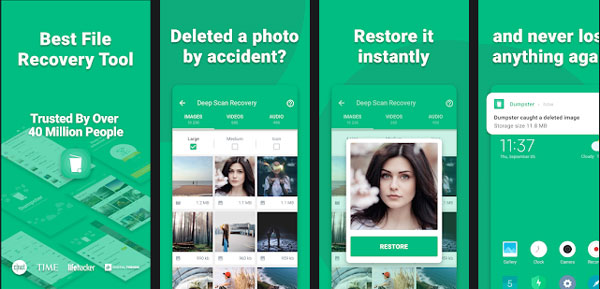 Dumpster also offers a cloud backup solution to ensure that you never really lose any of your important data. One of the best features that Dumpster has is the ability to preview deleted files before you restore them, thereby saving a lot of time. You can also set Dumpster up in a way that it automatically backs up everything important on your phone periodically. You can download the latest version of Dumpster by following the link given below:
2. DiskDigger Photo Recovery
Another app that has had quite the reputation over the years for being able to recover deleted photos and videos is DiskDigger. Its full power can be unlocked if you have a rooted Android device since in that case, it searches every single bit of your phone's memory to find any traces left of what has been deleted. However, even if your phone is not rooted, the app does a great job at scanning through all the cached thumbnails and subfolders to recover deleted photos.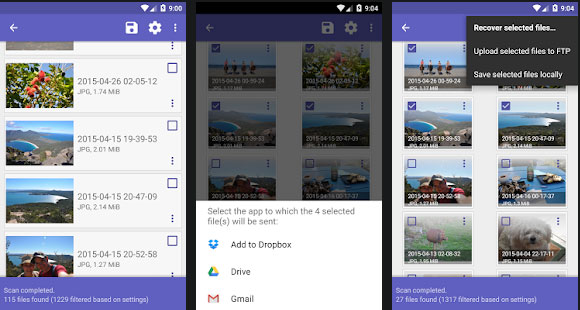 Once you successfully recover any photo or video using DiskDigger, you can choose to perform a clean wipe of all the deleted data. This is extremely useful if you wanted to truly delete stuff off your phone. You can also directly upload the recovered images or videos to your Google Drive or Dropbox. With over 100 million downloads, DiskDigger might as well be the best photo recovery app you can try for Android devices. You can download the latest version of DiskDigger by following the link given below:
3. Photo Recovery by Lite Master
Up next on our list of the best photo recovery app for Android phones, we have a solution by the folks over at Lite Master. This photo recovery app does exactly what it says with just the single press of a button. The app scans your entire phone for any deleted photos in one go and thus takes a bit of time, especially if you have a phone filled to the brim with images and videos. Unfortunately, you cannot recover deleted videos using this app.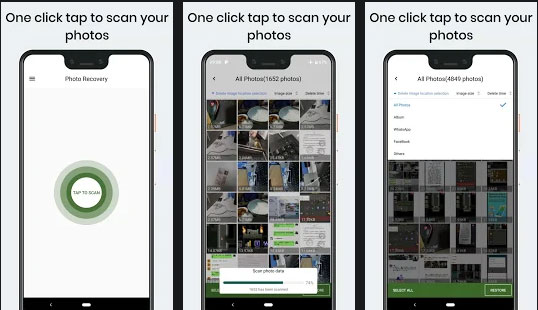 The app worked flawlessly for us, however, one thing we wished to be better was the user interface and the way the images get sorted. Even with using the right sorting modes, I found myself lost in the images I wanted to recover. Overall, the app does work as advertised, although it has a lot more ads than the other apps on this list. You can download the latest version of Photo Recovery by Lite Master by following the link given below:
4. DrFone Recovery
The next app on our list is DrFone Recovery. You might have already heard about this popular software, especially for PC. DrFone Recovery is also a great way to recover deleted photos and videos from your Android device. Moreover, this app also extends its functionalities to recovering just about any file that was recently deleted from your phone. We feel DrFone Recovery's rich user interface and easy-to-use options are great for anyone to try.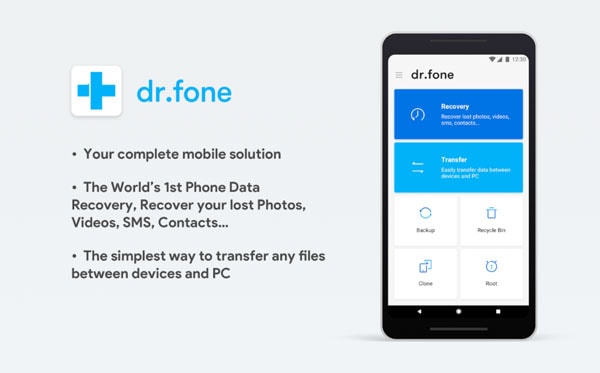 The app does its best to restore any deleted photos and videos using your phone's cache, this requires no root access. However, in the event that the app isn't able to recover your photos or videos, you can perform a deeper scan that does require root. You can perform an even thorough scan by connecting your phone to your computer or laptop and using the DrFone software to its fullest. You can download the latest version of DrFone Recover by following the link given below:
Final Words
That's all folks! We hope you enjoyed our roundup of the best Photo Recovery App to use in 2021! Which one among the list is your favorite, and how many of these Photo Recovery Apps have you already known or have been using? Know other good apps to recover deleted photos, videos, or other files that you feel people might find interesting and useful? Do let us know in the comments section below, we'd be delighted to hear from you guys!