Steam is a digital game distribution platform that was launched back in 2003. It also is a one-of-a-kind software client for games to get automatic updates and included games from third-party developers. This distribution platform, which we call Steam is developed by Valve Corporation and has now become a mobile digital forefront for games, server hosting, video streaming, and gamers' social networking platform. Steam was initially released for Windows, then later for macOS and Linux.
Ultimately it arrived for iOS and Android in 2010. FYI, Steam is the most prominent digital distribution platform, with user purchases crossing a staggering $4.3 billion. There is no shortage of games and there are different genres of games that you can play or purchase on Steam. One of the most popular categories of the game is Simulation. Simulation games are basically where players are given a real-world scenario in a virtual world, where they have to sort of go through all the hardships, as they would in their real life.
There will be several instances which will totally replicate real-world scenarios which is one of the reasons why the simulation category is one of the best genres of games. This post will give you a list of the best simulation games available on Steam in 2023. Note that this list is based on the top user-rated simulation games list on the official Steam platform. So, with that being said, let us take a look at the best simulation games list to play on Steam in 2023: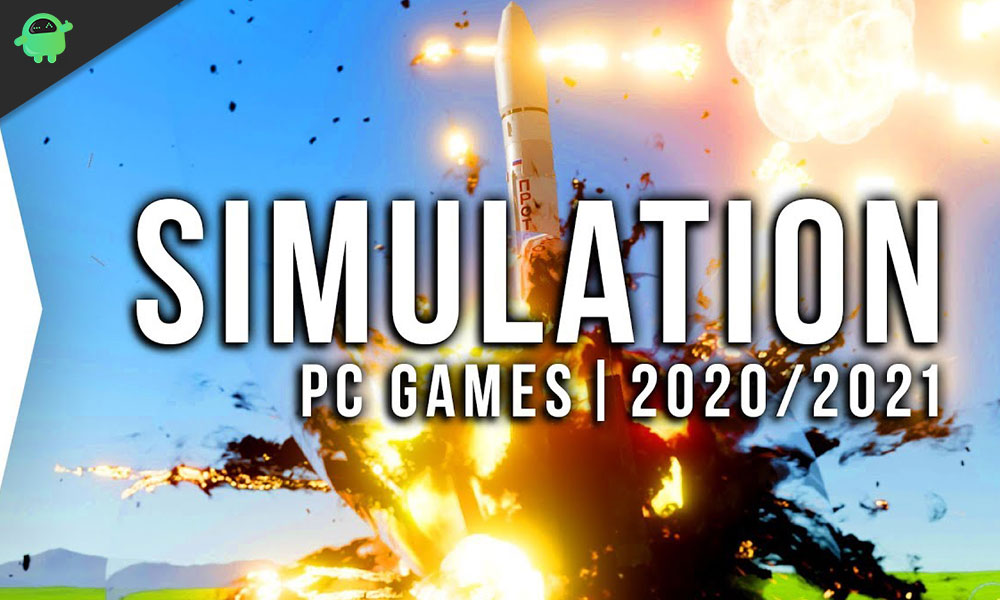 Euro Truck Simulator
Well, the top-rated and probably the most popular simulation games available on the Steam platform to play in 2023 is without a doubt, the Euro Truck Simulator. To give you an insight, it is developed and published by SCS Software for Windows. Linux and macOS. ETS 2 (Euro Truck Simulator) is the sequel to the already popular Euro Truck Simulator. This game was launched back in 2012 and gives you access to trucks from some of the well-known brands.
You have the opportunity to become a simulated truck driver and you have to drive through various challenges to unlock various customization options and other in-game items to complete the game. Not only driving, but this game also lets you build your own truck empire and put your business mind to work. Euro Truck Simulator game spans across 16 European countries like France, Italy, Baltic Sea, etc. and you will have the opportunity to drive on scenic roads.
Euro Truck Simulator 2 on Steam
Stardew Valley
Another very popular and highly rated simulation game to play on Steam in 2023 is the Stardew Valley. The game is developed by Eric Barone, Sickhead Games and is published by Eric Barone, Chucklefish, and 505 Games. It was initially released for Windows in 2016 and later made its way to macOS, Linux, PlayStation 4, Xbox One, Nintendo Switch, PlayStation Vita, iOS, and Android. Stardew Valley is an open-ended country game where you have inherited your grandpa's farmland.
You have to make your living and grow your business from this piece of plot in Stardew Valley. The main aim of this game is to let the player go through farming and bringing back the old glory of Stardew Valley. The players start off with a few tools and coins and they have to make their living from scratch. You can invite players so that together you can build a thriving farm, share resources, and build new townships together.
Stardew Valley on Steam
Cities: Skylines
Have you ever wondered of managing your very own city, where you have the controls in your hands, and build a city of your dreams? If yes then you should definitely be playing the high rated Cities: Skyline. It is a city-building simulation game developed by Colossal Order and published by Paradox Interactive. In City: Skylines, players will start off with a limited piece of land, where the main aim of the player is to build a thriving colony with all sorts of amenities like power, water, roads, residential houses, and sewage to encourage residents to move in and supply them with jobs.
Once your area is growing and crosses a population tier, new city items will unlock like school, colleges, fire stations, police stations, hospitals, and more. All in all, Cities: Skyline is a game where players deal with controlling zoning, road placement, taxation, public services, and public transportation of a city and make it a thriving place for people to live by providing all the best facilities.
Cities: Skyline on Steam
Game Dev Tycoon
What's better than playing a game about building your own game empire by producing the best selling game and also looking for opportunities to make a fortune out of it. If you are interested then, Game Dev Tycoon is a simulation game where the players have to search for new opportunities, new technologies, and invent new games to boost up your business and become the market leader. Game Dev Tycoon was released in 2012 and is available on Steam.
The game is set in the 80s where you have all the ideas in the world to create a game that would strike the right chord among the gamers and you get a fortune for it. You start off in a garage office (yes, just like Amazon!) and try to develop the best game in the world. During the process, you earn experience, unlock new items. You also get to decide which type of game you wish to develop, grow your company, and go ahead and develop larger and complex games.
Game Dev Tycoon on Steam
Totally Accurate Battle Simulator
Another highly popular game available on Steam which is based on war-tactics is the Totally Accurate Battle Simulator. It is a battle simulator where the main aim of the player is to create an army using the in-game money and watch those army fight. The ultimate price of winning the battle is that the player will get hold of all the living army men of the opponent army.
There is a total of 10 different factions Tribal, Farmers, Medieval, Ancient, Vikings, Dynasty, Renaissance, Pirates, Spooky, and Wild West. All these factions have their own unique abilities, defense, and damage tactics. There is two modes in the game, i.e. Campaign mode where the player has a limited budget to build an army, while in the Sandbox mode, you have unlimited money to spend on both the army units and also control them manually.
Totally Accurate Battle Simulator on Steam
Microsoft Flight Simulator
Ever wondered what it could be to fly an airplane filled with passengers. If you have ever dreamt of flying an airplane well, you either go get a degree in aviation or play the Microsoft Flight Simulator. This is probably the best flight simulation game available. It provides you with all the controls of the cockpit and you really get emersed with the graphics as if you are actually flying a plane. You can fly light planes, wide-body jets, and much more.
The game sports all the details and lets you control all the nitty-gritty required to take the plane off to the air. You can test your piloting skills with all the challenges in the game and it also provides life-like atmospheric conditions. The game is developed by Asobo Studios and is published by Xbox Game Studios. The Microsoft Flight Simulator is a pretty recently released game and it came out on 18 August 2021. Notably, the game is available on multiple platforms including DOS, Classic Mac OS, PC-98, Windows, Xbox One, Xbox Series X.
Microsoft Flight Simulator on Steam
So, there you have it from my side in this post. I hope you guys liked this post on the best simulation games available on Steam which you can play in 2023. Note that this is a list based on the user reviews and ratings. If you have any favorite simulation game that you wish to share with us then, leave a comment down below. Also, subscribe to our YouTube Channel for awesome videos related to Android and Gaming. Until the next post…Cheers!