Getting regular updates on our improvements and achievements always pushes us to do better. And no doubt, this concept applies in every situation, be it in real life or inside a game. VALORANT, which is currently the most popular first-person-shooter game, has done everything right except featuring an in-game stats tracker. The game stats helps players to understand their progress in the game and identify their strengths and weaknesses. However, missing out on something so crucial might bore players after a certain time interval.
You must have already noticed if you have recently started playing VALORANT. But the real question here is, are there some ways to cover up for this drawback? Well, the answer is, fortunately, a Yes. Although there aren't any in-game stats, there are actually a lot of third-party services to track your stats.
These Valorant trackers will show your overall game progress right on your screen, allowing you a better understanding of your gaming skills. Today, we will share the best Valorant trackers that might help you get better at your game and also discuss if they are safe to use or not.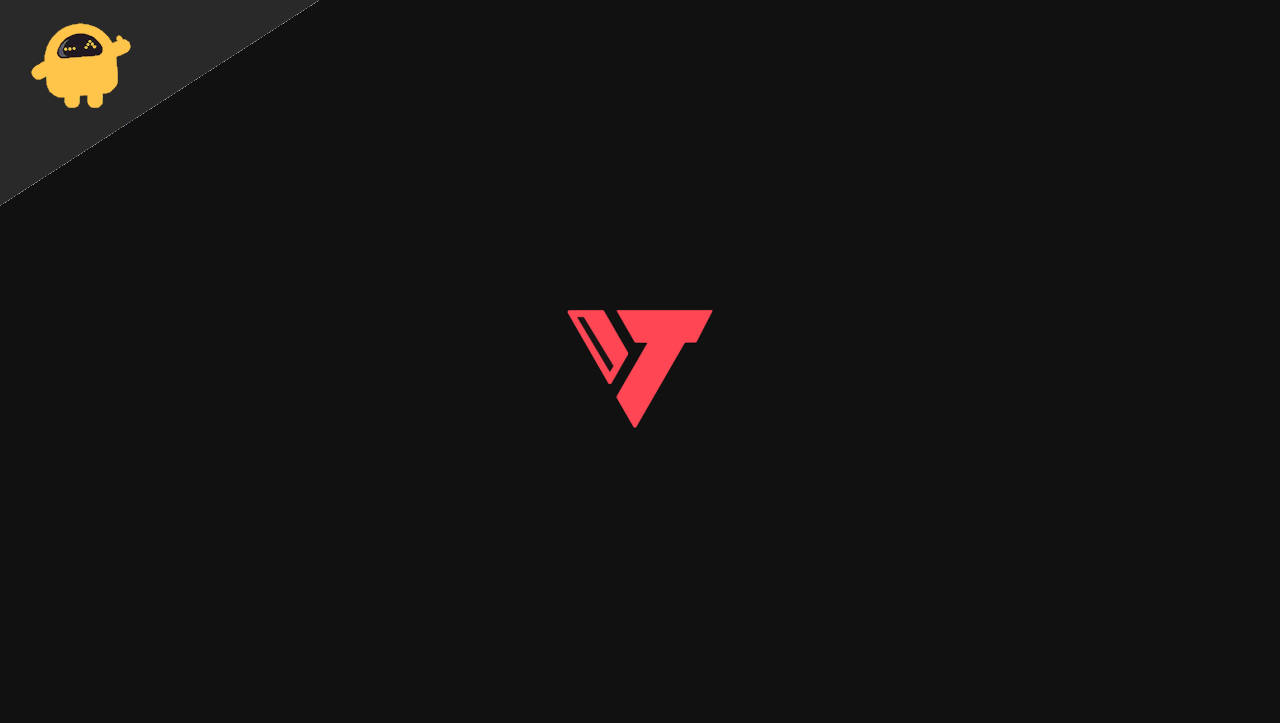 Best Valorant Trackers in 2023, Is it Safe to Use?
Valorant trackers track your game stats and present them before you. This helps players get an idea about their performance and approach to the game. As a third-party application, players often miscalculate how to use it to show their game stats. The process the simpler than you think. All you need to do is download and install any of the mentioned trackers on your PC, open Valorant and sign in to your account and run the tracker in the background.
With that said, you are all set to use Valorant trackers on your PC to get real-time stat updates. Hence, let us now look at some of the best Valorant trackers in 2023.
1. Blitz.gg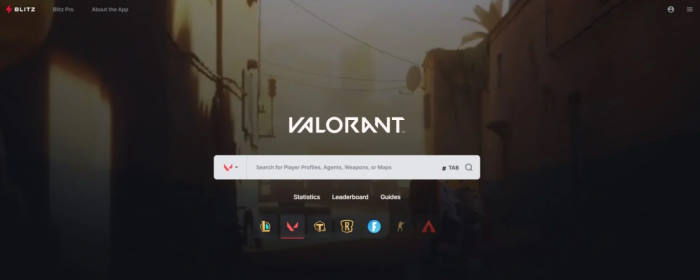 The Blitz.gg is simply one of the top-notch Valorant trackers at the current time. This is because of its efficient and easy-to-use UI. They show the real-time stats which keep changing constantly based on how often you play Valorant. It contains various maps, agents, weapons, etc, and measures your stats based on your overall in-game achievements.
More interestingly, its easy-to-use functionality lets you easily connect Blitz.gg to your Valorant account. Just make sure Blitz is running in the back while you log in to your Valorant account, and it will automatically connect with it. It also offers a personalized dashboard where in you can see all your previous stats vs current stats to differentiate your level of progress. It helps you create a clear picture of your performance in the game.
2. ValorantStats.xyz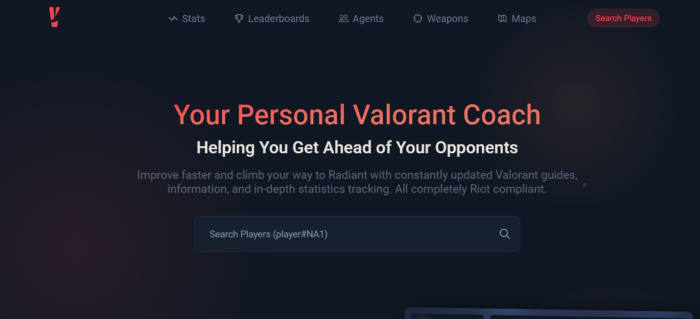 Consider it as your Valorant coach as ValorantStats will provide you with step-by-step guidance throughout your journey. This Valorant tracker provides you with an in-depth analysis of your game stats. Moreover, it also provides time-to-time updates, tips & tricks, etc.
The best part about ValorantStats is that after each game, it offers a complete evaluation regarding the performance of your recent game in contrast to your previous games. This helps players compare their performances and find out their level of progress.
3. Overwolf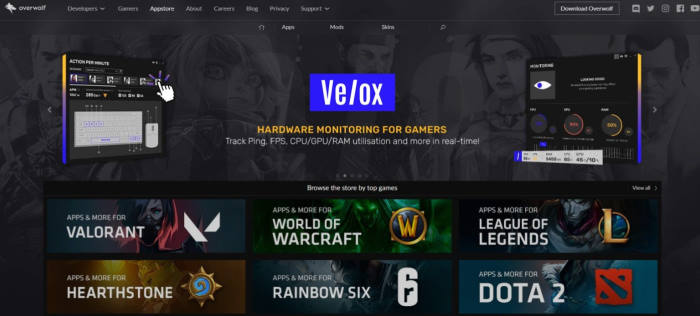 Our next pick of the day is the Overwolf app. A fully featured pack application that even provides you with a complete analysis of your game. It not only tells about your performance in the matches but also that of your teammates and opponents. The stats are very detailed and it even mentions the top agents, weapons, accuracy, etc. You can go through your match stats history and upgrade your gaming levels.
4. Dak.gg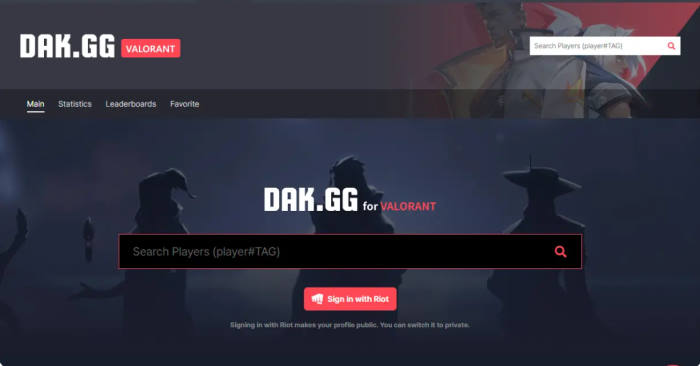 The Dak.gg tracker is simply one of the best trackers as it provides in-depth stats on your Valorant game career. Starting with your win rates kills, average, headshot percentage, kill-death ratio, and a lot more, Dak.gg mentions accurate stats for all. This is the only option for those who do not want to download an extra application just to track their progress in Valorant.
Also read: Top 7 Best Valorant Stat Trackers
Dak.gg is a browser-based service that allows you to get all your game stats right on your browser. All you need to do is go to Dak.gg's website and log in with your Riot account. After logging in, set your account to public and that is all. You can now see all your Valorant stats directly on Dak.gg website.
5. Tracker.gg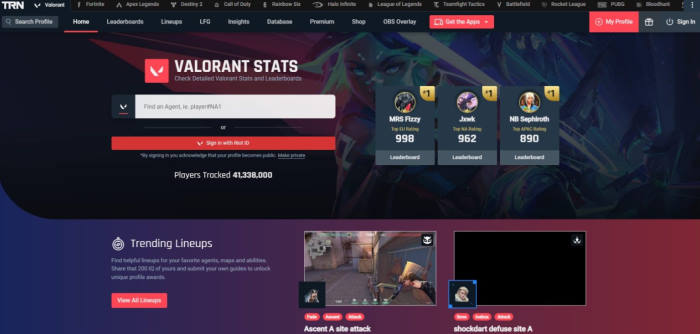 Lastly, we have Tracker.gg one of the oldest Valorant trackers to date. The tracker is very clean and easy to use although it might not include all the functionalities like the others. But you will get all the basic functionalities that will cover you up whether you are playing against an opponent or just scouting out for your team. It even allows you to display your stats while streaming online and can view individual stats while playing in groups.
Valorant Tracker: Safe or Unsafe
Regarding general terms, Riot games do not tolerate any third-party application. And Valorant trackers are third-party apps with additional functionalities, so definitely they are not allowed in the game either. However, looking at their importance, it is completely justified as to why they are so often required.
Now, there are even some trackers that might even get your Valorant account banned. So, make sure to go with the options we have. You might also try some other tracker as well, give a good look at its terms and condition and its background. Otherwise, the Valorant trackers mentioned above are completely free to use and are absolutely safe as well.
Conclusion
Finally, these were our top 5 selections for the best Valorant trackers in 2023. These trackers are extremely reliable and safe to use as well. Although the Overwolf and Blitz are the best competitors on the list, the others also come up with great options and minimalistic designs to ease your usage. In the end, let us know about your favorite Valorant tracker, and do comment below if we missed out on something.