In the last couple of years, the mobile phone industry and technology has evolved so much that we can't even imagine at this point. The feature phones getting overwhelmed by smartphones these days and it will evolve more due to the new developments, research, and artificial intelligence. However, sometimes users may face issues with normal calling and texting on their smartphones. Check out the troubleshooting guide on Common Calling and Texting Problems on iPhone 11/11 Pro/ 11 Pro Max.
The calling or messaging issues can also happen due to the network-related problems like network congestion, not in the range of network coverage area, temporary network issues, cache issue on your device, SIM card error, and more. Here we've shared some of the most common issues and their fixes as well.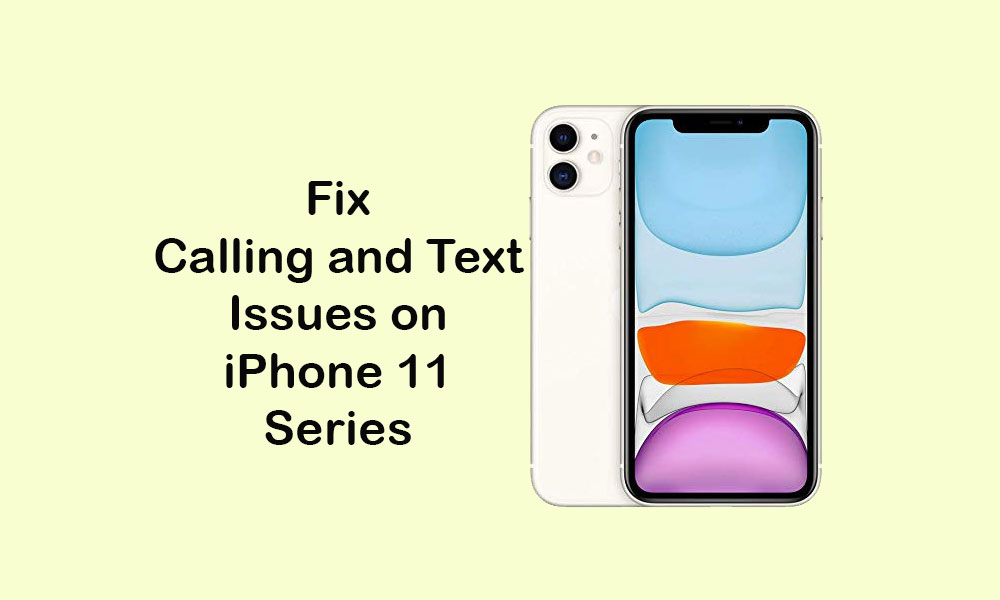 Fix Common Calling and Texting Problems on iPhone 11/11 Pro/ 11 Pro Max
Some times, the iPhone 11 series users may also face issues like iMessage not delivered, iMessage activation error, iMessage not working, and more.
1. iMessage Not Delivered
This error will happen when the message won't be delivered successfully via the iMessage app. It can also occur due to the software bug, network issues, the APN settings not configured properly, etc. Meanwhile, any latest iOS update can also overwrite your existing settings. Make sure to troubleshoot the internet connection or cellular connection at first.
2. iMessage Waiting for Activation
While activating the iMessage service on your iPhone, the iMessage waiting for activation error can appear due to the internet connectivity issue. The issue can be for both the cellular data or Wi-Fi network as well. Make sure that internet connectivity is properly working on your device. To check the connectivity, you can play YouTube videos or run social media apps.
Now, if the internet is not working on your iPhone, try to turn on the Airplane mode for a few seconds and then turn it off. You can also reboot your handset to clear any system glitch or cache issue.
3. iMessage Not Working to fix Calling and Texting Problems on iPhone 11
If you can see that your iMessage app can't send or receive messages, it may be an internet connection issue. Either your device data is empty or the connectivity is unstable. However, if you're using a Wi-Fi connection, then we can expect that there will be no issue. However, try to update the iOS version on your iPhone via iTunes, if available.
Additionally, you can reset the network settings by following the steps below.
Tap on the Settings > General > tap on Reset.
Select Reset Network Settings.
If asked, enter the passcode and confirm it.
Reboot the iPhone and check the cellular data or Wi-Fi.
4. Can't Make Phone Calls, But Receiving
If in case, your iPhone 11 series device can't make phone calls but can receive, most probably your device is facing an outgoing service. Make sure that you have enough internet data and an outgoing/ongoing call facility on your contact number. So, it can also be some network service provider related issues and you need to contact your respective service provider.
Additionally, you can try switching between 3G to 4G or mobile data to Wi-Fi to refresh the internet connectivity.
5. Calls Going but Can't Receive
If you're facing incoming call related issues, either there are some technical problems with your carrier or any system glitch is present on your iPhone. Make sure to reboot your iPhone. You can also reinsert the SIM card to fix this issue. If the issue still persists, contact your carrier support. Meanwhile, you should check whether the Do Not Disturb (DND) mode or call forwarding is enabled on your device or not.
6. Can't Send Messages (SMS) to fix Calling and Texting Problems on iPhone 11
Mostly, the SMS sending issue can appear due to network-related problems like low coverage, congestion, etc. Some times the corrupted data or multimedia files can't be sent. You can try to log out from the Apple ID and sign in again to check whether the issue has been fixed or not.
7. Can't Receive Messages (SMS)
If your iPhone storage gets low, you may get this kind of issue like can't receive messages or media files. Head over to the Settings >> General >> iPhone Storage. Then check which app or other data is unusable and delete that to free up some storage. Additionally, you can use 5GB of free iCloud storage if your iPhone storage is getting full in no time.
That's it, guys. We hope you've found this guide useful. Feel free to ask in the comments for more queries.