The most popular choice of people for an operating system is Windows. Due to its simplicity and plenty of features, people prefer Windows. Moreover, it is a very secure operating system that comes with updates from time to time. Microsoft Windows is not like it was used to be. Earlier Windows was not flexible, and a user can't do much about customization. However, Windows 10 allows you plenty of customization, including a change of boot logo in Windows 10 machine. The tool doesn't come pre-install with Windows, and you will have to download third-party source code.
To change the default boot logo of your windows boot. Firstly, you will have to check your BIOS. If you are using the latest hardware, then chances are you are using UEFI boot. If you are not sure which boot you are using, restart your PC, click on the BIOS key and check your BIOS. Whether your Windows is running on Legacy boot or UEFI, another important thing to do is to disable the secure boot from your BIOS. If secure boot is disabled, then you will not encounter any error. Moreover, you will need administrative privileges to change the Windows boot logo, therefore if you don't have administrative access to your BIOS, don't try this method. It can be very lethal for your PC.
In this guide, we will learn how to change the Windows boot logo using an open-source project HackeBGRT. Before going to the steps, you must be aware of some rules. Firstly, check your BIOS if it is set to legacy then change it to UEFI boot. HackBGRT won't work on legacy boot. Moreover, you can't use any image that is bigger than 300px x 300px. If your image is larger then the limit, you will be stuck in a boot loop. You can't use a gif or any transparent image, and the boot will result in an error. There, fore we will recommend you take a full backup of your PC before changing the boot logo. The steps to change the boot logo using HackBGRT will be mentioned below.
How to Change Boot Logo on Windows 10?
Think twice before tinkering with your boot, and if anything goes wrong, you can be stuck on a boot loop, or even worse, you can lose all your data. So it's a good idea to backup your important data before following this guide.
Step 1) Firstly, head over to the Github link and download HackBGRT by clicking on the .zip file under the Assets section. Save the .zip file to a directory, and after downloaded, extract the files using 7-zip, WinRAR, etc.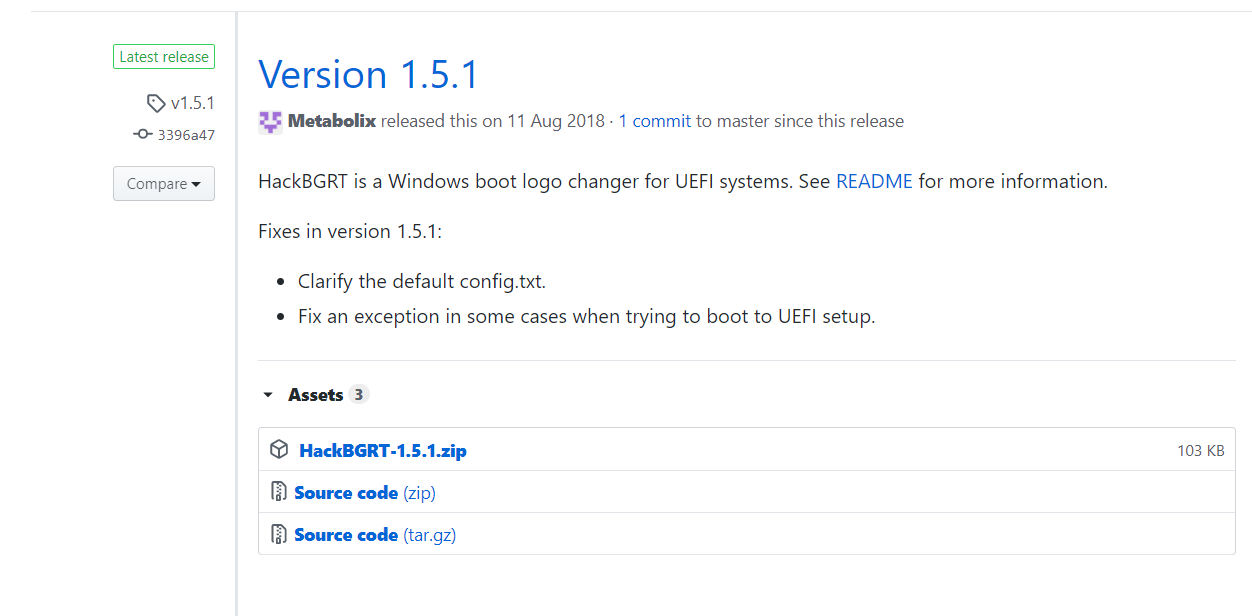 Step 2) After, you have extracted the files from HackBGRT.zip, open the HackBGRT directory right-click on setup.exe, run setup.exe as an administrator. You can select an image for the Windows boot logo, rename it to Splash.bmp and save it to the HackBGRT directory to replace the default logo by your choice.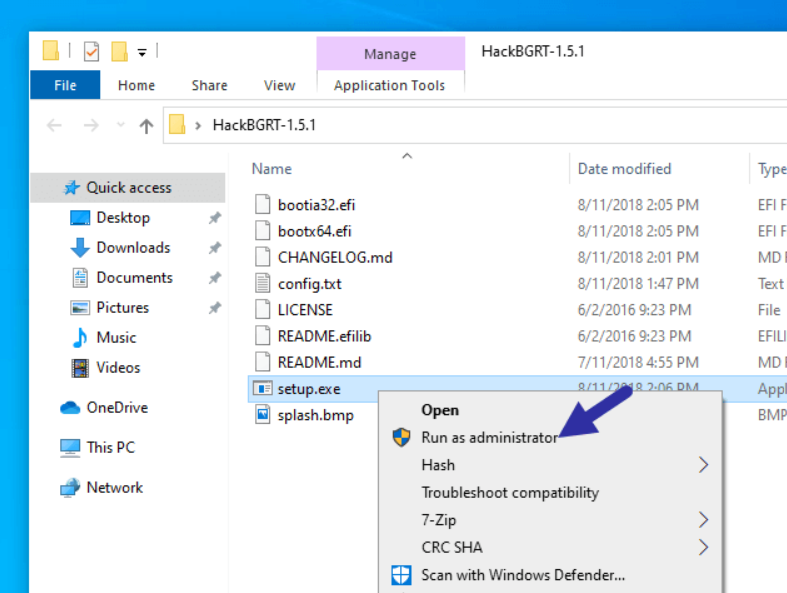 Step 3) The command-line tool will pop up because HackBGRT is typically a script written for overwriting the windows logo. After the command-line tool appears, the instructions will be mentioned there. Press I on your keyboard to begin the installation process.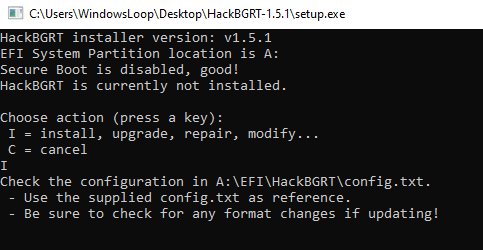 Step 4) The notepad will pop-up with a .config file for additional settings. If you don't have to modify anything and you just want to change the logo, then simply close the notepad or press x to close it.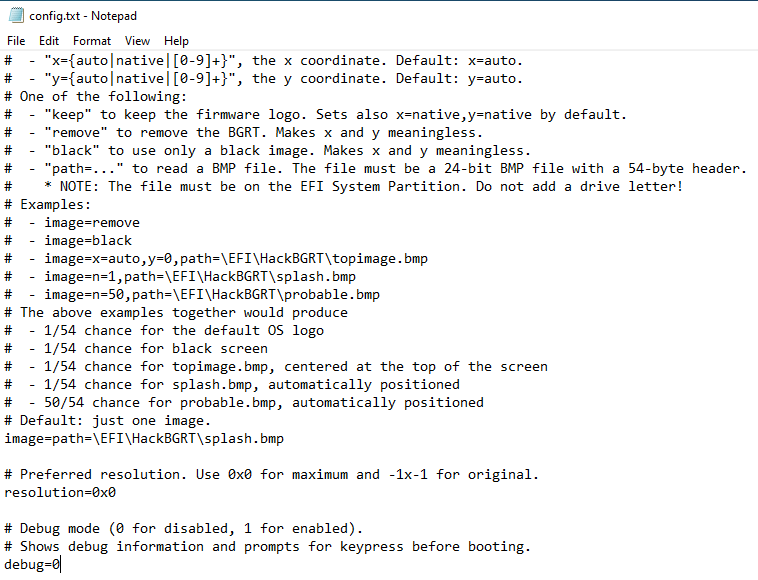 Step 5) Now, HackBGRT will load up the Splash.bmp image in paint, if you want to edit you can, however, if there is nothing to do then close the paint.
If you want to change the image then, copy your preferred image first and on the top under the file tab, select paste and paste the image. It will be great if you paint the image background in black. Save the image if you have made any changes by pressing Ctrl+C or if you want to change, open another image, replace it, and save it. Close the Paint.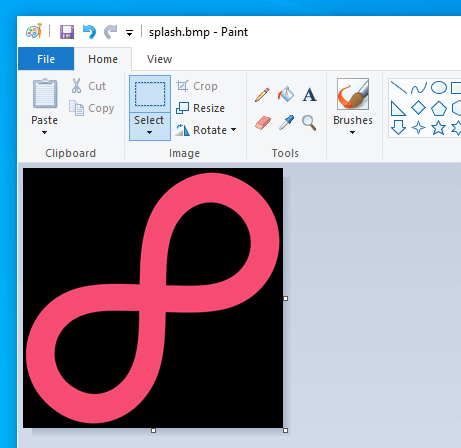 Step 6) After closing the Paint, The CLI HackBGRT tool will notify you of its installed. If it has run in some error, it will notify that as well. Close the CLI tool and restart your system to see your new Windows Logo.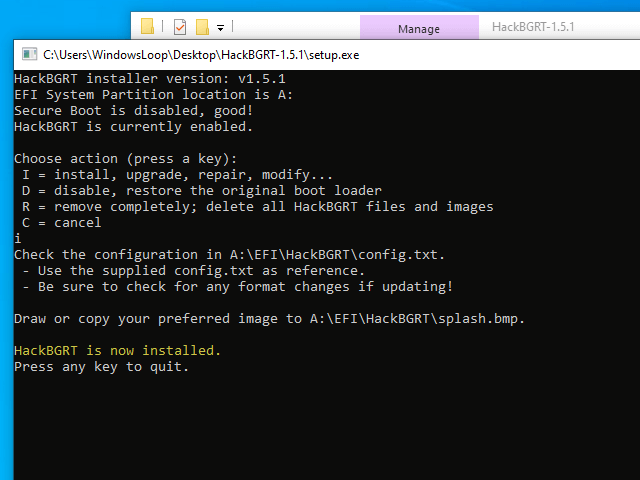 Note: To restore the original logo, open the HackBGRT CLI tool, and press r, this will remove the installed logo and will reset your Boot screen to the default windows logo.