Apple ID is a user authentication process developed and maintained by Apple Inc. that offers a user account to sign up for the first time and then sign in to get all the exclusive features of Apple services. The Apple ID can be used for iPhone, iPad, Mac, and other Apple devices. It's also worth mentioning that with the same Apple ID users can create an ecosystem between Apple devices easily. Now, if you're new to the Apple product or Apple family, then you've to create a new Apple ID from iPhone, Mac, iPad, or PC.
Apple ID contains the personal info of a user and some of the settings. So, just signing into the Apple ID, users can automatically sync all the associated settings on every Apple device seamlessly. By using an Apple ID, you can access services like iCloud, App Store, iTunes, Apple Music, Apple Pay, Find My, Apple TV, and more. You can use your existing email ID or a new iCloud email address as the Apple ID. But make sure to put a strong and different password & remember it access your account easily.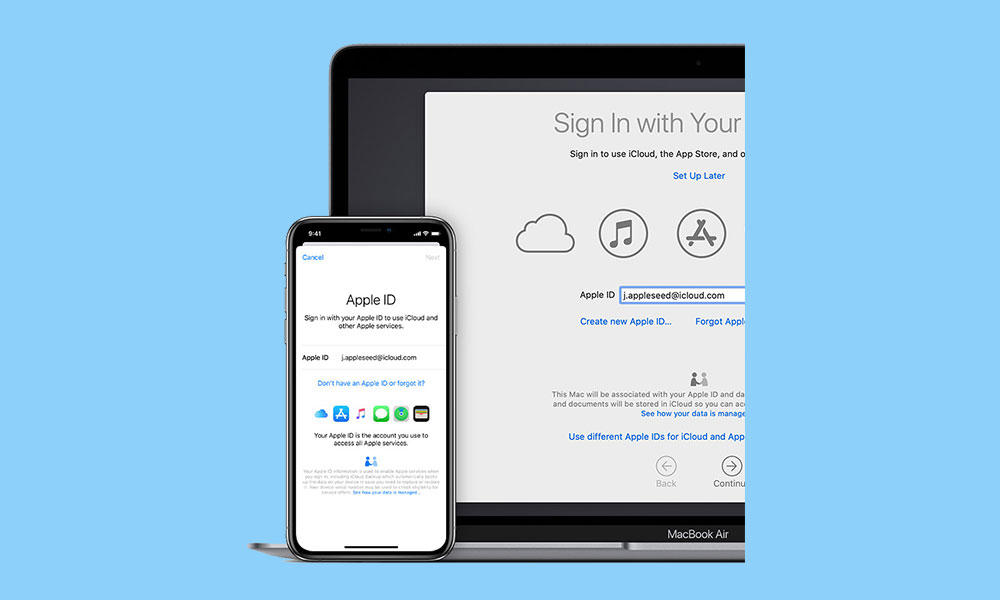 How to Create a New Apple ID from iPhone, Mac, iPad, or PC
Here we've provided all the steps to create a new Apple ID from all the possible devices so that you can seamlessly connect your Apple profile or settings. Now, without further ado, let's jump into it.
1. Use iPhone, iPad, or iPod touch
For the iPhone, iPad, or iPod touch users, we will recommend opening the Safari browser.
Enter all the required details and proceed to create an account.
You can also create an Apple ID when setting up your device for the first time or even later.
There is another way to create your Apple ID on your device. Let's take a quick look.
So, while setting up your device or from the device Settings section, you can easily create an Apple ID.
Tap on Forgot password or don't have an Apple ID.
Next, select Create a Free Apple ID.
Select your Birthday and put your name.
Tap on Next > Use a current email address or Get a free iCloud email address.
2. Use Mac
Open the App Store on your Mac.
Click on Sign In > Next, click on Create Apple ID. (If you can't see the option, ensure you're signed out from iCloud properly)
Now, read and agree to the Terms and Conditions.
Then complete the form to create your new Apple ID.
Once the form filled out, click on Continue. (It may possible that the email address you've entered is already associated with an Apple ID. If this is the case, then sign in with your existing email id and if you forget the password, then click on Forgot Password and follow the on-screen instructions to set a new password with your existing Apple ID instead of a new one)
Enter your credit card and billing information (if required) > Click on Continue. (You can also select None)
Check your email address for a verification email from Apple > Then follow the on-screen steps to verify your newly created Apple ID (email address).
Once verified, simply log in with your Apple ID and you're good to go.
3. Use Windows PC
Launch the latest version of iTunes for Windows app on your Windows PC/Laptop.
Click on the top menu bar of the iTunes window > Click on Account.
Select Sign In > Click on Create New Apple ID.
Now, read and agree to the Terms and Conditions & Privacy Policy.
Complete the form fillup to create your new Apple ID. (It's better to set some security questions for your safety or privacy purpose)
Once you've filled out the form, just click on Continue. (It may possible that the email address you've entered is already associated with an Apple ID. If this is the case, then sign in with your existing email id and if you forget the password, then click on Forgot Password and follow the on-screen instructions to set a new password with your existing Apple ID instead of a new one)
Enter your credit card and billing information > Click on Continue. (You can also select None)
Check your email address for a verification email from Apple > Then follow the on-screen steps to verify your newly created Apple ID (email address).
Once verified, simply log in with your Apple ID.
Alternatively, you can use any of the web browsers either on your mobile device or PC to visit the Apple ID creation page. Then enter all your necessary details and proceed to create your new Apple ID easily. Make sure to put strong password and security questions all the time while creating an account or changing a password.