The new Xiaomi Mi A3 is a great device for a lot of users. Since many users don't like the excessive size of today's smartphone. Xiaomi is bringing a new member to its smartphone family with a relatively small screen and comfortable to hold design. However, is this new device secure against any water damage? Well, we will find out in our Xiaomi Mi A3 waterproof test.
Xiaomi is making a smartphone for a very long time now and is covering major smartphone markets. The demand for Xiaomi smartphones is increasing day by day. And with these demands, Xiaomi is packing their new devices with some spicy specs in an affordable price segment. The new Xiaomi Mi A3 is available at 15,999 INR in India. Which is fair price considering the top-notch quality features it is providing? However many customers are still speculations whether the new Xiaomi Mi A3 is waterproof or not. So to test that further, we will conduct Xiaomi Mi A3 waterproof test today.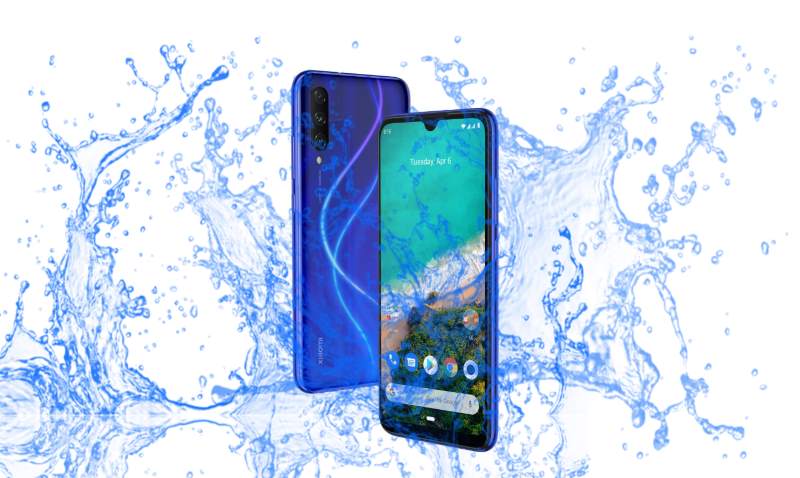 Did Xiaomi launch Mi A3 with Splash and Waterproof Protection?
Xiaomi has made many smartphones in the past few years and most of their smartphone doesn't have any official IP68 waterproof rating. Considering the pricepoint of this device, it is hard to believe that this device is waterproof. However, Xiaomi still puts rubber paddings waterproof seal inside their smartphone compartments. So it will be interesting to know whether the new Xiaomi Mi A3 is fully waterproof or not.
You will be a little disappointed to know that the new Xiaomi Mi A3 is not officially waterproof. Since there are no IP ratings for this device on their official website. So according to that, this device is not waterproof. However it still might hold against any accidental water damage, so we will continue with our Xiaomi Mi A3 waterproof test.
warning
An IP rating is an international standard which is used to define levels of sealing effectiveness of modern smartphones. These IP ratings are presented in the form of IP followed by two numbers. A waterproof device contains special IP ratings. IP68 rating is the best that a smartphone can hold. However, it is important to note that this IP testing is done against freshwater. So you might end with slightly different results against saltwater or other liquids such as soft drinks.
Xiaomi Mi A3 Waterproof Test
Since the official website doesn't contain any reliable info about the device waterproofing capabilities, so we are going to conduct our own test. Get ready for the Xiaomi Mi A3 waterproof test. But before that, have a look at device specifications:
| | |
| --- | --- |
| Device Name | Xiaomi Mi A3 |
| Screen | 6.08 inches (15.44 cm) bezel-less display with waterdrop notch |
| Processor | Qualcomm Snapdragon 665 Octa-core Processor |
| RAM/ROM | 4 GB | 64 GB |
| Battery | 4030 mAh battery with Fast Charging |
| Primary Camera | 48 + 8 + 2 MP Triple Rear Cameras |
| IP Ratings | not found |
In this waterproof test, we will test the device for any accidental water splashes and how the device holds against it. We will also test whether the device can hold against any water submersion time as well. So stay tuned for the results.
warning
This test is purely based on individual/team observation. This test will only give an idea of whether a device is waterproof or not. We recommend users not to try this test at home, as it might damage your device. We do not take responsibility for the authenticity of these results. These might not be the same in odd conditions.
Device

part
Waterproof Test
Splashproof Test
Dustproof Test
Camera
fog in the camera lens
camera works
works
Screen
flickers
works
works
Speaker
works
works
no dust in speaker
Conclusion
After conducting the Xiaomi Mi A3 waterproof test, we have come to the conclusion that the device is not fully waterproof. This means that the device cannot withstand an extended period of time underwater. However, it will survive any accidental water splashes, coffee spills, etc. Also, the device is fully dustproof. Since the device is not fully waterproof, you may not enjoy features like underwater photography, making phonecalls in rain, etc. But that's not a dealbreaker for this price. We recommend users to take special care of this phone in case you plan to buy one.
warning
Please make note that this device is not manufactured or designed to operate underwater. Any attempts to use this device in water, pool, lake, beach, ocean, etc will ultimately harm the device.
What to do if your device is not waterproof?
Since your device is not waterproof, we advise you to take proper care of your device. You can follow these steps to do so:
Not to take underwater photos with the device
Don't make or receive calls in rain or while taking a shower
Not to take underwater selfies etc.
Do not drink coffee, soft drink or alcohol when you're using your device.
In case your device gets water damage, keep the device in a box full of rice for 1 hour and check with the nearest service center.