In this guide i will help you to disable Disable Encryption and Flash SuperSU Zip File Using TWRP on LG Aristo. If you have not installed TWRP on LG Aristo, then follow this guide to install TWRP Recovery on LG Aristo.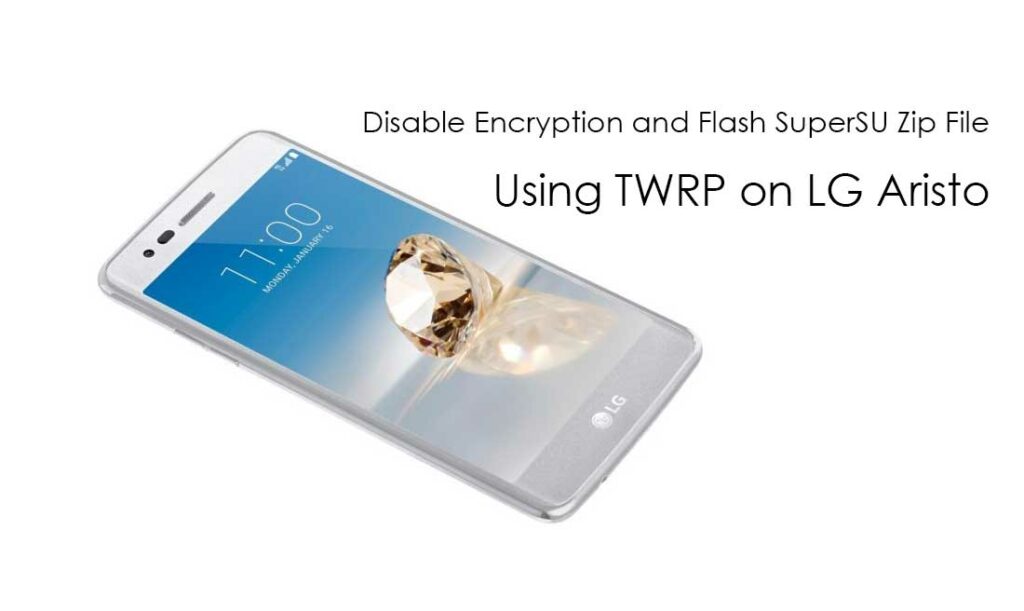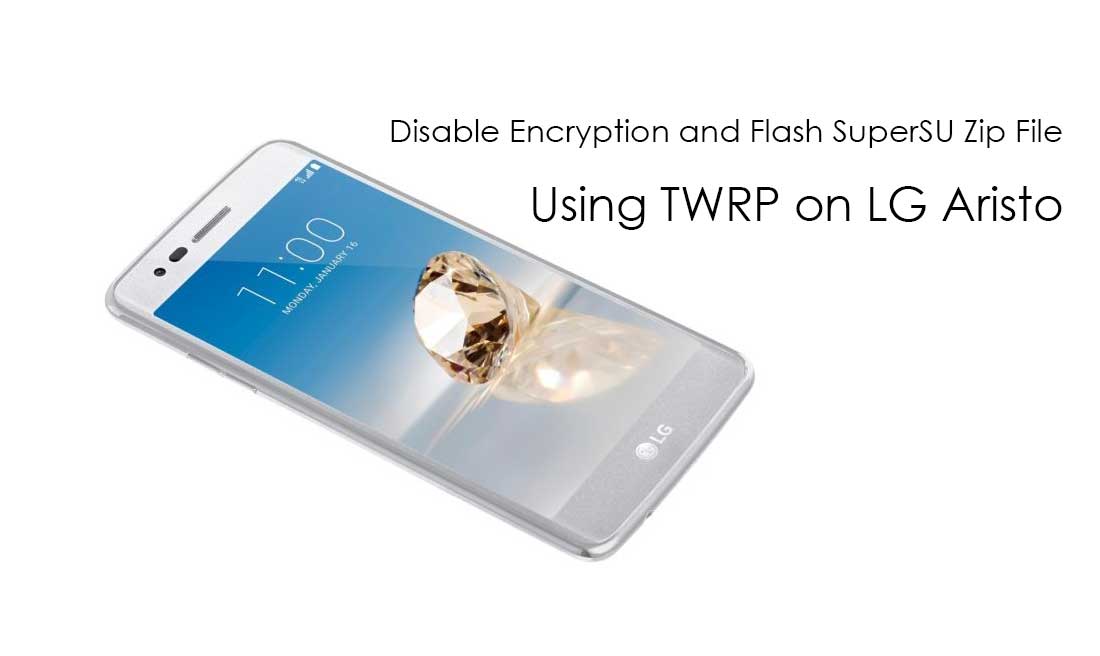 Download TWRP Recovery for LG Aristo
How to Disable encryption & flash super su
Dm-Verity and force encryption disabler
Download SuperSU
In TWRP, go to Wipe > Format Data. Enter the keyword 'yes', in the provided space and enter. This will wipe the automatically encrypted filesystem, and decrypt it.

Once the wiping is done, reboot back into recovery. Go to Reboot > Recovery.

When the recovery boots again, connect your phone to the PC and Enable MTP under the Mount section.

Transfer the downloaded 'no-verity-opt-encrypt-2.1.zip' and 'SR1-SuperSU-v2.78-SR1-20160915123031.zip to your internal storage or EXTSD
Disconnect the device now.

Tap on Install. Now, navigate your phone's storage and select 'no-verity-opt-encrypt-2.1.zip'. Finally swipe the 'Swipe to confirm Flash' button on the bottom of the screen.
The flashing process will merely take a few seconds. And when it's done, follow the same method to flash the root package – SR1-SuperSU-v2.78-SR1-20160915123031.zip
Wait 1 or 2 minutes after the zip files are done flashing then reboot system and PROFIT! Your phone may take 3-5 minutes to boot the first time and it might boot-loop once or twice at the Metro PCS splash screen but don't worry this is expected.
BUGS : If you see the password to decrypt the filesystem after flashing TWRP. Just ignore it and hit the cancel button.
HOW TO ROOT LG Aristo WITH TWRP RECOVERY
You may have downloaded the SuperSu zip file from the section above PREREQUISITE, If not – CLICK HERE to Download SuperSU
Now move the SuperSu zip file to the root of your internal memory
Boot your phone into recovery by pressing "Volume Down + Power" button simultaneously.
In TWRP Recovery, Click the INSTALL menu and Browse and Select the SuperSu Zip
Now Swipe to Install SuperSu
Yes, Now the root must be working if you properly installed the Kingroot
To verify, Go to Google Play and download the Root Checker app to check the root status. If root checker app says root access available then Enjoy you have root on your LG Aristo.