Updated on December 2022: If you plan to root your device using supers, remember SuperSU was dead long ago. They are not supporting any new version of Android OS. If you want to flash any rooting, we recommend using Magisk latest version.
This tutorial will discuss the advantages of rooting an Android device via SuperSU. The Google-owned OS allows for a plenitude of customizations. These include trying out different types of custom launchers, icon packs, fonts, and even a wide variety of themes. But this is mostly limited to the UI aspect of the device. There are a plethora of other tweaks that you could try out that will end up giving your device a completely new outlook.
Your device must only meet two prerequisites- an unlocked bootloader and a rooted device. Once you bypass the bootloader-locked restrictions and root your device, you can perform system-level modifications. In other words, the administrative privileges are in your hands, and you can tweak the system partition as needed. This, in itself, opens the floodgates to tons of other modifications. In this tutorial, we will help you achieve just that. But before that, here is everything you need to be aware of regarding rooting and the perks that it brings in itself. Follow along.
What does Rooting Mean?
Rooting means getting access to the system-level partitions on your Android device. In other words, it grants you access to all the device's sub-systems. You could then access the entire operating system and tweak the settings. From a normal user, it elevates your position to that of a Super User. This is similar to launching Command Prompt as an admin in Windows or using the sudo command in Linux.
Also Read: Download and Install Google USB Drivers – Windows 10/8/8.1/7
Rooting doesn't mean hacking. So please don't compare the term hacking to rooting. It is not true at all. Rooting for Android means jailbreaking the device to get access to the root directory of your android mobile. This means you remove the restrictions and limitations from your Android Phone or Tablet to perform unperformable tasks.
Before we dive into the installation process of SuperSU, let's understand the term SuperSU.
What is SuperSU? SuperSU is a free utility that allows keeping track of all the root-granted apps on your device that needs root. Basically, it gives you total control over your Android device. It's that simple!
Thanks to Chainfire, the Android superstar behind root utility SuperSU. To manage the rooting, the developer introduced a mainstream app called SuperSU, which allows to for the advanced management of Superuser access rights for all the apps on your device that need root. SuperSU requires a rooted device !!! Here we will guide you to install SuperSU.
If you are not familiar with rooting, then don't worry! Here we will guide you on how to install SuperSU on your phone. Installing a SuperSU Zip is simple and easy. There are two methods to install SuperSU on any Supported Android Phone.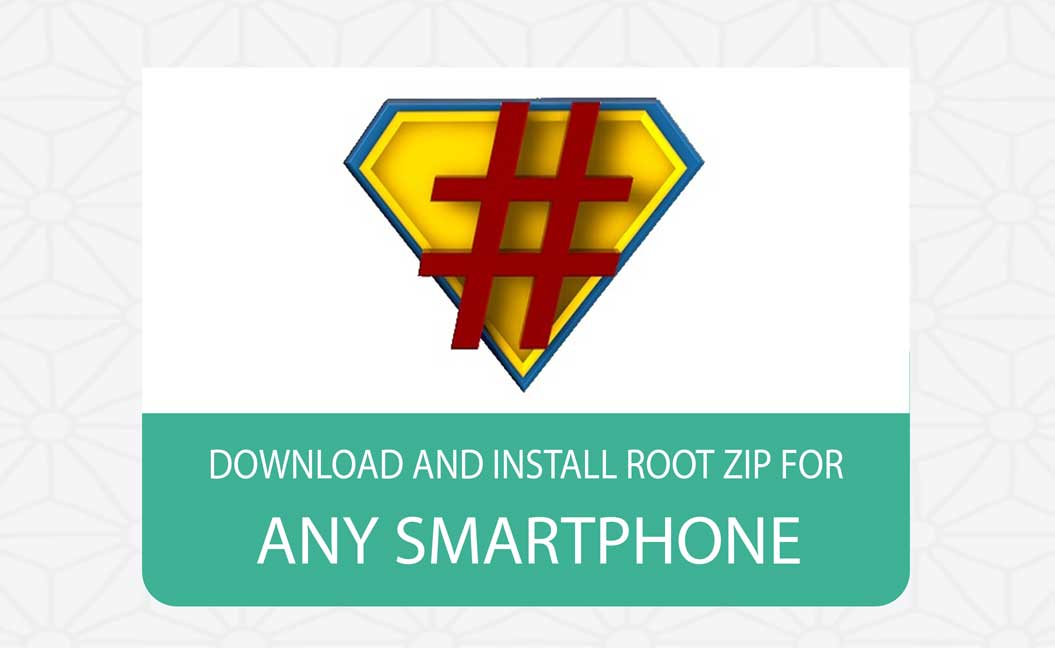 Before doing the methods, I just want to warn you that, By doing this you will loose the warranty and sometime if you don't read the steps and do something wrong can brick your device. That won't happen though you follow our step by step guide carefully.
Download Flashable Zip File:
Updated on October 04, 2018: it's time to say goodbye to the legend made SuperSU by Chainfire. Today Google has removed the popular rooting app SuperSU from the Play Store. We are unsure whether the app will come back since it has not been updated for so long. You can read our guide if you want to change from SuperSU to magisk. Magisk is one of the best rooting apps, with many modules to customize your phone. Recently magisk rolled Magisk 17.2 beta.
We already shared the full guide with Magisk Root and Magisk Manager. Check the link here for more info.
Steps to Install SuperSU Zip using TWRP Recovery:
To install, you need TWRP Recovery on your phone. We already have many guides on installing TWRP Recovery on your phone.
First of all, make sure to download the latest SuperSU Zip file from the link given above.
Now move the SuperSu zip file to the root of your internal memory.
You need to turn off your phone.
Once you have completely turned it off, Now boot into TWRP Recovery mode by pressing the "Volume Down + Power" button simultaneously. (In some phones, you can access the recovery menu by pressing the "Volume UP + Power" button)
Once your phone has booted into TWRP Recovery, now take a complete backup of your current ROM. To take a backup, tap on the Backup button –> Select the partitions such as data, system, and boot. Now swipe to take the backup of the selected partitions.
Once you are done, now you can flash the Super SU zip on your phone. Tap on the INSTALL menu and Browse and Select the zip file
Now Swipe to confirm flash.
That's it… You have successfully rooted your Android device using SuperSU Zip. Now tap reboot system.
Yes, Now the root must be working if you properly installed it.
To verify, Go to Google Play Store and download the Root Checker app to check the root status. If the root checker app says root access available, then Enjoy you have root on your smartphone.
I hope this guide helped you install a supersu zip file on your phone.
How to Uninstall SuperSU?
If you want to uninstall SuperSU, then here is a simple method.
Open the "SuperSU" app.
Go to the "Settings" tab.
Now Scroll down and find the "Cleanup" option.
Click on "Full Unroot" to uninstall.
You will see a prompt to confirm
Tap "Continue."
That's it! Reboot your phone. You have uninstalled SuperSU successfully.
Latest SuperSU APK Download
We have repeatedly said that rooting always opens the door to the deeper world of Android OS. You get access as a superuser when you have root access to your device. You will get lots of possibilities. This will include the ability to flash custom ROM or custom kernel of your choice. You can even increase the efficiency of your smartphone. The battery that depletes quickly can survive for a long time on a rooted device. Sounds interesting..? Well, read on to find more.
Sometimes people often confuse the term rooting with hacking. This is not true at all. Rooting gives you the control to make your device more efficiently secure and faster. Well, to grant root access to your Android device, you have to make use of certain tools.
This is where SuperSU comes into the scene. It is an Android App that will help you root your device and provide the aforementioned Superuser access. It also brings loads of other features. This includes. It also helps to configure notifications for each app on the device post-rooting. Another great feature is the provision of temporarily unrooting the device. A user can permanently unroot the device, too, using SuperSU.
This App is entirely free to download. However, there is an in-app purchase, but it won't bring anything special to your device. Also, there is an option for donation to the developers if you wish and feel like you can contribute to the same.
Download APK File:
Application Features
Here is some more feature that the SuperSu app provides to the users.
Superuser access prompt/access logging/ access notifications
Per-app notification configuration
Temporary unroot
Permanent unroot
Deep process detection (no more unknowns)
Works in recovery (no more segfaulting)
Works when Android isn't properly booted
It always runs in ghost mode.
Wake on prompt
Convert to /system app
Complete unroot
Backup script to survive CyanogenMod nightlies
Icon selectable from 5 options + invisible
Theme selectable from 4 options
You can see what kind of advantages and possibilities SuperSU gives or, in general, root access would provide to your phone.
SuperSU Pro version
Additionally, there is also a Pro version of SuperSU. The Pro version provides features such as:
OTA survival mode (no guarantees)
Full colour-coded command content logging (input/output/error)
Per-app logging configuration
Per-app user override
PIN protection
Grant/deny root to an app for a set amount of time
– Per-app PIN protection
– Adjust auto-deny countdown
Unleash the full strength of your smartphone by using Bluestacks to load/access your essential android apps from anywhere on any device(PC/Mac/Android/iOS) with powerful Citrix vdi available at a cheap citrix xendesktop pricing. You can also access the complete MS Office suite on the same desktop with O365CloudExperts.com.
So, think no more if you want to get deeper into Android, control your device, and bring the best out of it. Grab the SuperSU App right now and try rooting your device with it.
Switch from SuperSU to Magisk:
Do you want to install Magisk on your phone? Then you can do that now! Follow our guide on How to Switch from SuperSU to Magisk. This guide will teach you how to flash Magisk by removing the SuperSU script.