Often it happens that smartphone users get excited to try out a new Android operating system. In that process, they install the latest Android OS which may be a beta version as well. Now when a new OS releases, it may be buggy. So, it affects the user's device. Unfortunately, now the users will want to go back to the older operating system they were on, which was stable. This process of going to an older operating system from the current operating system is called rollback or downgrade. So, in this post, we will tell you how to downgrade EMUI 9.0 to EMUI 8.0 or 8.1.
All you have to do is use the Hi Suite program and select the Oreo firmware you were on and then update it. Below you can find the complete rollback guide.
How To Downgrade EMUI 9.0 to EMUI 8.0 or 8.1 on Huawei device [Pie to Oreo]
Before beginning the rollback procedure, you have to follow some guidelines.
Pre-Requisites
This downgrade process is exclusively for the Huawei devices. Don't try it on other devices.
Ensure to have at least 50% or more charge on your phone.
Install the Huawei USB drivers on your respective devices.
A PC/Laptop
This process may erase your data, So take a complete backup of your data.
GetDroidTips will not responsible if you brick or damage your phone while/after installing this update.
Downgrade using FunkyHuawei DNS
Step-1 You have to first set the DNS on your PC/Laptop. In the WAN DNS Setting,
Set connect DNS Server Automatically to NO, ten set DNS server 1 to 213.202.238.238.
Agin set your DNS server 2 to 1.2.3.4.
Step-2 Install HiSuite version 5.0.2.301. You can download it here.
Step-3 Log into FunkyHuawei, and select the appropriate downgrade version for your model/branding.
Step-4 Enable USB Debugging and connect HiSuite to your smartphone.
Step-5 HiSuite will now show a system update.
Step-6 Install that update to restore your device to EMUI 8.0 or 8.1.
So, that's it. Now you have successfully downgraded from EMUI 9.0 to EMUI 8.0/8.1. We hope this guide helped you out.
Downgrade using HiSuite 9.0.2.301
First of all Download and Install HiSuite 9.0.2.301
Now Connect your phone to PC.
Press Update on HiSuite Software
Press Switch to other versions.
You can now Press Restore.
That's it! Now Follow the instructions what comes on the screen.
This method worked fine BLA-L29C432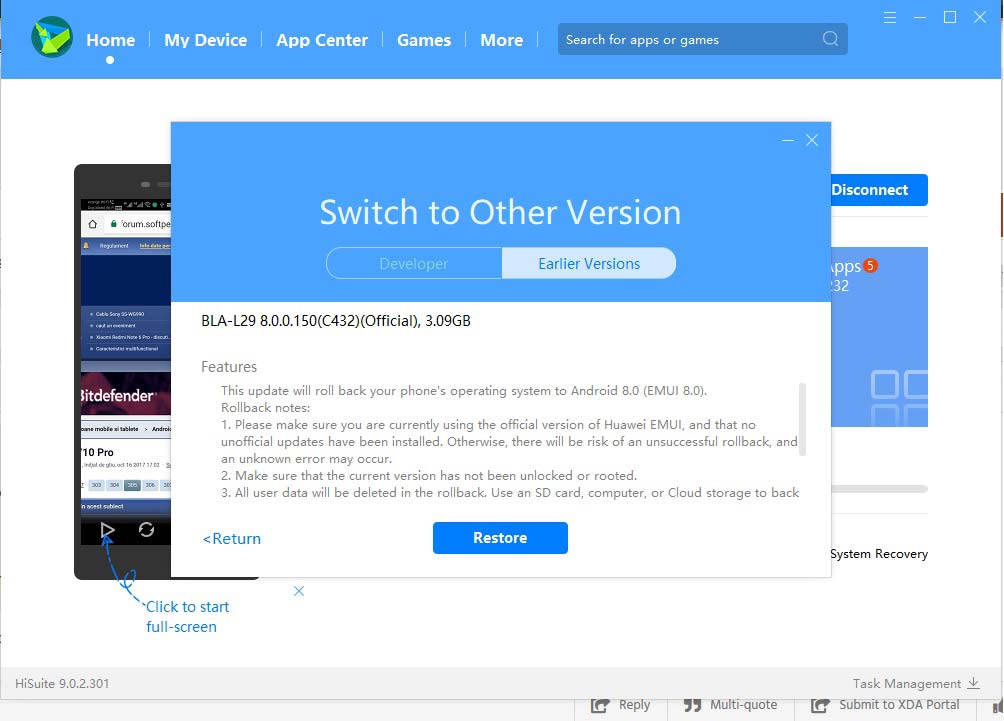 Supported Device:
| | |
| --- | --- |
| Huawei Mate 10 Pro | Huawei Mate 10 |
| Huawei P20 Pro | Huawei P20 |
More device will added!