2020 is the year for Android 11, and even though Google has not officially announced the stable version of Android 11, we do have beta and developer builds running on several devices. Major OEMs like Samsung, Oneplus, Oppo, and more have already released their skinned version of Android 11, and these releases do come with Gapps preinstalled. But there are some custom ROMs available online right now, which are also based on Android 11, but they do not get GApps by default due to Google's copyright issues.
If you struggle with getting the GApps package installed on your phone running on a custom ROM, this guide will help you. But you will need a custom recovery like TWRP even to install the GApps package. Custom ROMs like Pixel Experience running on Android 11 come with Google apps and services preinstalled, while some other ROMs like CarbonROM do not have the GApps preinstalled. You will have to install it manually, and in this guide, we will guide you through the entire process.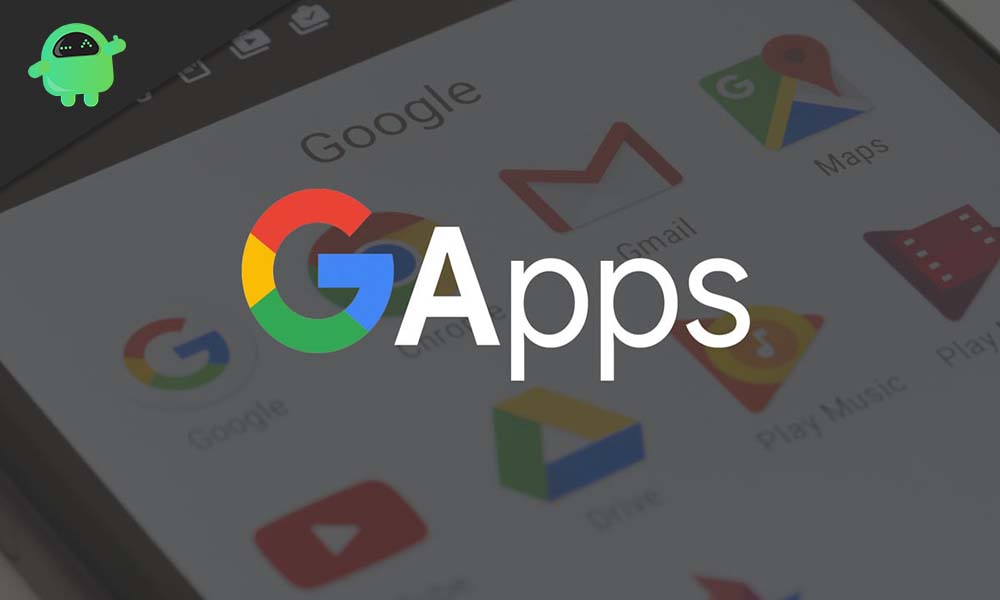 What is GApps?
As the name suggests, "GApps" stands for Google Applications. The Android OS, GApps, or Google Apps and Services are also open-source and can be used seamlessly on Android operating system running devices. Needless to say that you can't even use Google apps and services on your Android device if the GApps package isn't installed. Such as Google Play Services, Play Store, Gmail, Google Drive, Docs, Google Keep, Forums, Calendar, Phone, Messages, YouTube, Photos, Maps, etc.
Google Apps are the proprietary applications and services pre-installed on all the official Android running devices (except for Custom ROMs). Aftermarket firmware doesn't come with pre-installed GApps due to the licensing restrictions. But as we've already said, due to its open-source nature, Android users can manually install or flash the GApps package according to their preference on even Custom ROMs very easily.
Also Read: NikGapps for Android 11 Custom ROMs
How to download and install Android 11 GApps for any Android device?
If you are using a custom ROM that does not come with Google apps and services preinstalled, this guide will help you contain the download link for the GApps package and the installation instructions.
Requirements:
Firstly, you will need a device whose bootloader is unlocked. If you are using a Custom ROM, then you have unlocked the bootloader.
Secondly, you will have to flash and install TWRP recovery for your device.
Thirdly, make sure that the battery is a minimum of 70%, and you have a backup of everything on your phone that is necessary for you. If anything goes wrong during the process, then you could use the backup to revert the changes.
Download GApps:
GApps for Android 11 consist of Google apps like Google Play Store, YouTube, Google Play Services, Google Photos, Gmail, Google Calendar, Google Clock, Maps, Google Drive, Digital well-being, and Android migration much more.
MindTheGapps 11.0: Download Here
BiTGapps 11.0: Download here
NikGapps 11.0 R: New Download Link | Download here
Install GApps:
To install the Android 11 GApps, you will flash the package using the TWRP recovery.
Firstly restart your device and boot into the TWRP custom recovery mode. If you are unaware of how you can access your device's recovery mode, do a google search about it.
Then in the TWRP recovery, tap on "Install."
Then navigate to the location where you have downloaded the GApps package.
Select the GApps file here and then wait till the flashing process is done.
Once the flashing is done, you will see all the Google apps and services running fine on your Android 11 device. If you need a guide on flashing TWRP recovery or unlocking the bootloader in any Android device, comment below to let us know.
So, this is how you download and install Android 11 GApps for any Android device. If you have any questions or queries about this guide, comment below, and we will get back to you. Also, be sure to check out our other articles on iPhone tips and tricks, Android tips and tricks, PC tips and tricks, and much more for more useful information.