Xiaomi has made a mark of itself in the smartphone market. Be it capturing the budget and mid-range segment in India and around the globe, or be it the innovation or putting in the flagship performance on a low-cost smartphone. All these things have made Xiaomi a global leader in the smartphone industry. Moreover, recently Xiaomi has released the MIUI 10 firmware for many of its smartphone which is based on Android 9 Pie and moreover, it is gearing up for the MIUI 11 which will be based on the latest Android 10. However, one thing where Xiaomi lags behind is the camera.
Moreover, Xiaomi's smartphone camera performance does not live up to the benchmark set by its processing capabilities. But, since the developers have come up with the Google camera port or the GCam mod which brings in the Google Pixel style image processing capabilities, there is a significant improvement when you take images from the GCam as compared to the stock camera of the Xiaomi devices. In this post, we will share with you the links to download Google camera for Xiaomi devices running the latest MIUI ROM. Besides, we will be covering all the latest smartphones from Xiaomi and its compatible GCam mods as well. So, without any further ado, let us get straight into the article itself;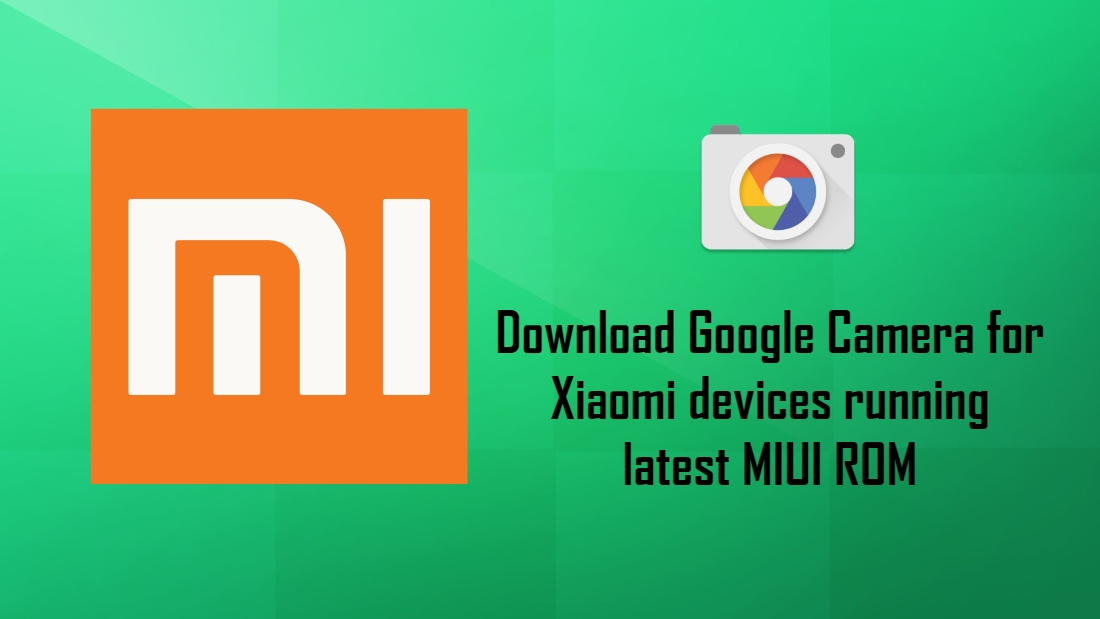 Download Google Camera for Xiaomi devices running latest MIUI ROM
Note that most of the Xiaomi smartphones still support he GCam v6.2 even though there has been a recent release of the GCam v6.3 for the Pixel devices. But, there are some new and exciting features like selfie flash, dark mode, measure mode, etc with the v6.2 of the Google camera port.
Moreover, if you have a budget Xiaomi device which is powered by Snapdragon 400 or 600 series processor then, your device will only support Google camera port APK v5.1 as these devices do not come with Camera 2API support. You either install the GCam v5.1 or enable the Camera 2API by rooting your device. However, if you have a compatible device that runs on the latest MIUI ROM as well as supports Camera 2API then, you can go ahead and download the compatible versions of the GCam mod APK for your device from below;
Xiaomi Mi A1/A2/A3
Mi 5X
Mi 6X
K20 Pro / Mi 9T Pro
K20 / Mi 9T
Mi 5
Mi 5S
Mi5S Plus
Mi 6
Mi 8 / Pro / EE
Mi 8 SE
Pocophone F1
Mi 9
Mi9 SE
Mi Max 1
Mi Max 2
Mi Max 3
Mi Mix 1
Mi Mix 2
Mi Mix 2S
Mi Mix 3
Mi Note 2
Mi Note 3
Redmi 3S
Redmi 4X
Redmi 4 Prime
Redmi 4A
Redmi 5
Redmi 5A
Redmi 5 Plus
Redmi 7
Redmi Note 3
Redmi Note 4
Redmi Note 5 / Pro
Redmi Note 6 / Pro
Redmi Note 7 / 7S / 7Pro
Xiaomi CC9/CC9e
So, there you have it from my side in this post. Hope you guys liked this post and were able to use the GCam port on your compatible Xiaomi devices. Let us know in the comments if we have missed any Xiaomi device or if the GCam or the Google Camera port is not working for your device. Until the next post…Cheers!