If you have a smartphone or any tablet and it is facing issues like bricking, IMEI lock, FRP lock, SIM lock, system lock then worry not. To solve all these issues we bring you the Miracle Thunder 2.82. It can repair all the smartphones and tablet running with Qualcomm, MediaTek and SpreadTrum chipsets. Miracle thunder is an open source tool. So, this means you can use it for free.
Miracle Thunder is developed by GSM X team. So, all credit for the tool goes to these guys. The tool is fully supported on Windows XP/Vista/7/8/10(32 & 64 bit). It is only available for Windows OS.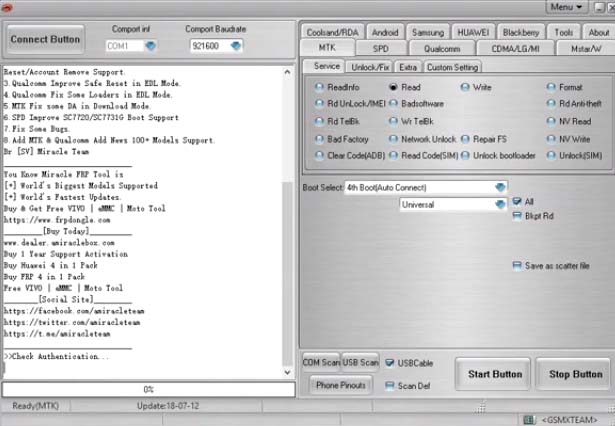 In this post, we have put up the download link for Miracle thunder software. You can get it from the download section. Installing it is easy. You need to have Universal ADB installed on your system to use Miracle Thunder.
Features of Miracle Thunder
Now, let's look at the features of this software.
Read Info,
Read and Write,
Format,
Rd Unlock/IMEI,
Bad software,
Rd Anti Theft,
Rd TelBk,
Wr TelBk,
NV Read,
Bad Factory,
Network Unlock,
Repair FS,
NV Write,
Clear Code(ADB),
Read Code(SIM),
Unlock bootloader and Unlock SIM.
It also comes with other features such as Fix DL Mode, Read Pattern, Clear Anti Theft, Root, Restore Root, Read Phonebook, Read network Code, Reset Code, Clear Setting, Remove FRP, etc.
Download Miracle Thunder 2.82
Here is the download link for the software.
How to Use the Tool
Before we begin with installing the Miracle Thunder 2.82, you have to keep this in mind.
Step-1 Download the tool
Step-2 Install it
Step-3 Connect your device to the PC using a USB cable
Step-4 Launch the Miracle Thunder tool. Then use it for any purpose it offers to solve.
Below we have put up a YouTube video which will demonstrate how this tool will work. Go check it out.
So, that's it, folks. if you have issues on your smartphone or tablet, then use Miracle Thunder 2.82 to solve all the issues. We hope this post was useful to you.